JAMES CALDER (1826-1896)
MARIA GIBSON (1831-1904)
(Last Updated: December 07, 2016)
James CALDER was born around 1826 in Red River (St Andrews or St Clements), the son of a Cree woman named Margaret and Marcus (John) CALDER (b-1790).
Marriage to Maria GIBSON
1846
On Mar 12, 1846 James married Maria GIBSON in St Andrews (Anglican Parish Records), daughter of Mary (Half-breed) and William GIBSON (b-1788), an HBC voyageur from the Orkneys of Scotland.
Employed by the Hudson's Bay Company
Athabasca District
1846-1849
In 1846 James entered the service of the Hudson's Bay Company (HBC) as a Labourer in the Athabasca District.
** MORE ABOUT JAMES CALDER in HBC ARCHIVES

Arrested and Tried for Murder
1848
In 1848 James was arrested for murder someone in the Peace River district. Unfortunately, I have been unable to determine the details surrounding this episode, only the following snippets of information from web searches.
On May 17, 1848 in open court in Red River Settlement (District of Assiiniboia) - - "William COCHRANE and Robert SUTHERLAND hereby promise and bind themselves in a Bond of Ten Pounds Sterling each for the safe keeping of James CALDER."
On Aug 17, 1848 an ordinary meeting of the Court of Governor and Coucil of the District ofAssiniboia, Rupert's Land was held in the "Case of James CALDER". Present were Governor Alexander CHRISTIE, Adam THOM, John BUNN and Alexander ROSS. Mr. Recorder THOM commenced the proceedings by reading his opinon in the case to this effect: "James CALDER has been brought to Red River Settlement to be tried before us for a felenious homicide alleged to have been committed by him in Peace River - - ." It was recommended that he would be sent to 'Canada' for trial.
Unanswered questions: Who did James murder, and where? It seems obvious that he must have been acquitted or otherwise released because we find him continuing his employ with the HBC in 1849. If anyone has answers to these questions, please let us know on the Forum.
Upper Red River District
1849-1853
In 1849 James continued his HBC employ in the Upper Red River District where he retired from HBC service in 1853.
Lac La Pluie District
1867
Following is another HBCA Record, listed separately, but looks like same James re-entering service with the HBC in 1867 as a Carpenter in the Lac La Pluie District (various locations).
** MORE ABOUT JAMES CALDER in HBC ARCHIVES 1867-1884

Although this reference indicates he was working in the Lac La Pluie Distract, it appears from the census of 1870 that he still had a residence in St Clements Parish, Red River and that several of his contracts were signed at Fort Alexander during that period. ** Lac La Pluie is located to the east of Fort Frances as shown on the map below.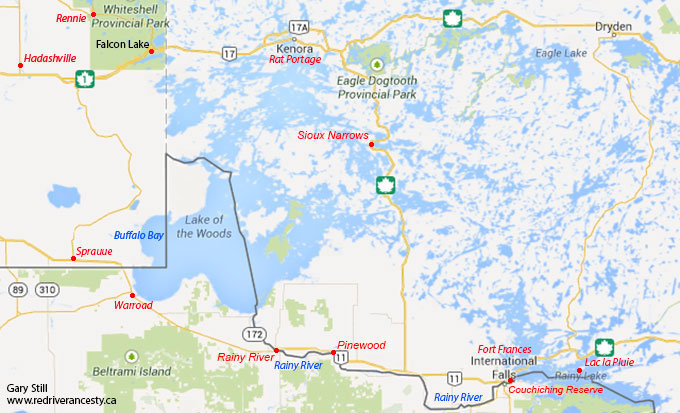 Canadian Confederation
A Red River Rebellion
Manitoba becomes a Province
1867-1870
On July 1, 1867 the British colonies in North America were united under the British North American Act to become the Dominion of Canada.  Sir John A MACDONALD (1815-1891) was appointed as Canada's first Prime Minister. William McDOUGALL (1822-1905) became the Minister of Public Works, and he began negotiations to acquire Rupert's Land from the HBC; surveyors were sent to Red River to prepare the way for an expected influx of settlers.
On Oct 11, 1869, Louis RIEL (1844-1885) placed his foot on the surveyors' chain to tell them their work was finished! This marked the beginning of the historic Red River Métis Rebellion.
On July 15, 1870 the Rebellion ended when RIEL's Provisional Government accepted the terms of the Manitoba Act and Manitoba became the fifth province of Canada.
Census of 1870 in St Clements Parish, Red River: James CALDER, age 45; wife Maria, age 40. Children: William(age 21), Marguerite (17), Maria (14), Mary Jane (9) and George (age 6). ** Note: This record identifies James' father as John CALDER whereas other records indicate Marcus CALDER as his father.
In 1870 eldest son William married Nancy LOUTIT in Fort Alexander, daughter of Jane McDOUGALL and Lowe (Louis) LOUTIT (1816-1865), an HBC blacksmith from the Orkneys of Scotland.
In 1871 daughter Margaret married William McDONALD in St Andrews, son of Margaret MOWAT and William McDONALD (1824-1872).
From 1872 onward James worked at various posts including Lac La Pluie; in charge at Kettle Falls and Seine. He was variously an Interpreter, Carpenter, Guide and a Post Master in Charge.
In 1873 daughter Maria Ann married Alexander BRUYERE in St Clements, son of Francoise MAINVILLE and Joseph BRUYERE (1815-1906) from Quebec. ** MORE ABOUT JOSEPH BRUYERE
In 1875 when he claimed his Half-breed Scrip his residence was indicated as St Clements Parish in Red River.
In 1877 daughter Mary Jane married George Constantine ALLAN in Fort Frances, son of Janet PATTERSON and William Andrew ALLAN (1825-1907).
Census of 1881, Eastern Extension (probably Rat Portage): James CALDER, age 55; wife Maria, age 50 and sons Robert (age 21) and George (age 15).
By 1885 son Robert had a wife named Nancy and was living in the Algoma district. According to some sources, Robert later married Mary JOURDAIN of uncertain origins.
Census of 1891 in Algoma West (ON): James CALDER, Carpenter, age 60; wife Maria, age 55 and son George, age 24.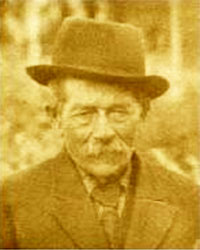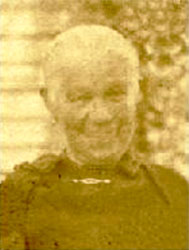 James and Maria (nee Gibson) Calder - From Ft Frances Roots Website
In 1896 youngest son George married Margaret Jane LYONS, daughter of Rosette JOURDAIN and John Henry LYONS (1854-1927).
On Sep 25, 1896 James CALDER died in Alberton, Rainy River (west of Fort Frances).
Census of 1901 in McIrvine (north of Fort Frances): Widow Maria CALDER (age 69) and a 29 year old Norwegian "Lodger" named Alfred CROSIE. Grandson Peter Lowe CALDER and his family were her neighbors.
On May 26, 1904 Maria (nee GIBSON) CALDER died in Fort Frances, ON.
Comments and queries at this link: FORUM DISCUSSING this JAMES CALDER FAMILY
========================== Family Details ==========================
Children:
1. Mar 14, 1852 WILLIAM CALDER (m. Nancy LOUTIT)
2. Nov 11, 1852 MARGARET CALDER (m1. William McDONALD; m2. James SPENCE)
4. c1855 JOHN JAMES CALDER (Died in infancy 1856)
5. c1856 MARIA ANNE CALDER (m. Alexander BRUYERE)
** MORE ABOUT ALEXANDER BRUYERE
6. May 7, 1858 ROBERT CALDER (m1. Nancy (?); m2. Mary JOURDAIN?)
7. 1860 BETSY CALDER
8. Dec 17, 1861 MARY JANE CALDER (m. George Constantine ALLAN)
9. Jun 1, 1867 GEORGE CALDER (m. Margaret Jane LYONS)