WILLIAM CALDER (1852-1908)
NANCY LOUTIT (1849-1943)
(Last Updated: September 18, 2014)
William CALDER was born Mar 14, 1852 (in Fairford according to DIA correspondence of 1902). William spent most of his youth in St Clements Parish, Red River Settlement. He was a son of Maria GIBSON and James CALDER (1826-1896).
** MORE ABOUT JAMES CALDER
In 1867 when William was about 15 years old his father began to work in the Lac La Pluie District of Ontario. However, it seems that he, his mother and siblings remained in St Clements at least until 1870.
Canadian Confederation
A Red River Rebellion
Manitoba becomes a Province
1867-1870
On July 1, 1867 the British colonies in North America were united under the British North American Act to become the Dominion of Canada.  Sir John A MACDONALD (1815-1891) was appointed as Canada's first Prime Minister. William McDOUGALL (1822-1905) became the Minister of Public Works, and he began negotiations to acquire Rupert's Land from the HBC; surveyors were sent to Red River to prepare the way for an expected influx of settlers.
In 1869 William joined his father in the employ of the Hudson's Bay Company as a Voyageur (middleman) assigned to the Lac La Pluie District. The main HBC depot and warehouses were located at Lower Fort Garry near William's home at that time. As a voyageur he would have been involved in transporting trade goods and furs via the Winnipeg River (Fort Alexander), Lake of the Woods and Rainy River to and from the Lac La Pluie District (Fort Frances area).
** MORE ABOUT WILLIAM CALDER in HBC ARCHIVES

On Oct 11, 1869, Louis RIEL (1844-1885) placed his foot on the surveyors' chain to tell them their work was finished! This marked the beginning of the historic Red River Métis Rebellion.
On July 15, 1870 the Rebellion ended when RIEL's Provisional Government accepted the terms of the Manitoba Act and Manitoba became the fifth province of Canada.
In the 1870 Census William (age 21) was recorded with his parents in St Clements Parish.
Marriage to Nancy LOUTIT
Fort Alexander - Manitoba
1870
On Nov 19, 1870 William married Nancy LOUTIT at Fort Alexander, daughter of Jane McDOUGALL and Lowe (Louis) LOUTIT (1816-1865), an HBC blacksmith from the Orkneys of Scotland. They were probably married by Reverend (later Archdeacon) Robert PHAIR (1839-1931) who was the resident missionary to the Indians there.
In 1872 when Nancy was about to give birth to their first child, William was at Fort Alexander. There being no doctor or nurse there, William sent his wife home to her parents in Selkirk and on Sep 23, 1872 son Peter was born there.
Eagle Lake Post - Ontario
1876
Thereafter for the next 18 years William's HBC career included a stint (1876-1881) as an Interpreter and Clerk in Charge at the Eagle Lake Post (west of Dryden) where most of the rest of his children were born.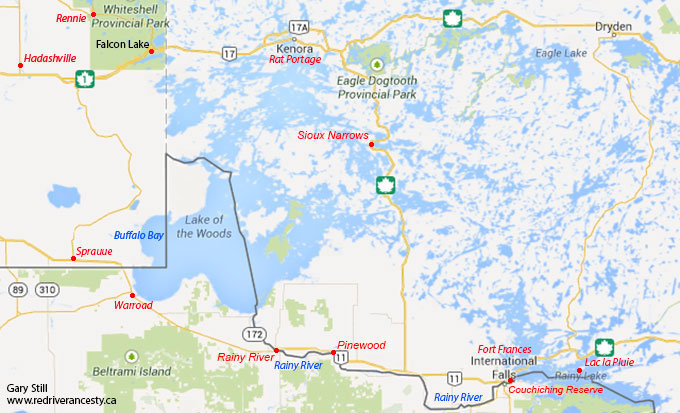 Fort Frances Area
1883
In 1883 William was retired from HBC service, after which he settled in the Fort Frances area.
William's first seven children were baptized by the aforementioned Reverend Robert PHAIR who moved from Fort Alexander to Alberton (Fort Frances West) in 1874 and remained there until 1888 when he was made Archdeacon at Islington and appointed Superintendent of the Indian Missions in the Diocese of Rupert's Land.
Census of 1891 in Algoma West (Fort Frances area): William CALDER, age 42; wife Nancy, age 29. Children: Peter (age 20), Jessie (15), Harriet (13), Edward (11), Emily (7), Valentine (5) and Isabella (age 2).
Around 1895 daughter Jessie married Melvin Thomas HICKERSON, a lumberman from the USA.
In 1896 his father (James CALDER) died in Alberton.
Around 1900 daughter Harriet was married to Frederick Joseph MERTENS (1878-1938) from Minnesota, USA.
Census of 1901 at McIrvine (ON): William CALDER, age 50 (Chief Engineer, Mariner) and his wife Nancy, age 52. Children at home: Edward (age 19), Emily (16), George Valentine (14), John (10) and William (age 7). Also daughter Hattie MERTENS (age 21) and baby grandson August W MERTENS.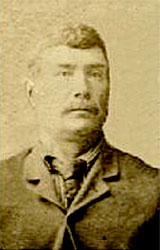 Nancy (nee Loutit) and William Calder
Half-Breed Scrip Claims Denied
1902
In 1902 William was enticed by Manitoba land speculators to sell them Half-Breed Scrip which they believed he and his first seven children were entitled to. (Archives Canada, DIA correspondence). Not wanting to suffer the expense of travelling to Manitoba on the outside chance that this was true, William asked Archdeacon Robert PHAIR to look into the matter for him. The Scrip claims were apparently denied due to the fact that he and his children were not believed to be residents of Manitoba in 1870 when it became a province.
In 1905 son Edward Alexander married Nancy SMITH in St Andrews (Red River), daughter of Madeleine LIZOTTE & Thomas James SMITH (1842-1825). ** MORE ABOUT THOMAS JAMES SMITH
On Jan 12, 1908 William CALDER died in Fort Frances, ON.
Not sure when son Robert married Christina MORRISSEAU, daughter of Isabella JOURDAIN and William MORRISSEAU (1859-1931).
In 1911 daughter Emily married Walter James Howard McKELVIE, son of Lydia BIDDISON and John McKELVEY (1846-1899).
Census of 1911 in  Fort Frances: Wisow Nancy CALDER, age 57. Children: Hattie (age 30) Valentine (24), John (20), Thomas (age 18) and adopted daughter Elizabeth CALDER, age 3 (born Nov, 1908).
In 1915 daughter Isabella married Thomas Garfield HARLEY, son of Emma McTAGGART and Thomas HARLEY (1854-1948).
World War I
1914-1919
On Aug 4, 1914 Great Britain (Canada on Aug 5) declared war on Germany and Austria-Hungary to uphold treaties with France and Belgium which were under German attack. This marked the beginning of World War I.
In 1916 son George Valentine enlisted for War service in Fort Frances.

In 1917 son John enlisted at Camp Shilo in Manitoba.
In 1917 son George Valentine married Isabella Jane WOODS, daughter of Elizabeth SMITH and William WOODS (b-1852).
November 11,1919, Armistice Day (Remembrance Day) marked the end of the First World War.
Census of 1921 in Fort Frances: Rainy River (#79), SD-54, pg , HH- (417 1st Street): Widow Nancy CALDER, age 70. Son John, age 30. Daughter Bessie, age 15 (born 1906).
On Feb 14, 1943 Nancy (nee LOUTIT) CALDER died in Fort Frances, ON.
Comments and queries at this link: FORUM DISCUSSING the WILLIAM CALDER FAMILY
========================== Family Details ==========================
Children:
1. Sep 23, 1871 PETER LOWE LOUTIT CALDER (m. Marie COLLINS)
2. May 3, 1876 JESSIE CALDER (m. Melvin Thomas HICKERSON)
3. Aug 26 1878 ANN HARRIET (HATTIE) CALDER (m. Frederick Joseph MERTENS)
4. Oct 21, 1881 EDWARD ALEXANDER CALDER (m. Nancy SMITH)
5. Dec 24 1882 WILLIAM ROBERT STUART CALDER (m. Christina MORRISSEAU)
6. Feb 21, 1885 EMILY KATHERIN JANE CALDER (m. Walter James Howard McKELVIE)
7. Feb 14, 1887 GEORGE VALENTINE CALDER (m. Isabella Jane WOODS)
8. Feb 25, 1889 ISABELLA CALDER (m. Thomas Garfield HARLEY)
9. Mar 27, 1891 JOHN R CALDER
10. Mar 14, 1894 WILLIAM THOMAS CALDER (Died age 20 un-married)