JOSEPH BRUYERE (1852-1934)
ELIZABETH (ELISE) BIRD (1849-?)

(Last Updated: July 16, 2016)
Joseph BRUYERE (often also spelled BRIERE) was born about 1852, son of Francoise MAINVILLE and Joseph BRUYERE SR (1815-1906) from Quebec. ** MORE ABOUT JOSEPH BRUYERE SR
In 1861 Joseph's father (Joseph St) married a second time to Agnes (Edwidge) GREENLEAF, and by 1881 they were living in Manigotagan (MB).
Canadian Confederation
A Red River Rebellion
Manitoba becomes a Province
1867-1870
On July 1, 1867 the British colonies in North America were united under the British North American Act to become the Dominion of Canada.  Sir John A MACDONALD (1815-1891) was appointed as Canada's first Prime Minister. William McDOUGALL (1822-1905) became the Minister of Public Works, and he began negotiations to acquire Rupert's Land from the HBC; surveyors were sent to Red River to prepare the way for an expected influx of settlers.
On Oct 11, 1869, Louis RIEL (1844-1885) placed his foot on the surveyors' chain to tell them their work was finished! This marked the beginning of the historic Red River Métis Rebellion.
On July 15, 1870 the Rebellion ended when RIEL's Provisional Government accepted the terms of the Manitoba Act and Manitoba became the fifth province of Canada.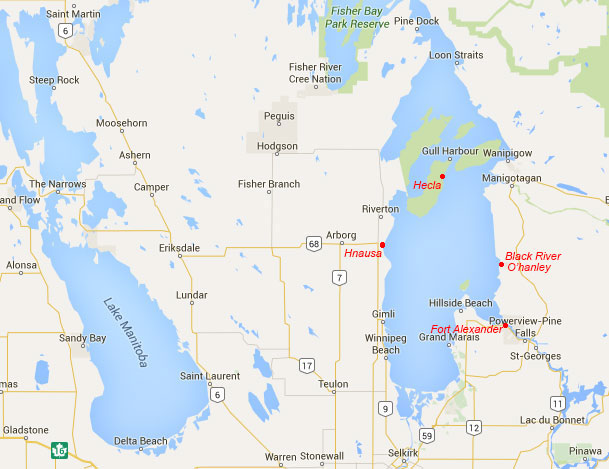 Signing of Treaty Number One
1871
In 1871 KAKAKEPENAISE (William MANN) signed Treaty Number One (The Stone Fort Treaty) on behalf of the Sagkeeng (Fort Alexander) First Nation people. Thereafter many Fort Alexander residents became Treaty Indians by taking Treaty annuities.
Marriage to Elizabeth (Elise) BIRD
1874
Around 1874 Joseph married Elise (Elizabeth) BIRD of so far uncertain origins. On Dec 21, 1874 their first child, Catherine, was born in Fort Alexander.
What were the origins of Elise, Alice or Elizabeth BIRD? This is a puzzle we are trying to solve. Investigations so far suggest two seemingly different parents for Elise BIRD.  
JC Briere (a BRUYERE descendant) indicates that she was Elizabeth SIPI/BIRD, daughter of Cecile SAULTEAUX and Paul SIPI (b-1826).
The Mormons Genealogy Website indicates that she was Elise BIRD, daughter of Isabella GIBSON and James BIRD (1824-1892), which pre-dates their marriage according to my previous researches. ** MORE ABOUT JAMES BIRD
** This will be an excellent Topic for debate and discussion on the Forum (link provided below) and we hope someone out there will be able to enlighten us..
Census of 1881 in Lake Winnipeg area (probably Fort Alexander):Joseph BRIERE, age 29; wife Alice, age 32. Children: Catherine (age 6), Sophia (4) and Frances (age 2).
In 1894 daughter Catherine married Michel CAVANAUGH in Winnipeg, son of Elizabeth BENNETT and Martin KAVANAUGH (1835-1880) from Ireland.
Around 1900 daughter Frances was the second wife of Alexander MORIN (1860-1939).
In 1901 daughter Sophia became the second wife of Pierre William GUIMOND in Fort Alexander, the son of Suzanne FINLAYSON and Pierre GUIMOND (1848-1915). ** MORE ABOUT PIERRE GUIMOND
Around 1902 daughter Mary Jane was the wife of William HOURSTON in Fort Alexander, son of Henriette MERCREDI and Joseph HOURSTON (b-1853).
Census of 1906 in the Fort Alexander Reserve: Joseph BRIERE, age 53; wife Elise, age 50. Children: Alex (age 10) and Archie (age 7).
Census of 1911 in the Fort Alexander Reserve: Joseph BRIERE, age 59; wife Elizabeth age 52; daughter Rachel, age 14.
Census of 1916 in the Fort Alexander Reserve: Joseph BRIERE, age 69; wife Elizabeth, age 55; son Arthur, age 18. Mother-in-law: Widow SEEPI, age 104 (b-1812).
Census of 1921 in the Fort Alexander Reserve: Joseph BRUYERE, age 78; wife Eliza, age 60. Child: Arthur, age 27.
In 1934 Joseph BRUYERE died in the Fort Alexander Indian Reserve.
Comments and queries at this link: FORUM DISCUSSING THE JOSEPH BRUYERE FAMILY
========================== Family Details ==========================
Children:
1. Dec 21, 1874 CATHERINE BRUYERE (m. Michel KAVANAUGH)
** MORE ABOUT MICHEL CAVANAUGH
2. 1877 SOPHIA BRUYERE (m. Pierre William GUIMOND)
3. Dec 15, 1879 FRANCOISE (FRANCES) BRUYERE (m. Alexander MORIN)
4. 1881 SERGIUS "CYRUS" BRUYERE (m. Sophie COURCHENE)
5. 1889 MARY JANE BRUYERE (m, William HOURSTON)
6. 1894 ARTHUR BRUYERE (m. Ann Margaret SINCLAIR)
7. 1896 ALEXANDER BRUYER
8. 1897 RACHEL BRUYERE
9. 1899 ARCHIE BRUYERE