MICHEL CAVANAUGH (1861-1943)
CATHERINE BRUYERE (1875-1926)

(Last Updated: July 15, 2016)
On Apr 15, 1861 Michel CAVANAUGH (sometimes spelled KAVANAUGH) was born in Cap-des-Rosiers, Quebec, son of Elizabeth BENNETT and Martin KAVANAUGH (1835-1880) from Ireland.
These are the great grandparents of Kevin BAKER who made a donation and is cooperating in tracing his ancestors.
Marriage to Catherine BRUYERE
1894
In 1894 Michel married Catherine BRUYERE in Winnipeg, daughter of Elizabeth BIRD and Joseph BRUYERE (1852-1934). ** MORE ABOUT JOSEPH BRUYERE
Census of 1906 in the Seven Sisters area south of Lac du Bonnet (MB): Michel CAVANAUGH, age 45; wife Catherine, age 32. Children: Philip (age 5), Joseph (4) and Clementine (age 1).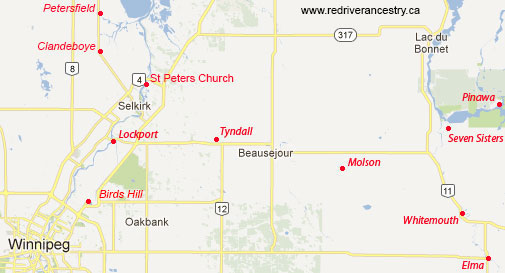 Census of 1911 in Point du Bois (MB): Michael CAVANAGH, Bush Camp Foreman, age 50; wife Katherine, age 37. Children: Philip (age 11), Joseph (9), Clementine (7) and Mary (age 3). ** Pointe du Bois is located along the Winnipeg River northeast of Pinawa (shown on map above).
In 1924 son Joachim married Helen Eliza Janet NICE in Winnipeg, She was bon 1900 in England and came to Canada in 1909.
On Oct 10, 1926 Kathleen (nee BRUYERE) CAVANAUGH died in Selkirk, age 53.
In 1934 daughter Marguerite married Ivan Emile PAQUETTE in Selkirk.
In 1935 daughter Clementine married Lawrence Hubert McDONALD in Selkirk, son of Mary MONKMAN and Donald McDONALD (1863-1943).
In 1936 daughter Alvina married Edward GLENDAY, son of Elizabeth Jane WALTERS and Alexander Mitchell GLENDAY (b-1864).
On Dec 21, 1943 Michel CAVANAUGH died in Selkirk, age 87.
Comments and queries at this link: FORUM DISCUSSING the MICHEL CAVANAUGH FAMILY
========================== Family Details ==========================
Children:
1. 1898 MAGGIE CAVANAUGH
2. Mar 31, 1899 MARTINE CAVANAUGH (Died in infancy)
3. May, 1900 PHILIP VINCENT CAVANAUGH     
4. Dec, 1901 JOSEPH CAVANAUGH
5.  Jun 29, 1902 JOACHIM HORMIDAS CAVANAUGH (m. Helen Eliza Janet NICE)
6. May, 1904 MARY CLEMENTINE CAVANAUGH (m. Lawrence Hubert McDONALD)
7. 1906 GONZAQUE CAVANAUGH (Died in infancy)
8. Jun 1, 1908 MARGUERITE MARIE (MARY) CAVANAUGH (m. Ivan Emile PAQUETTE)
9. Sep 13, 1912 MARIE ALVINA CAVANAUGH (m. Edward GLENDAY)
10. 1913 DELROSE CAVANAUGH
11. 1921 LOUIS CAVANAUGH (Died in infancy)