PIERRE GUIMOND (1848-1915)
SUZANNE (SUSAN) FINLAYSON (1854-?)
(Last Updated: July 15, 2016)
Pierre GUIMOND was born around 1850, probably in St Boniface, son of Marie CHARETTE & Joseph GUIMOND (b-c1806). ** MORE ABOUT JOSEPH GUIMOND
Canadian Confederation
A Métis Rebellion
Manitoba becomes a Province
1867-1870
On July 1, 1867 the British colonies in North America were united under the British North American Act to become the Dominion of Canada.  Sir John A. MACDONALD was appointed as Canada's first Prime Minister. William McDOUGALL (1822-1905) became the first Minister of Public Works for the new Dominion of Canada, and he began negotiations to acquire Rupert's Land from the HBC. Surveyors were dispatched to Red River to prepare the way for an expected influx of settlers.
On Oct 11, 1869, Louis RIEL (1844-1885) placed his foot on the surveyors' chain to tell them their work was finished! This marked the beginning of another Red River Métis Rebellion. When it was all over, RIEL's Provisional Government accepted the terms of the Manitoba Act and on July 15,1870 Manitoba became the fifth province of Canada, the Canadian Government having acquired the territory previously governed by the HBC.
On Aug 21, 1870, Colonel Garnet Joseph WOLSELY (1833-1913) and his soldiers arrived at Fort Alexander; then proceeded to Upper Fort Garry where on Aug 24 they forced their way into the Métis headquarters. RIEL, having learned that the soldiers were planning to lynch him, fled just a few hours before they arrived. After going to the bishop's residence to tell TACHE that he had been tricked by the politicians, RIEL fled to the United States. He took refuge at St Joseph's Mission, about 10 miles south of the border in Dakota Territory.
We don't know when Pierre and his parents and siblings moved to the area that would later become the Sagkeeng (Fort Alexander) Indian Reserve, but we do know that he and all of his siblings married Indian or Half-breed wives and became Treaty Indians themselves by virtue of being residents there before Treaty No. 1 was signed, and by receiving Government annuities as such after the Reserve boundaries were established.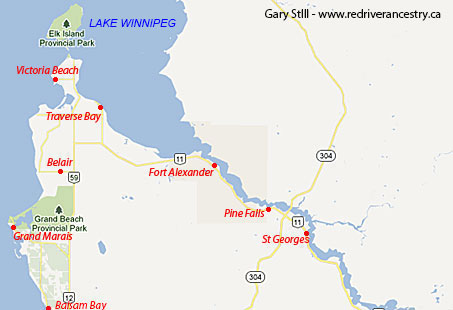 Signing of Treaty Number One
Sagkeeng – Fort Alexander becomes an Indian Reserve
Pierre marries Suzanne (Susan) FINLAYSON
1871
In 1871 KAKAKEPENAISE (William MANN) signed Treaty Number One (The Stone Fort Treaty) on behalf of the Sagkeeng (Fort Alexander) First Nation people. Pierre thereafter became a Registered Treaty Indian.
It was around 1871 that Pierre married Suzanne FINLAYSON from the St Peters Indian Reserve, daughter of an Indian woman named Lisette LUCIER and Hector FINLAYSON (1831-1901), a half-breed carpenter and boat-builder for the Hudson's Bay Company (HBC). ** MORE ABOUT HECTOR FINLAYSON
In the Census of 1881 Pierre was enumerated in Fort Alexander as 33 years old; wife Susan age 27. Their children as: Moise (age 7), Joseph (5), Pierre William (4) and Susan (age 2).
Around 1894 son Joseph married Marianne FONTAIN, daughter of Nancy CHAPMAN and Jerome FONTAINE b-1844, an HBC voyageur.
Also in 1894, daughter Susan married John George PARISIEN in Fort Alexander.
In 1897 son Pierre married Pauline COURCHENE in Fort Alexander, daughter of Elise BRUYERE & Maxime COURCHENE (b-1852).
In 1899 son Moise married Julia SPENCE at Fort Alexander, possibly a daughter of Margaret STEVENSON and George SPENCE (1827-1897). ** Note: This is second hand, un-sourced information that needs further verification.
In 1900 son Antoine married Eliza BIRD in Fort Alexander.
Also in 1900 daughter-in-law Pauline (nee COURCHENE) died, and in 1901 son Pierre Jr. re-married to Sophie BRUYERE, daughter of Elise BIRD and Joseph BRUYERE (born 1852 in Quebec).
In 1904 son-in-law John George PARISIAN died and in 1906 his widow Susan (Pierre's daughter) remarried to Louis SIMARD JR (b-1882), son of Betsy COCHRANE & Louis SIMARD SR (1855-1920).
From the 1906 Census of Fort Alexander: Pierre GUIMOND (age 60), wife Susan (age 50); children as Sarah (age 14) and John (age 12).
In 1908 son Louis married Leonie ABSTON in Fort Alexander.
From the 1911 Census of Fort Alexander: Pierre GUIMOND (age 62), wife Susan (age 58); children as Sarah (age 24) and John George (age 16).
Pierre must have died around 1915 (after 1911 and before 1916).
From the 1916 Census of Fort Alexander: Widow Mrs. Pierre GUIMOND (age 64); children as Sarah Ann (age 32) and John George (age 21).
On Nov 8, 1916 son John George married in Fort Alexander to Sarah THOMAS, daughter of Sophie LINKLATER & Daniel THOMAS (1853-1942).
Please post comments & queries at this link: FORUM DISCUSSING the PIERRE GUIMOND FAMILY
============================= Family Details =============================
Children:
1. 1874 MOISE GUIMOND (m. Julia SPENCE)
2. Dec 30, 1875 JOSEPH GUIMOND (m. Marianne FONTAINE)
3. 1877 PIERRE WILLIAM GUIMOND (m1. Pauline COCHRANE, m2. Sophie BRUYERE)
4. Dec 29, 1879 SUSAN GUIMOND (m1. John George PARISIAN, m2. Louis SIMARD)
** MORE ABOUT LOUIS SIMARD
5. c1882 LOUIS GUIMOND (m. Leonie ABSTON)
6. c1884 ANTOINE GUIMOND (m. Eliza BIRD)
7. May 9, 1884 SARAH ANN GUIMOND
8. c1894 JOHN GEORGE GUIMOND (m. Sarah THOMAS)