HECTOR FINLAYSON (1820-1901)
LISETTE LUCIER (1830-1854+)
SARAH BRASS (1835-1901+)

(Last Updated: July 12, 2016)
Hector FINLAYSON was born on Nov 6, 1820 in the Northwest, son of an Oji-Cree woman named Nancy KA-NA-KA-SHE-WAITE and Nicol FINLAYSON (1794-1877) from Scotland. ** MORE ABOUT NICOL FINLAYSON
In 1826 Hector's father, Nicol FINLAYSON, re-married to Elizabeth KENNDY at Albany Factory, the daughter of Mary Aggathas BEAR and Alexander KENNEDY (1781-1832). ** MORE ABOUT ALEXANDER KENNEDY
On May 29, 1831 Hector was baptized, presumably in Red River.
Saskatchewan District with the HBC
1838
In 1838 Hector began his employ with the Hudson's Bay Company (HBC) as an Apprentice Boatbuilder in the Saskatchewan District.
Marriage to Lisette LUCIER
1846
Around 1846 Hector married Lisette LUCIER of uncertain origins during his assignments in the Saskatchewan District (some sources indicate they married in Fort Edmonton). From 1850 to 1854 Hector was still working as a boat builder in the Swan River and Cumberland Districts.
By about 1854 he and Lisette had at least three children: Nancy (age 7), Eliza (6) and a baby named Susan.
From 1854-56 he was "in charge" at the Moose Lake Post in the Cumberland District.
It seems that sometime after 1854 (before 1857) Lisette (nee LUCIER) FINLAYSON must have died.
In 1856 Hector was "in charge" at Rocky Mountain House where in 1857 he was "Free to Red River Settlement".
Marriage to Sarah BRASS
1857
Around 1857 Hector was married to Sarah BRASS, daughter of Susanne ROI or COMTOIS and Peter BRASS (1794-1871), a half-breed.
From 1858 to 1872 Hector was listed as an HBC Carpenter or Boatbuilder in St Peters Parish, Red River Settlement.
Around 1860 eldest daughter Nancy married William SANDERSON of uncertain origins. Nancy married a second time to Eugene SMITH, possibly the son of Donald (Lord Strathcona) SMITH (1820-1914) who figured prominently, yet treacherously for the Métis, in the 1869-70 Métis Rebellion in Red River. ** This information comes from James Fortier on his website Turtle Island Productions. ** MORE ABOUT DONALD SMITH in DCBO
Canadian Confederation
A Red River Rebellion
Manitoba becomes a Province
1867-1870
On July 1, 1867 the British colonies in North America were united under the British North American Act to become the Dominion of Canada.  Sir John A MACDONALD (1815-1891) was appointed as Canada's first Prime Minister. William McDOUGALL (1822-1905) became the Minister of Public Works, and he began negotiations to acquire Rupert's Land from the HBC; surveyors were sent to Red River to prepare the way for an expected influx of settlers.
Around 1868 daughter Eliza married James BIRD in St Peters, son of Isabella GIBSON and James BIRD SR (1824-1892).
** MORE ABOUT JAMES BIRD SR
On Oct 11, 1869, Louis RIEL (1844-1885) placed his foot on the surveyors' chain to tell them their work was finished! This marked the beginning of the historic Red River Métis Rebellion.
On July 15, 1870 the Rebellion ended when RIEL's Provisional Government accepted the terms of the Manitoba Act and Manitoba became the fifth province of Canada.
Around 1871 daughter Susan married Pierre GUIMOND in St Peters, son of Marie CHARETTE and Joseph GUIMOND (b-c1806). ** MORE ABOUT JOSEPH GUIMOND
Rat Portage (Kenora)
1876
From 1876 to 1887 Hector is listed as an HBC Boatbuilder at Rat Portage and Fort Frances in the Lac la Pluie District.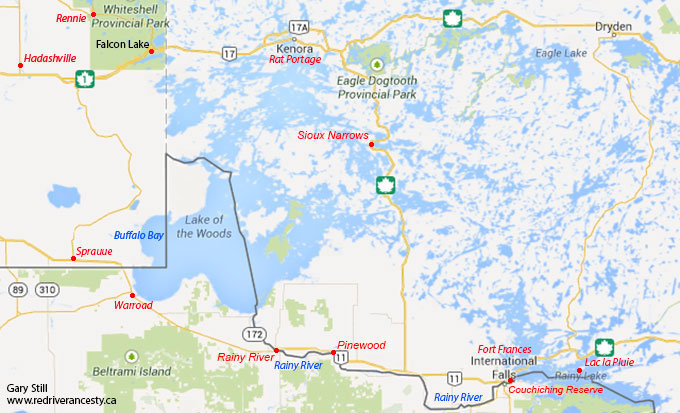 Around 1876 daughter Sarah was married to John James HENDERSON of uncertain origins in Fort Alexander (MB).
Census of 1881 in the Lake Winnipeg Eastern Extension District (Rat Portage):  Hector FINLAYSON, Clerk, age 60; wife Sarah, age 46. Children:  Margaret (age 21), Nichol (14), John (12), Peter (8), Lizzie (4) and Benjamin (age 1).
In 1882 daughter Nancy married a third time to Jacues Phillipe D'ARCIS in St Andrews. He was born about 1845 in England.
Around 1883 son Nichol was married to a lady named Elizabeth of uncertain origins.
Around 1885 son John was married to Sarah McKENZIE of uncertain origins.
On Jun 1, 1887 the HBC records shows Hector as "Free".
Around 1890 daughter Margaret married Paul WILLIAMSON (1861-1899) from Rat Portage.
Census of 1891 in Rat Portage: Hector FINLAYSON, Ship Carpenter, age 70; wife Sarah, age 55. Children: Nichol (age 23), John (21), Peter (16) and Benjamin (age 10).
In 1899 son Peter married Mary YOUNG in Rat Portage, daughter of Maggie THOMPSON and John YOUNG (1844-1904), a retired HBC employee from Scotland.
On Jan 29, 1901 Hector FINLAYSON died in Rat Portage.
In 1904 youngest son Benjamin married Elizabeth YOUNG(his sister-in-law) in the Rainy River District, daughter of Maggie THOMPSON and John YOUNG (1844-1904), a retired HBC employee from Scotland.
On March 7, 1895 Sarah (nee BRASS) FINLAYSON died in Thunder Bay, Ontario. Sarah was buried in the Lake of the Woods Cemetery in Kenora, next to her husband.
Comments and queries at this link: FORUM DISCUSSING THE HECTOR FINLAYSON FAMILY
============================= Family Details =============================
Children with Lisette LUCIER:
1. Apr 11, 1847 NANCY FINLAYSON (m.1. William SANDERSON; m2. Eugene SMITH; m3. James Louis Philip D'ARCIS)
2. Nov 15, 1848 ELIZA "LIZETTE" FINLAYSON (m. James BIRD)
3. c1854 SUSAN FINLAYSON (Pierre GUIMOND)
Children with Sarah BRASS:
1. Apr 5, 1858 SARAH FINLAYSON (m. John James HENDERSON)
2.  Mar 28, 1859 MARGARET FINLAYSON (m. Paul WILLIAMSON)
3. c1864 HECTOR McKENZIE FINLAYSON (Died in infancy)
4. Jan 15, 1867 RODERICK FINLAYSON\
5. Nov 18, 1868 NICHOL FINLAYSON (m. Elizabeth "Lizzie")
6.  Oct 20, 1871 JOHN FINLAYSON (m. Sarah McKENZIE)
7. c1872 FRANCES FINLAYSON (Died as a baby)
8. May 11, 1874 PETER FINLAYSON (m. Mary YOUNG)
9. 1876 JESSIE LILLIE FINLAYSON (Died in infancy)
10. 1878 ELIZABETH "LIZZIE" FINLAYSON (Died in infancy)
11. July 7, 1882 BENJAMIN FINLAYSON (m1. Elizabeth YOUNG)