PAUL WILLIAMSON (1861-1899)
MARGARET FINLAYSON (1858-1939)

(Last Updated: July 12, 2016)
Paul WILLIAMSON was a half-breed born about 1861 in Ontario (probably Rat Portage/ Kenora).
Marriage to Margaret FINLAYSON
1890
Around 1890 Paul married Margaret FINLAYSON in Kenora, Ontario, daughter of Sarah BRASS and Hector FINLAYSON (1826-1901). ** MORE ABOUT HECTOR FINLAYSON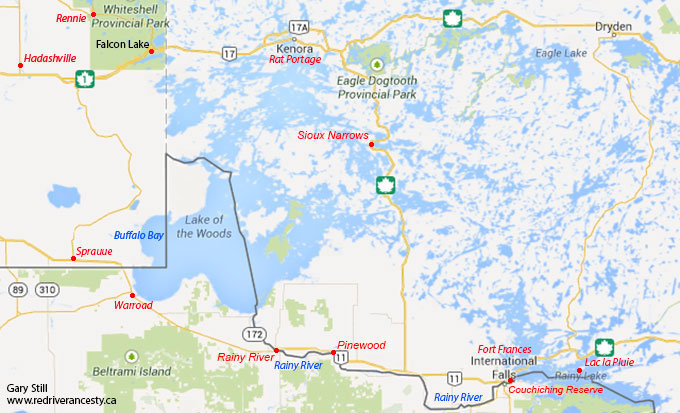 Census of 1891 in the Algoma District of Ontario: Paul WILLIAMSON, HBC Laborer, age 30; wife Margaret, age 31; and son Hector, a baby.
On Mar 28, 1899 Paul WILLIAMSON died at Sioux Narrows, Kenora, Ontario. The Daily Mail reported that Paul WILLIAMSON, a half-breed in the employ of the Hudson's Bay Company, had accidentally killed himself by a discharge from his shotgun. It appears that WILLIAMSON was walking along a narrow trail in the vicinity of Regina Mine, when he stumbled into soft snow and caught the trigger of the gun, the full discharge entering the unfortunate man's chest causing instant death. WILLIAMSON was a powerful man over six feet tall, and was well known around town.  He was for five years in the service of Dr. HANSON, the Indian medical officer, as canoe man and was a great favourite with the doctor.
Census of 1901 in Rat Portage (Kenora): With her brother, Benjamin FINLAYSON (age 19) we have Margaret (age 41) and her children: Stuart (Hector, age 10), Benjamin (7) and Nicol (age 1).
Census of 1911 in Kenora: Widow Margaret WILLIAMSON, age 51. Children: Hector (age 20), Benjamin (17) and Nicol (age 11).
In the 1920's son Hector married Libbie Victoria SLATER, daughter of Margaret Maude LEASK and George SLATER (1871-1937).
Census 1921: Temiskaming, Ontario (#129), SD-77 (Ellber), pg 1, HH-6 (RM of Mattice): Ben P WILLIAMSON, Store Clerk age 27 and mother, Margaret WILLIAMSON, age 61; and Cousin Mamy FINLAYSON, age 14 (b-1907)
Son Benjamin married Hannah Sarah LECLAIRE, daughter of Sarah Mary Elizabeth SMITH and Louis LELCAIRE (b-1876).
On July 30, 1939 Margaret (nee FINLAYSON) WILLIAMSON died.
Comments and queries at this link: FORUM DISCUSSING THE PAUL WILLIAMSON FAMILY
========================== Family Details ==========================
Children:
1. Mar 25, 1891 HECTOR STUART WILLIAMSON (m. Libbie Victoria SLATER)
2. Jan 13, 1894 BENJAMIN PAUL WILLIAMSON (m. Hannah Sarah C LECLAIRE)
3. Oct 8, 1899 NICOL WILLIAMSON