JOSEPH GUIMOND (1875-?)
MARIANNE FONTAINE (1880-?)
EUGENIE COCHRANE
MARY ANN STAGG (1874-?)
(Last Updated: August 21, 2014)
Joseph GUIMOND was born 1875 in the Fort Alexander (Sagkeeng) Indian Reserve, son of Suzanne FINLAYSON & Pierre GUIMOND (b-1848). ** MORE ABOUT PIERRE GUIMOND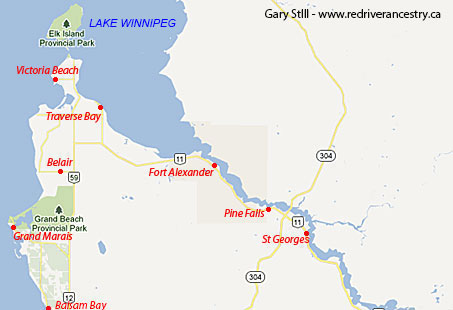 Marriage to Marianne FONTAINE
1894
Around 1894 Joseph married Marie Anne FONTAINE in Fort Alexander,daughter of Nancy CHAPMAN and Jerome FONTAINE b-1844, an HBC voyageur. ** MORE ABOUT JEROME FONTAINE in HBC ARCHIVES
Census of 1906 in the Fort Alexander Reserve: Joseph GUIMOND, age 29; wife Mary, 26. Children: Stephan (age 12), Mary (9), Catherine (5) and Armille (age 2).
Census of 1911 in the Fort Alexander Reserve: Joseph GUIMOND, age 35; wife Mary Ann, age 31. Children: Mary (age 13), Catherine (10), Armille (7), Stephen (5) and baby David.
World War I
1914-1919
On Aug 4, 1914 Great Britain (Canada on Aug 5) declared war on Germany and Austria-Hungary to uphold treaties with France and Belgium which were under German attack. This marked the beginning of World War I.
Around 1915 Joseph's father (Pierre GUIMOND) died in Fort Alexander.
Census of 1916 in the Fort Alexander Reserve: Joseph GUIMOND, Fisherman, age 50, wife Mrs GUIMOND, age 47.
Around 1918 daughter Catherine became the wife of Ventrice (FIDLER) THOMAS from the Matlock area on the west side of Lake Winnipeg. Ventrice's birth parents were Caroline SAYER and James FIDLER (1870-1929). The THOMAS surname came from his adoptive parents, Margaret MOORE and Thomas THOMAS (1845-1926).
Marriage to Eugenie COCHRANE
1919
On Oct 7, 1919 Joseph allegedly married Eugenie COCHRANE at Fort Alexander. (She was born in the Fisher River Reserve).
November 11, 1919, Armistice Day (Remembrance Day) marked the end of the First World War.
In 1920 eldest son Stephan died at the age of 16.
Marriage to Mary Ann STAGG
1922
On Oct, 1922 Joseph allegedly married Mary Ann STAGG (b-1874) in Fort Alex, daughter of Jessie and Henry STAGG (b-1846).
If anyone has more information about Joseph's alleged marriages to Eugenie COCHRANE and/or Mary Ann STAGG, we would love to hear from you on the Forum. Also would like to known when/where Joseph GUIMOND died.
Comments and queries at this link: FORUM DISCUSSING the JOSEPH GUIMOND FAMILY
============================= Family Details =============================
Children:
1. 1894 STEPHAN GUIMOND (Died age 16)
2. 1898 MARY GUIMOND
3. 1901 CATHERINE GUIMOND (m1.  Ventrice THOMAS, m2. Lawrence SMITH)
** MORE ABOUT VENTRICE THOMAS and LAWRENCE SMITH
4. 1904 ARMILLE (AMELIE) GUIMOND
5. 1911 DAVID GUIMOND