ALEXANDER MORIN (1860-1939)
MARGARET MILLER (1865-1905)
FRANCOISE (FRANCES) BRUYERE (1879-1971)
(Last Updated: July 15, 2016)
Alexander MORIN was born Jan 10, 1860 in Cumberland House (SK), a French-Cree Metis of uncertain parentage.
Marriage to Margaret MILLER
1878
In 1878 Alex married Margaret MILLER at Cumberland House, daughter of Mary TEABOY and Joseph MILLER of uncertain origins. In 1880 daughter Virginia was born, in 1883 daughter Marie Josephine was born, and in 1885 son Solomon was born, all at Cumberland House.
Daughters Rosalie and Pelagie were born in 1887 and 1889 respectively, but it is uncertain whether they were born in Cumberland House or perhaps in Manitoba.
Balsam Bay - Fort Alexander - Manitoba
On Feb 21, 1891 son Joseph was born in Balsam Bay, MB.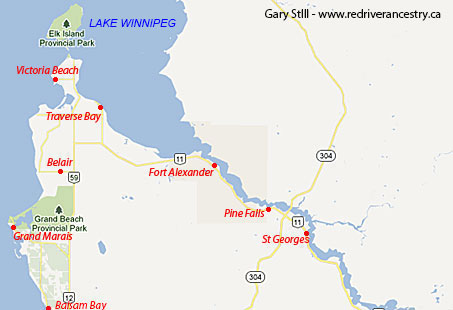 In 1895 eldest daughter Virginia married Godfrey GAUDRY of uncertain origins.
Sometime before 1900 Margaret (nee MILLER) MORIN may have died because Frances BRUYERE was the mother of Alex's child (Charles) born in 1900, and in the 1901 census he appears as a single parent as follows:
Alexander and Frances BRUYERE
1900
On Sep 10, 1900 son Charles was born in Fort Alexander. According to Vital Stats his parents were Francoise (Frances) BRUYERE and Alexandre MORIN. Frances BRUYERE was the daughter of Elizabeth BIRD and Joseph BRUYERE (1852-1934) from Fort Alexander. ** MORE ABOUT JOSEPH BRUYERE
Census of 1901 in the Traverse Bay area of Lake Winnipeg:Alexandre MORIN, age 40 (no wife shown). Children: Marie (age 18), Solomon (15), Rosalie (13), Pelagie (11), Joseph (10), Magloire (7), Pierre (5) and Alexandre (age 3).
In 1901 daughter Marie Josephine married Francois (Frank) LECLERC aka LECLAIR in St Boniface, son of Marguerite MERCREDI and Francois Xavier LECLERC aka LECLAIR (1851-1932). ** MORE ABOUT XAVIER LECLAIR
Census 1906 in the Town of Lac du Bonnet: Alexander MORIN, age 46; wife Frances, age 26). Children: Solomon (age 21), Rosalie (18), Joseph (15), Magloire (13), Peter (9), Charles (6), Rosanna (4), William (2) and baby Katie (born Jan 6).
In 1907 eldest son Solomon married Mary Anne GAGNON in Whitemouth, daughter of Rosalie MANVILLE & David GAGNON (b-1844).
In 1911 son Peter (age 16) was enumerated in the St Boniface household of his sister & brother-in-law (Marie & Frank LECLAIR).
World War I
1914-1918
Fort Alexander – Traverse Bay
On Aug 4, 1914 Great Britain (Canada on Aug 5) declared war on Germany and Austria-Hungary to uphold treaties with France and Belgium which were under German attack. This marked the beginning of World War I.
In 1916 sons Solomon  and Peter both enlisted.
Census of 1916 in the Traverse Bay area: Alexander MORIN, Carpenter, age 56; wife Frances, age 37. Children: Charles(age 16), Susanna (14), William (12), Catherine (10), Margaret (3) and baby Annie.
In 1917 son Joseph enlisted stated his next of kin as his father, Alex MORIN of Traverse Bay, MB.
November 11, 1918, Armistice Day (Remembrance Day) marked the end of the First World War.
Census 1921 in the Fort Alexander area: Alexander MORAN, age 61; wife Frances, age 39. Children: William (18), Katie (15), Margaret (8) and Elizabeth (age 1).
In 1924 daughter Kathleen married Louis LAVERDURE in Selkirk.
In 1930 daughter Marie Marguerite married Jean Baptiste DIGNARD in Traverse Bay.
It is uncertain when son Charles married France THOMAS, daughter of Margaret SINCLAIR and John Edward THOMAS (1898-1972).
Around 1934 son William George married Elizabeth THOMAS, daughter of Jane BECKER and Joseph Henry THOMAS (1887-1962).
It is said that Alexander MORIN died in 1939.
Sometime in the early 1940's youngest daughter Elizabeth became the second wife of Arthur Murray MITCHELL in Fort Alexander, son of Arabella THOMAS and Arthur Murray MITCHELL SR (1880-1954) from Scotland.
Widow Frances remarries to Alexander RUPERT
It is uncertain when Widow Frances MORIN remarried to Alexander RUPERT (1885-1981), an adopted child of Frances KNOTT and George RUPERT (1835-1912).
On Apr 17, 1971 Frances (nee BRUYERE) RUPERT died in Pine Falls.
Comments and queries at this link: FORUM DISCUSSING THE ALEXANDER MORIN FAMILY
========================== Family Details ==========================
Children with Margaret MILLER:
1. Jun 26, 1880 VIRGINIA MORIN (m. Godfrey GAUDRY)
2. Apr 25, 1883 MARIE JOSEPHINE MORIN (m1. Frank LECLAIR; m2. David LEVESQUE, m3. John SIDORCHUK)
3. Aug 14, 1885 SOLOMON MORIN (m. Mary Ann GAGNON)
4. Apr 16, 1887 ROSALIE MORIN
5. Mar 25, 1889 PELAGIE MORIN
6. Feb 21, 1891 JOSEPH MORIN
7. Nov 30, 1893 MAGLOIRE MORIN (Died age 16)
8. Sep 4, 1895 PIERRE (PETER) MORIN (Died age 20)
9. Mar 10, 1897 ALEXANDRE MORIN
Children with Frances BRUYERE:
1. Sep 10, 1900 CHARLES MORIN (m. Frances THOMAS)
2. 1902 ROSANA (SUSANNA) MORIN
3. Dec 16, 1903 WILLIAM GEORGE MORIN (m. Elizabeth Muriel Elsie) THOMAS)
4. Jan 6, 1906 KATHLEEN (KATE) MORIN (m. Louis LAVERDURE)
5. 1913 MARIE MARGUERITE (MARGARET) MORIN (m. Jean Baptiste DIGNARD)
6. 1916 ANNIE MORIN
7. Dec 14, 1919 ELLIZABETH MORIN (m. Arthur Murray MITCHELL)