GEORGE "GEORDIE" THOMAS (1852-1927)
ADELAIDE MORIN (1848-1957)
(Last Updated: July 16, 2016)
George "Geordy" THOMAS was born Feb 17, 1852 at Reindeer Lake (Brochet), MB, son of Mary BOUVIER & Charles THOMAS (1814-1904). ** MORE ABOUT CHARLES THOMAS
** The 1901 census record indicated George born Jan 23, 1849. Other census records indicate born 1856. HBC Bio has born 1854. Vital Stats indicates he was 74 when he died in 1927 (born 1853). Another source (Suitor) has his birthdate as Feb 17, 1852 which seems reasonable.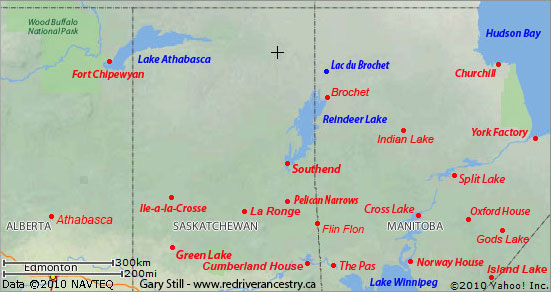 Canadian Confederation
1867
On July 1, 1867 the British colonies in North America were united under the British North American Act to become the Dominion of Canada.  Sir John A MACDONALD (1815-1891) was appointed as Canada's first Prime Minister.
Employed by the Hudson's Bay Company
1869
In 1869 Geordie was hired by the Hudson's Bay Company (HBC) as an apprentice laborer at Frog Portage in the English River District. By 1871 he was a voyageur (middlema in a canoe) working out of the Rapid River Post. Rapid River is located about 13 km east of Stanley Mission (northeast of La Ronge).
Marriage to Adelaide MORIN
1872
On Dec 12, 1872 Geordie married Adelaide MORIN at Brochet, the daughter of Genevieve ROY and Pierre MORIN (1834-1892), an HBC interpreter and Postmaster who also worked at various places in the English River District.
On Dec 20, 1873 son Joseph George was born at Deer's Lake. Probably the Deer Lake located southeast of Island Lake.
Red River
1874
In 1874 Geordie was a 'freeman', retired to the Red River District. In the spring of 1875 son Joseph George died in St Andrews Parish. In December of 1875 son Peter was born at Devil's Lake.
Cumberland District
1882-1889
His HBC Biography indicates that from 1882 until he retired in 1889, Geordie was a fisherman, laborer and runner in the Cumberland House District. After his retirement Geordie settled in Balsam Bay on Lake Winnipeg.
Balsam Bay
1889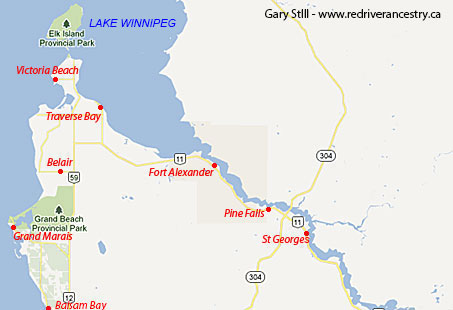 In 1896 daughter Marie Helene married Joseph MORRISSEAU in Fort Alexander, son of Catherine GUIMOND and Jacob MORRISSEAU (1831-1934).

Also in 1896 daughter Nancy married Louis FONTAINE in Fort Alexander, son of Francoise GUIMOND and Moise FONTAINE (1832-1902). ** MORE ABOUT MOISE FONTAINE
In 1897 son Peter married Eladie BRUYERE in Fort Alexander, daughter of Agnes GREENLEAF and Joseph BRUYERE (1815-1906). ** MORE ABOUT JOSEPH BRUYERE
Between 1885 and 1900 Adelaide gave birth to several other children who died very young. Their last/ youngest surviving child was Joseph who was born in 1901.
Living in Traverse Bay region were her sons Peter, Phillip, and Joseph as well as Mrs Nancy GUIMOND and Mrs William ORVIS (Mary).  Joseph THOMAS was the youngest, born Balsam Bay May 3, 1901. 
Census of 1901 in Balsam Bay: George THOMAS, age 52; wife Adelaide, age 44. Children: George P (age 19) and Mary J (age 16).
In 1903 son George Philip married Margaret Nancy THOMAS in Fort Alexander, daughter of Sophia LINKLATER and Joseph Daniel THOMAS (1853-1942).
Son-in-law Joseph MORRISSEAU must have died around 1905 because in July of 1906 daughter Marie Helene was recorded as his widow, and later that same year she re-married to Alexander THOMAS, son of Mary and Richard THOMAS (1834-1923).** MORE ABOUT RICHARD THOMAS
In 1906 daughter Mary Josephine married William ORVIS in Fort Alexander, son of Isabella IRVINE and John Benson ORVIS (1844-1930). ** MORE ABOUT JOHN BENSON ORVIS
Census of 1906 in Balsam Bay: George THOMAS, age 50; wife Adeline, age 46; son Joseph, age 5.
Census of 1911 in Balsam Bay(28-17-7-Epm): George THOMAS, age 55; wife Adeline, age 51; son Joseph, age 10. 
"Lodger" Allan McLEAN, age 11 (Allan was son of Sarah Ann DONALD & Findlay Colin McLEAN b-1861); grandson Simon THOMAS, age 5.
Census of 1916 in Balsam Bay: George THOMAS, age 60; wife Adelaide, age 50; son Joseph, age 15.
Census of 1921 in Balsam Bay: George THOMAS, age 65; wife Adelaide, age 61.
On Nov 17, 1927 George "Geordie" THOMAS died in Balsam Bay; buried in St Lukes Anglican Church Cemetery there.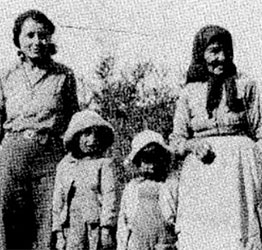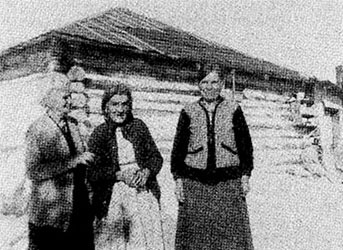 Left: Granny Geordie and grandchildren Agnes, Theresa and Thelma setting out to pick blueberries in 1937
Right: Mrs.Duffield, Granny Geordie,100 years old, Nancy Guimond. Traverse Bay,1947
(Courtesy of Helen Hourie)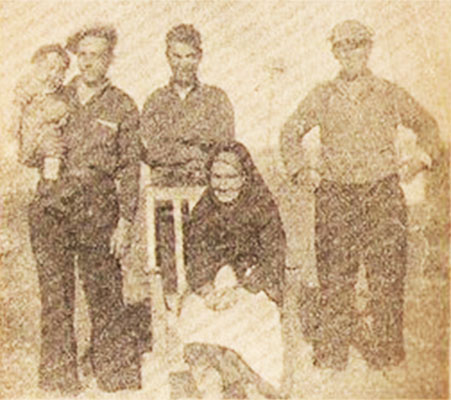 Left: Five generations of the Thomas Family of Traverse Bay: Mrs. George Thomas, 98; her son Peter (69);
Grandson John (45); great grandson Fred (23); and great-great granddaughter Ethel (age 2).
Commemoration of Adelaide's 108th Birthday
1955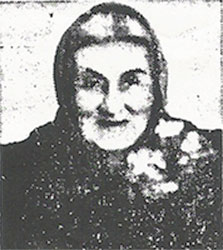 Adelade Thomas (from the Free Press article by Gene Telpner commemorating her 108th birthday)
Telpner: She is the last of the rugged northern frontiers-women – the woman who knew pioneer life in the raw, who lived on pemmican, whose feet recognized only the feel of a hand-sewn moccassin.- - Until three years ago, the durable woman insisted on living alone in a tiny home on the outskirts of her son Peter's homestead. There she trapped rabbits, and trapped muskrats to sell the skins for provisions. - - As she did almost a 100 years ago, Mrs. Thomas continued to live off the land. She netted fish when the water was open and in the winter drilled holes in the ice for her catch. Close at hand was a grove of maple trees, and Mrs Thomas tapped the trees and boiled down the sap. Almost a forgotten art in Manitoba, maplet syrup making was a vital part of her existence; a few quarts added to her diet during the entire year. The taste of pemmican, the "life" of the north, is still fresh in her mouth.
On Jan 18, 1957 Adelaide (nee MORIN) THOMAS died in Traverse Bay, said to be 109 years old.
In 1926 youngest son Joseph married Maud Elizabeth JENNINGS in Saskatchewan, daughter of Mary Magdelene McKAY and William Henry JENNINGS (1873-1955).
Comments and queries at this link: FORUM DISCUSSING THE FAMILY OF GEORDIE THOMAS
========================== Family Details ==========================
Children re Scrip/ Helen:
1. Dec 20, 1873 JOSEPH GEORGE THOMAS (Died in infancy)
2. Jan 7, 1875 PETER RICHARD THOMAS (m. Eladie BRUYERE)
3. May 9, 1876 MARIE HELENE THOMAS (m1. Joseph MORRISSEAU; m2. Alexander THOMAS)
** MORE ABOUT ALEXANDER THOMAS
4. Aug 27, 1879 NANCY THOMAS (m1. Louis FONTAINE; m2. JEAN BAPTISTE GUIMOND)
5. Jun 11, 1881 GEORGE PHILIP THOMAS (m. Margaret Nancy THOMAS; m. Betsy NANOWIN)
6. Apr 15, 1883 JOSEPHINE THOMAS (Died in infancy, age 2)
7. June 12, 1884 MARY JOSEPHINE THOMAS (m. William ORVIS)
8. May 3, 1901 JOSEPH THOMAS (m. Maud Elizabeth JENNINGS)