CHARLES aka GEORGE THOMAS (1814-1904)
MARIE (MARY) BOUVIER (1817-1873)
(Last Updated: February 27, 2016)
Charles (aka George) THOMAS was born Feb 6, 1814 at Moose Factory, son of a Cree woman named Mary MEENISH and John THOMAS (1784-1816), a half-breed. ** MORE ABOUT JOHN THOMAS (1784-1816)
In 1816 Charles' father (John) died and around 1818 his mother (MEENISH) took her youngsters, Eleanor (age 12), Charles (age 4) and baby John to her home village at Rupert's House (Cree Village of Waskaganish).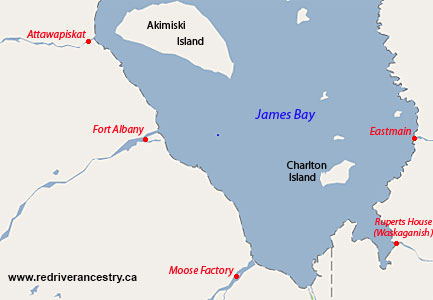 Not long after his father died, Charles' mother, MEENISH, began a connubial relationship with Richard STEVENS (1796-1872), an HBC Accountant from England who was in charge of the Company's post at Rupert's House. On Feb 8, 1819, MEENISH gave birth to their son Henry STEVENS and on March 11, 1821 son George STEVENS.
The North West Company is absorbed by the HBC
1821
At Norway House on Aug 11, 1821 Nicholas GARRY (1782-1856) presided over the first Council of the Northern Department. Also attending was the illustrious George SIMPSON (1786-1860), new Acting Governor of Rupert's Land and Simon McGILLIVRAY (1792-1840), formerly of the NWC. It was at this meeting that everyone received the first news of the official NWC-HBC Union and of impending austerity policies that would mean the loss of jobs and forced early retirements for employees at all levels, including voyageurs, laborers and senior officers as well.
Richard STEVENS remained at Rupert House until he was discharged on Aug 22, 1822, his services "no longer required". On Sep 20, 1822,  Chief Factor Thomas VINCENT (1776-1832) and others wrote to London: "We have been obliged to make some alterations in the classification of clerks in the Southern Department - - Messrs - - Richard STEVENS - - have likewise been dismissed the Service, these people are all strongly addicted to the immoderate use of Spirituous Liquors and are in consequence unfit for service - -"
1822 was also the year that Governor William WILLIAMS (1770-1837) was transferred to Moose Factory as the Governor of the Company's Southern Department, having abandoned his 'wife of convenience' (Sally FIDLER) and their daughter.
On May 1, 1823, MEENISH gave birth to Charles' step-sister, Theresa STEVENS.
On Sep 10, 1823 Governor WILLIAMS indicated that STEVENS for "motives of humanity has been retained in the Country on half pay for two years." He was given the option of taking his family to the Colony (Red River), an offer that he declined. Consideration was given due to the fact that STEVENS had a wife and family, and if he were dismissed his wife and children would be "thrown on the mercy of the Company." Undoubtedly MEENISH influenced Richard's refusal to go to the Colony. I'm sure she wasn't keen on making a long arduous journey to an unfamiliar far-off place like Red River with very young children and an alcoholic husband. Nevertheless, in 1824 STEVENS was discharged and sent home to England but he returned again the following year (1825), having agreed to retire to Red River as a settler. MEENISH finally relented and agreed to go with him.
The STEVENS Family moves to Red River
1826
In the summer of 1826 the STEVENS family and fellow traveler James SETTER (1810-1857), like so many others travelled to Red River Settlement by canoe, via Lac la Pluie (Rainy Lake) and the post at the Dalles on the Winnipeg River. On Sep 16 that year this group arrived at Red River. It seems that Charles and John THOMAS (ages 12 and 11 respectively) were probably with their mother and step-father on that trip. Charles' sister, Eleanor THOMAS (age 19), did not go with them for she was married by that time to Richard THOMAS (1800-1861), an HBC Interpreter and Post Master, and they remained in the Rupert's River District; they  did not go to Red River until 1836.
The April 7, 1828 Charles THOMAS was baptized at St John's Church as the son of "John THOMAS deceased & a half-caste woman"(of mixed race)." He was baptized on the same date as the numerous children of Nancy NEHEKAWENWQUIN & George ROBERTSON (1771-1855) and appears to have been a member of their household. (This according to Rupertslander) The incumbent clergymen at that timer were Reverend David JONES (1796-1844) and Reverend William COCKRAN (1798-1865).
Charles becomes an HBC Employee
1832
On May 31, 1832,MEENISH (Charles' mother?) told Thomas SIMPSON that her daughter Eleanor was at Rupert River and Charles was at Red River (Thomson Notes). This was the year that Charles began his career with the HBC as a Labourer and Middleman (middle position in a canoe) in the Red River District, commonly referred to as a voyageur.
** MORE ABOUT CHARLES THOMAS in HBCA
Charles & Mary BOUVIER
1834
In 1833 Charles was sent to the Cumberland District (SK) as a voyageur. Not long after that, he married Mary BOUVIER, daughter of Marguerite & Jean Baptiste BOUVIER (1790-1861), a French Canadian HBC Voyageur born in Quebec. Their first child was Mary, born in September, 1834.
English River District
1835
The English River District (Upper Churchill) was established in 1822 after the amalgamation of the HBC and North West Company (NWC) as part of a wider restructuring of the fur trade business. For its first few years, it was alternately known as the Ile-a-la-Crosse District. It encompassed the area around the English River in present-day northern Saskatchewan and Manitoba. The district headquarters remained at Ile-a-la-Crosse continuously from 1822 to 1901.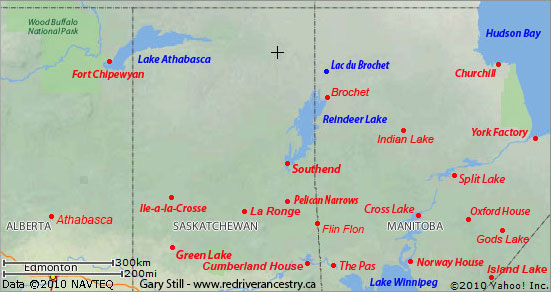 From 1830 to 1850 Roderick McKENZIE (1772-1859) was in charge of the English River District from his headquarters at Ile a la Crosse. The District included the posts at Ile a la Crosse, Rapid River, Green Lake, Deer's Lake and Portage la Loche.
In 1835 Charles was assigned to the English River District where he would work for the next 38 years as a voyageur (Middleman, Bowman and Steersman), Interpreter and Postmaster, based at numerous locations throughout the district including Deers Lake and Portage la Loche. His work kept him away from home much of the time, particularly in the summer months.
In 1852 son George was born at Brochet (Reindeer Lake).
Out with Old (his Eldest) – In with the New (his Youngest)
1858
By 1858 there were 10 children in Charles' family: Mary (age 24), Eleanor (20), Catherine (12), Nancy (10), John (8), George (6), Joseph (5), Annabella (3), Henry (age 2) and baby Richard.
On Feb 11, 1858 the first marriage in the family was that of daughter Mary to Richard THOMAS (1834-1923) in St Andrews, Red River, son of Eleanor THOMAS & Richard THOMAS (1800-1861).

Also around 1858 his next-eldest daughter Eleanor married Donald McLEAN (1858-1919), another HBC voyageur born in Scotland.
In 1863 daughter Catherine married Jeremiah COOPER (1842-1904) in St Andrews, son of Catherine THOMAS & Thomas COOPER (1810-1846). Since the age of six, Jeremiah was a step-son of Richard SMITH (1818-1899).
Around 1864 daughter Nancy married at Cumberland House to Louis DESCHAMBEAULT, son of Marguerite & George DESCHAMBEAULT (1803-1870), a French Canadian Chief Trader at Cumberland House. It was in 1864 that Louis began his apprenticeship with the HBC as a Post Master in the English River District.
Canadian Confederation and a Red River Rebellion
Manitoba becomes a Province
1867-1870
On July 1, 1867 the British colonies in North America were united under the British North American Act to become the Dominion of Canada.  Sir John A MACDONALD (1815-1891) was appointed as Canada's first Prime Minister. On Oct 11, 1869, Louis RIEL (1844-1885) placed his foot on the surveyors' chain to tell them their work was finished! This marked the beginning of another Red River Métis Rebellion.
It seems that Charles was in the Cumberland district when the Rebellion took place, far removed from the events that occurred at Red River.
Around 1868 son John married Nancy BEAR, an Indian woman from the Cumberland House area.
The Rebellion ended when RIEL's Provisional Government accepted the terms of the Manitoba Act and on July 15,1870 Manitoba became the fifth province of Canada, the Canadian Government having acquired the territory previously governed by the HBC.
In 1872 son George married Adelaide MORIN at Brochet, daughter of Genevieve ROY & Pierre MORIN (1834-1892). The same year son Joseph Daniel married there to Sophia LINKLATER,daughter of Marie MORIN & Peter LINKLATER (1828-1882). ** MORE ABOUT PETER LINKLATER
Mary THOMAS Dies
Charles settles in St Andrews, Red River
1873-1874
On Jul 8, 1873 Mary died at Norway House. That same year, daughter Annabella married in Red River to William McLEOD, son of Elizabeth SWAIN & John McLEOD (1793-1873). ** MORE ABOUT JOHN McLEOD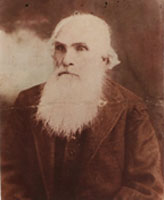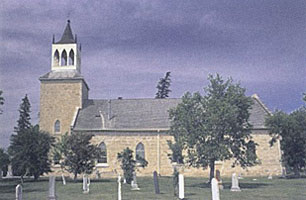 Charles Thomas - Old St Andrews Church on the Red
In 1874 Charles long career came to an end and he settled in St Andrews Parish, Red River. He was a 60 year old widower now. He moved in with his daughter and son-in-law, Catherine & Jeremiah COOPER in present day Lockport where he remained the rest of his life.
In 1882 son Henry married in St Boniface to Nancy FLETT, possibly the daughter of Nancy WEST & John FLETT (1826-1888).
Charles THOMAS died on Apr 28, 1904 at St Andrews (Lockport). Both Mary and Charles were buried in the cemetery beside the Old St Andrews Church on the Red.
Please post your comments about this family at the following Link: DISCUSSION FORUM for CHARLES THOMAS
========================= Family Details =========================
Children:
1. Sep 29, 1834 MARY THOMAS (m. William Richard THOMAS)
** MORE ABOUT WILLIAM RICHARD THOMAS
2. Sep 6, 1838 ELEANOR THOMAS (m. Donald McLEAN)
3. Apr 12, 1846 CATHERINE THOMAS (m. Jeremiah COOPER)
4. July 8, 1848 NANCY THOMAS (m. Louis DESCHAMBEAULT)
5. July 29, 1850 JOHN THOMAS (m. Nancy BEAR)
6. Feb 17, 1852 GEORGE THOMAS (m. Adelaide MORIN)
7. Mar 12, 1853 JOSEPH DANIEL MARSHALL THOMAS (m. Sophie LINKLATER)
8. Feb 27, 1855 ANNABELLA THOMAS (m. William McLEOD)
9. Nov 1856 HENRY THOMAS (m. Nancy FLETT)
10. Feb 17, 1858 RICHARD THOMAS