PETER LINKLATER (1828-1882)
MARIE MORIN (1839-?)
(Last Updated: February 27, 2016)
Peter LINKLATER was born about 1828 in Red River, son of Jane (Indian) and Hugh LINKLATER (1782-1865). On Jul 15, 1828 Peter and his three brothers (James, Richard and Hugh) were baptized at St Johns.
Ile a la Crosse
1851
From 1851 to 1880 Peter worked for the Hudson's Bay Company (HBC) as a voyageur (labourer, bowman, steersman and guide) at Isla a la Crosse in the English River District.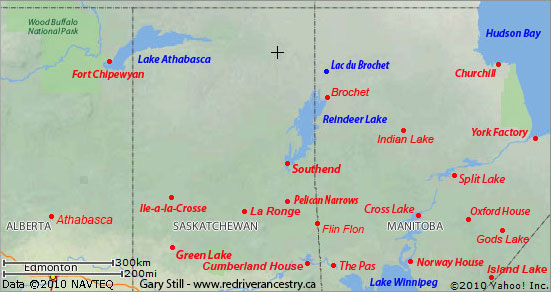 Around 1855 Peter married Marie MORIN, daughter of Pelagie BOUCHER & Antoine MORIN (1800-1857).
Canadian Confederation
A Red River Rebellion
Manitoba becomes a Province
1867-1870
On July 1, 1867 the British colonies in North America were united under the British North American Act to become the Dominion of Canada.  Sir John A MACDONALD (1815-1891) was appointed as Canada's first Prime Minister. William McDOUGALL (1822-1905) became the Minister of Public Works, and he began negotiations to acquire Rupert's Land from the HBC; surveyors were sent to Red River to prepare the way for an expected influx of settlers.
On Oct 11, 1869, Louis RIEL (1844-1885) placed his foot on the surveyors' chain to tell them their work was finished! This marked the beginning of the historic Red River Métis Rebellion.
On July 15, 1870 the Rebellion ended when RIEL's Provisional Government accepted the terms of the Manitoba Act and Manitoba became the fifth province of Canada.
In 1872 daughter Sophie married Joseph Daniel THOMAS at Brochet, MB, son of Mary BOUVIER and Charles THOMAS (1814-1904). ** MORE ABOUT CHARLES THOMAS
In 1878 daughter Isabelle married Edward CADOTTE at Cumberland House, son of Julie BLONDIN and Pierre CADOTTE.
In 1882 Peter LINKLATER died at Cumberland House, SK
Around 1886 daughter Marie married Joseph COOK, son of Charlotte SANDERSON and William COOK (1840-1885).
** MORE ABOUT WILLIAM COOK
Around 1888 daughter Pelagie married Joseph Henry MORIN, son of Marie COOK & Cyprien MORIN (1829-1924).
By 1891 son Peter Jr. was married to Angelique BEAR of uncertain origins.
Around 1898 son Joseph was married to a lady named Catherine in Pelican Narrows.
In 1900 son Magloire married Flora CURSITER in Pelican Narrows.
Comments and queries at this link: FORUM DISCUSSING THE PETER LINKLATER FAMILY
========================= Family Details =========================
Children:
1. Nov 15, 1856 ISABELLE LINKLATER (m. Edward CADOTTE)
2. Mar 5, 1858 SOPHIE LINKLATER (m. Joseph Daniel Marshall THOMAS)
3. 1864 PETER LINKLATER (m. Angelique BEAR)
4. 1867 PELAGIE LINKLATER (m. Joseph Henry MORIN)
5. 1870 MARIE LINKLATER (m. Joseph COOK)
6. 1870 ELIZA LINKLATER
7. Jul 2, 1872 CATHERINE LINKLATER (m. Remi MORRISSETTE)
8. Jan 21, 1874 JOSEPH LINKLATER (m. Marie Catherine)
9. 1879 MAGLOIRE LINKLATER (m. Flora CURSITER)