JOSEPH COOK (1869-1931)
MARIE LINKLATER (1870-1943)
(Last Updated: February 27, 2016)
Joseph COOK was born in September of 1869, son of Charlotte SANDERSON and William COOK (1840-?).
Inspiration to do this Page came from Joseph's great grandson, Marc LAPENSEE via the Forum of this website. The notation Philomene in the following refers to Joseph's granddaughter (Marc's Aunt), Philomene LAPENSEE who is referred to in the book "The Old Way North" authored by David PELLY.
Marc also has his own website which can be seen at this link: LAPENSEE FAMILY TREE WEBSITE
Marriage to Marie LINKLATER
1886
Around 1886 Joseph married Marie LINLKATER, daughter of Marie MORIN and Peter LINKLATER (1828-1882), an HBC voyageur who died at Cumberland House in 1882. ** MORE ABOUT PETER LINKLATER
In 1886 daughter Marie was born and in 1887 son Joseph Jr. was born at Lac du Brochet. First-born daughter and son were obviously named after their mother and father respectively.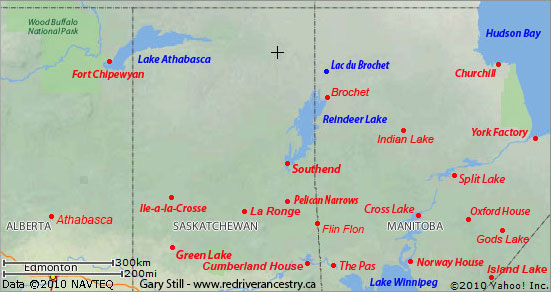 In the 1901 Census at Pelican Narrows, Joseph and his family were enumerated as follows: Joseph COOK (age 34), wife Mary (age 36) and children as Mary (age 15), Louison (14), Eliza (12), Solomon (9) and Catherine (age 2).
The Hudson's Bay Company post at Lac du Brochet in 1892
(From the Old Way North)
Around 1905 son Louis married Adelaide MERASTY, daughter of Marie MORIN and Phillip MERASTY (born 1848).
Scrip Claims by the COOK Family in 1907
In 1907 Half-breed Scrip was claimed by the following family members: Joseph's wife Marieat Lac du Brochet; daughter Marie at Brochet, son Joseph Jr. at the South end of Reindeer Lake; sons Louison, Solomon and Eugene; daughters Eliza, Elise, Catherine and Charlotte at Brochet.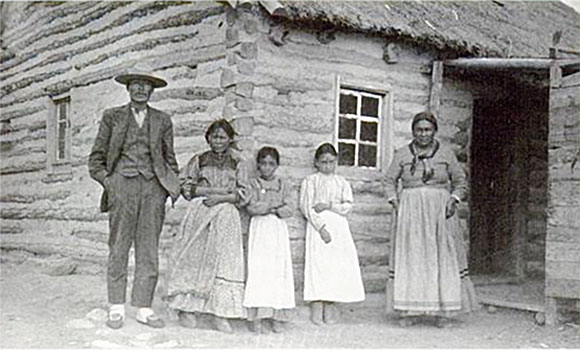 Alphonse Dzeylion, Lac du Brochet, July 28, 1912
In Brochet in 2005 there was much discussion about the identities of the three girls and the woman to
Dzeylion's left. Though it is not absolutely certain, the following consensus arose
(Left to Right: Elyse Cook, born 1895, the daughter of Joseph Cook and Marie Linklater;
Angelique Dzeylion, born 1905, died in childhood; Eugenie Cook, born 1903, died 1922;
Eliza Cook (Philomene Umpherville's aunt).
(From the Old Way North)
The Joseph COOK family was enumerated at Lac du Brochet Post in 1911 and again in 1916 at which time they were recorded as Joe COOK (age 45), wife Marie (age 46) and children at home as Elise (age 23), Solomon (21), Catherine (19), Eugene (17), Charlotte (14), Andrew (10) and Angelique (age 6).
Daughter Elise married Pierre MERASTY and son Solomon married Elise BENOANIE.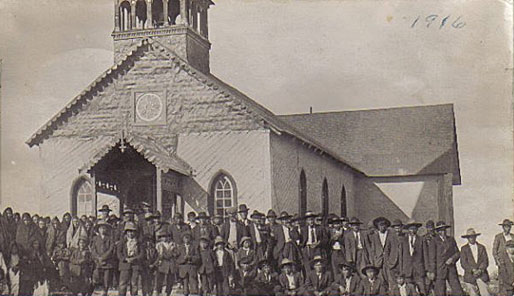 1916 photo of the Brochet Church
(Photo from Brochet Facebook)
In 1919 daughter Catherine married Adolphe LAPENSEE, son of Philomene THERRIEN and Seraphin LAPENSEE (1852-1926). Their daughter Philomene was born in 1920. ** MORE ABOUT SERAPHIN LAPENSEE
Census of 1921 at Lac du Brochet: Joseph COOK, Cree Trapper, age 55; wife Mary, age 55. Children: Elise (age 24), Eugenie (17), Charlotte (15), Andrew (11) and Angeline (age 9).
In 1924 daughter Charlotte married Olaf OLSON.
Please post comments and queries at this link: FORUM DISCUSSING this JOSEPH COOK FAMILY
========================== Family Details ==========================

Children:

1. 1886 MARIE (MARY) COOK (m. Pierre MERASTY)
2. 1887 JOSEPH COOK
3. Jan 10, 1888 LOUISON COOK (m. Adelaide MERASTY)
4. 1890 ELIZA COOK
5. 1893 ELISE COOK (m. Pierre MERASTY)
6. 1896 SOLOMON COOK (m. Elise BENOANIE)
7. Mar 16, 1901 CATHERINE COOK (m. Adolphe LAPENSEE)
** MORE ABOUT ADOLPHE LAPENSEE
8. 1903 EUGENE COOK
9. 1906 CHARLOTTE COOK (m. Olaf OLSON)
10. 1910 ANDREW COOK
11. 1912 ANGELIQUE (ANGELINE) COOK