SERAPHIN LAPENSEE (1852-1928)
PHILOMENE THERRIEN (1860-1920)
(Last Updated: February 23, 2016)
On Mar 18, 1852 Seraphin LAPENSEE was born in Vankleek Hill, Ontario, the son of Felicite DUCHESNEAU and
Francois-Xavier Clausier LAPENSEE (1811-1888) who was born in Vaudreuil St Michel, Quebec, and died in Ottawa St Jean-Baptiste.
Inspiration to develop Family Pages for this lineage came from great grandson Marc LAPENSEE who made a donation. Most of the information was drawn from his website at this link: LAPENSEE FAMILY TREE WEB SITE
Canadian Confederation
1867
On July 1, 1867 the British colonies in North America were united under the British North American Act to become the Dominion of Canada. Sir John A MACDONALD (1815-1891) was appointed as Canada's first Prime Minister. William McDOUGALL (1822-1905) became the Minister of Public Works, and he began negotiations to acquire Rupert's Land from the HBC.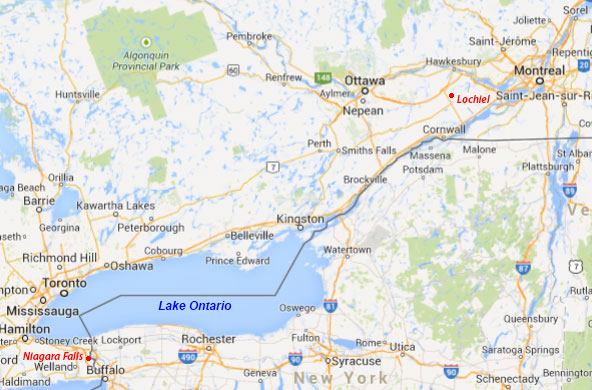 Plantagenet and Vankeek Hill are both located to the south of Hawkesbury (ON), between Ottawa and Montreal.
Plantagenet, Ontario
In the census of 1871 Seraphin LAPENSEE (age 19) was recorded with his parents in Plantagenet, Ontario which would be his home for the rest of his life.
Marriage to Philomene THERRIEN
1878
In 1878 Seraphin married Philomene THERRIEN, daughter of Anastasie CASTONGUAY and Antoine THERRIEN (1830-1929) from Quebec.
Census of 1881 in Plantagenet: Seraphin LAPENSEE, age 29; wife Philomene, age 20 and daughter Delia, age 1.
Census of 1901 in Plantagenet:Seraphin LAPENSEE, age 49; wife Philomene, age 40. Children: Adolphe (age 19), Orphie (17), Pierre(?) or Felicite (15), Laura (13), Maria (11), Marie-Anne (9), Joseph (6), Ferdinand (5), Ernest (3) and baby Flora (age 9 mos).
Around 1906 son Adolphe married Catherine CADOTTE, daughter of Isabelle and Edouard CADOTTE (b-1855), son of Julie BLONDIN and Pierre CADOTTE (b-1829)
.
In 1910 son Orphyr married Beatrice LALONDE, daughter of Virginie ALLARD and Alfred LALONDE.
Census of 1911 in Plantagenet: Seraphin LAPENSEE, Stonemason, age 59; wife Philomene, age 50. Children: Felicite (age 25), Laura (23), Maria (21), Marie A (19), Joseph (17), Ferdinand (15), Ernest (13) Flora (10), Emma (8) and Wilfrid (age 6).
In 1911 daughter Felicite married Azarie PIGEON in Plantagenet, son of Josephine PILON and Luc PIGEON.
World War I
1914-1918
On Aug 4, 1914 Great Britain (Canada on Aug 5) declared war on Germany and Austria-Hungary to uphold treaties with France and Belgium which were under German attack. This marked the beginning of World War I.
In 1915 son Adolphe (widowed) re-married to Marie LINKLATER, daughter of Angelique BEAR and Peter LINKLATER (b-1868), son of Marie MORIN and Peter LINKLATER SR (1828-1882).
On June 12, 1918 son Ferdinand enlisted at Ottawa. He indicated his mother (Philomene LAPENSEE) of Plantagenet as his next of kin.
November 11, 1918, Armistice Day (Remembrance Day) marked the end of the First World War.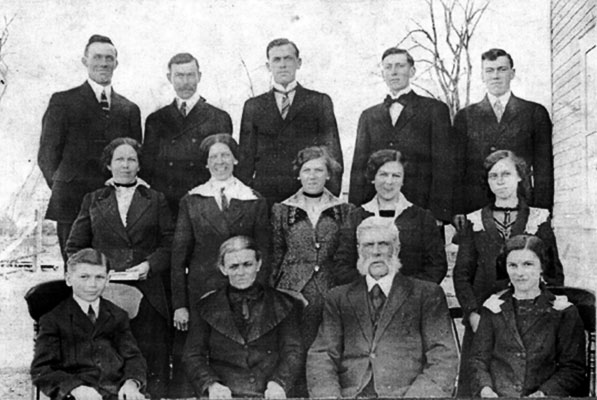 Family of Seraphin Lapensee (Thanks to Marc)
Back, L-R: Adolphe, Orphyr, Joseph, Ferdinand and Ernest
Centre, L-R: Felicite Pigeion, Nora, Maria, Marie-Anne Perron and Clara Lalande
Front, L-R: Wilfrid, Philomene (nee Therrien), Seraphin Lapensee and Emma
Around 1919 son Adolphe's third wife was Catherine COOK, daughter of Marie LINKLATER and Joseph COOK (1869-1931). ** MORE ABOUT JOSEPH COOK
In 1920 Philomene (nee THERRIEN) LAPENSEE died in Plantagenet.
In 1920 daughter Marie-Anne married Raoul PERRON in Plantagenet.
Census of 1921 in Plantagenet:Seraphin LAPENSEE, age 69 and widowed. Children: Laura (age 33), Mary Ann (29), Ferdinand (25), Ernest (23), Flora (20), Emma (18), Wilfrid (16), Ernest (12), Elize (10) and Wilfrid (age 8). ** The last two are somewhat puzzling and are perhaps grandchildren.
Around 1921 son Joseph married Lorette TIERNEYof uncertain origins.
In 1924 son Ernest married Marguerite-Marie CARRIERE in Plantagenet, daughter of Antonia DUMONTIER and Joseph CARRIERE.
In 1927 son Ferdinand married Cecile CHATELAIN in Curran, ON.
In 1935 son Wilfrid married Adrienne D'AOUST in Plantagenet, daughter of d'Orise LALONDE and Felix D'AOUST.
On Mar 14, 1928 Seraphin LAPENSEE died in Plantagenet.
In 1948 daughter Clara married Joseph LALONDE in Planagenet,
Comments and queries at this link: FORUM DISCUSSING THE SERAPHIN LAPENSEE FAMILY
========================== Family Details ==========================
Children:
1. Sep 14, 1879 DELIA LAPENSEE (Died in infancy)
2. Sep 30, 1881 ADOLPHE LAPENSEE (m1. Catherine CADOTTE; m2. Marie LINKLATER; m3. Catherine COOK)

** MORE ABOUT ADOLPHE LAPENSEE
3. Sep 25, 1883 ORPHYR LAPENSEE (Beatrice LALONDE)
4. Dec 11, 1885 FELICITE LAPENSEE (m. Azarie PIGEON)
5. Dec 23, 1887 NORA/LAURA LAPENSEE
6. Dec 21, 1889 MARIA LAPENSEE
7. Jan 28, 1892 MARIE-ANNE LAPENSEE (m. Raoul PERRON)
8. Apr 11, 1894 JOSEPH LAPENSEE (m. Lorette TIERNEY)
9. Mar 20, 1896 FERDINAND LAPENSEE (Cecile CHATELAIN)
10. Mar 15, 1898 ERNEST LAPENSEE (m. Marguerite-Marie CARRIERE)
11. Jun 29, 1900 CLARA (FLORA) LAPENSEE (m. Joseph LALONDE)
12. Aug 27, 1902 EMMA LAPENSEE
13. Sep 30, 1904 WILFRID LAPENSEE