ADOLPHE LAPENSEE (1881-1961)
CATHERINE CADOTTE (1892-1913)
MARIE LINKLATER (1894-1918)
CATHERINE COOK (1901-1988)
(Last Updated: February 23, 2016)
Adolphe LAPENSEE was born Sep 30, 1881 in Plantagenet, Ontario, son of Philomene THERRIEN and Seraphin LAPENSEE (1852-1926). ** Plantagenet is located about half-way between Ottawa and Montreal.
** MORE ABOUT SERAPHIN LAPENSEE
Inspiration to develop Family Pages for this lineage came from great grandson Marc LAPENSEE who made a donation. Most of the information was drawn from his website at this link: LAPENSEE FAMILY TREE WEB SITE
Census of 1901: Adolphe (age 19) with his parents in Plantegenet.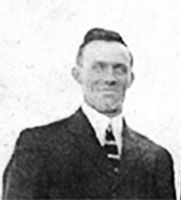 Adolphe Lapensee (From Family Photo)

In 1904 Adolphe entered the service of the Hudson's Bay Company (HBC) at Cumberland House.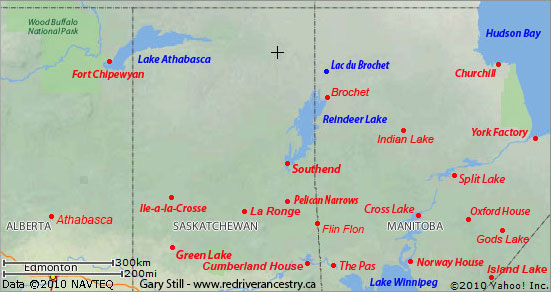 Marriage to Catherine CADOTTE
1906
Around 1906 Adolphe married Catherine CADOTTE, daughter of Isabelle and Edouard CADOTTE (b-1855), son of Julie BLONDIN and Pierre CADOTTE (b-1829).
It was around 1906 that Addolphe left the HBC to become a school-teacher.
Census of 1911 at Lac du Brochet: Adolphe LEPANEE, age 28; wife Catherine (age 21). Children: Edward (age 4) and Elise (age 2).
In 1912 Photographer Ernest OBERHOLTZER arrived at Pelican Narrows and Lac Brochet.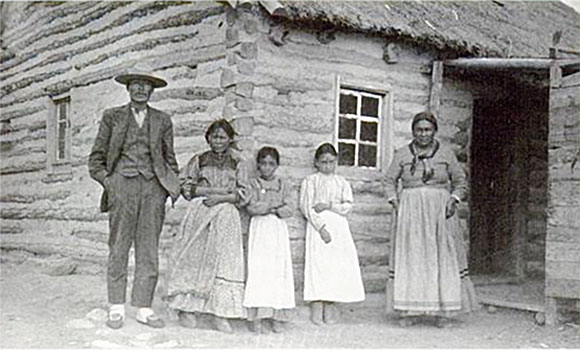 Alphonse Dzeylion, Lac du Brochet, July 28, 1912
In Brochet in 2005 there was much discussion about the identities of the three girls and the woman to
Dzeylion's left. Though it is not absolutely certain, the following consensus arose
(Left to Right: Elyse Cook, born 1895, the daughter of Joseph Cook and Marie Linklater;
Angelique Dzeylion, born 1905, died in childhood; Eugenie Cook, born 1903, died 1922;
Eliza Cook (Philomene Umpherville's aunt).
(From the Old Way North - Photo by Ernest Oberholtzer)
On Aug 29, 1913 Catherine (nee CADOTTE) LAPENSEE died at Cumberland House.
Marriage to Marie LINKLATER
1915-1918
On Aug 15, 1915 Adolphe (widowed) re-married to Marie LINKLATER, daughter of Angelique BEAR and Peter LINKLATER (b-1868), son of Marie MORIN and Peter LINKLATER SR (1828-1882).
On May 20, 1918 Marie (nee LINKLATER) LAPENSEE died.
In 1919 Adolphe resumed employment with the HBC as a Post Manager.
Marriage to Catherine COOK
1919
Around 1919 Adolphe's third wife was Catherine COOK, daughter of Marie LINKLATER and Joseph COOK (1869-1931).
** MORE ABOUT JOSEPH COOK

In 1921 Adolphe left the HBC to work independently as a fur trader, and in the census that year at Lac du Brochet he was recorded as follows: Adolph LAPENSEE, Trader, age 39; wife Catherine, age 21. Children: Ranie (age 5), Mary (3) and baby Philomene (age 8 months).
Sandy Hills
1922
In 1922 LAPENSEE moved his family 60 miles to the north, up the Cochrane River, to a spot called Sandy Hills where he established his own little trading post.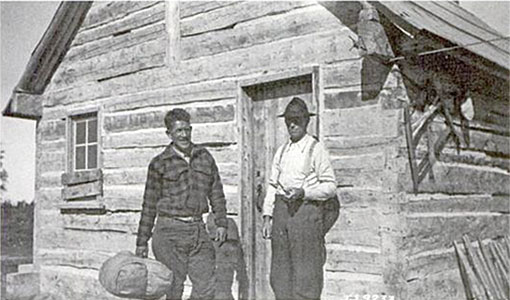 Government Surveyor C.S. MacDonald (left) with Adolphe Lepansee at his
Sandy Hills trading post beside the Cochrane River in 1924
In 1930 Adolphe decided to move his family back to Brochet so that his children could be educated.
Back to Plantagenet, Ontario
1938
In 1938 Adolphe moved back to his hometown of Plantagenet, Ontario.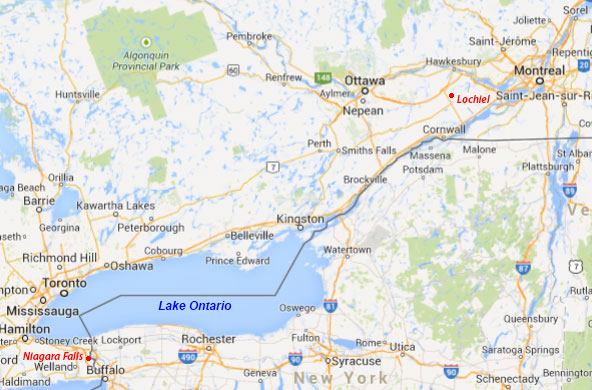 Plantagenet is located to the south of Hawkesbury (ON), about half-way between Ottawa and Montreal.
World War II
1939-1945
On Sept 4, 1939 Canada and Britain declared war on Germany.
On May 7, 1945 Germany surrendered and the War in Europe ended; the next day, May 8, was declared VE Day.
In 1946 daughter Philomene married Albert UMPHERVILLE at The Pas (MB), a veteran of World War II, son of Flora Ann FLETT and Malcolm John UMPHERVILLE (1888-1974).
On July 12, 1961 Adolphe LAPENSEE died.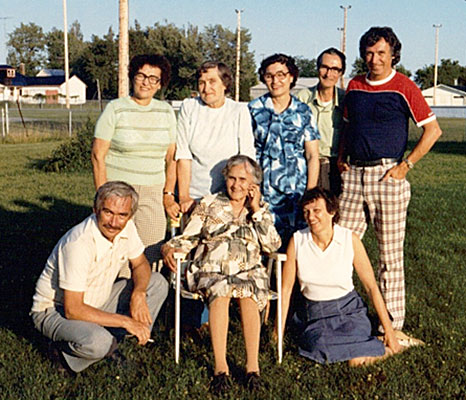 Adolphe Lapensee Family (Thanks to Marc Lapensee)
Back, L-R: Victoire Curson, Philomene Umphreville: Flora Gemus, Ferdinand and Yves
Front, L-R: Bernard, Catherine (nee Cook) Lapensee and Lorette Ravary
       

In 1964 son Bernard married Pauline WATHIER in Treadwell, Ontario, daughter of Simone LEGAULT and Philippe WATHIER (1907-1995). These are the parents of Marc LAPENSEE.
On Mar 29, 1988 Catherine (nee COOK) LAPENSEE died in Plantagenet.
Comments and queries at this link: FORUM DISCUSSING THE ADLOPHE LAPENSEE FAMILY
========================== Family Details ==========================
Children with Catherine CADOTTE:
1. Oct 11, 1908 EDWARD JOSEPH ERNEST LAPENSEE
2. Jan 19, 1910 ELISE EMMA LAPENSEE (m. Albert Joseph HAMELIN)
3. Dec 24, 1911 WILFRED ADOLPH LAPENSEE (m. Philomene MERASTE)
Children with Catherine COOK:
1. Oct 9, 1920 PHILOMENE LAPENSEE (m. Albert UMPHREVILLE)
** MORE ABOUT ALBERT UMPHREVILLE
2. 1924 FLORA LAPENSEE (m. Fernand GEMUS)
3. 1926 FERDINAND LAPENSEE
4. 1930 ANGELIQUE LAPENSEE
5. May 13, 1930 THERESE LAPENSEE (m. Raymond MORIN)
6. May 26, 1934 LORETTE LAPENSEE (m. Roger RAVARY)
7. Jun 10, 1938 YVES LAPENSEE (m. Madeleine WATHIER)
8. VICTORIA LAPENSEE (m. Howard CURSON)
9. Oct 21, 1941 BERNARD LAPENSEE (m1. Pauline WATHIER; m2. Jacques GRANDBOIS)