ALBERT UMPHERVILLE (1915-2000)
PHILOMENE LAPENSEE (1920-2015)
(Last Updated: November 09, 2015)
Albert UMPHERVILLE was born Jan 26, 1915 at The Pas, Manitoba, son of Flora Ann FLETT and Malcolm John UMPHERVILLE (1888-1974). He was a great grandson of Mary BRASS and John HUMPHREYVILLE (1820-1883).
** MORE ABOUT JOHN HUMPHREYVILLE
Census 1916: Albert (age 2) with parents in The Pas.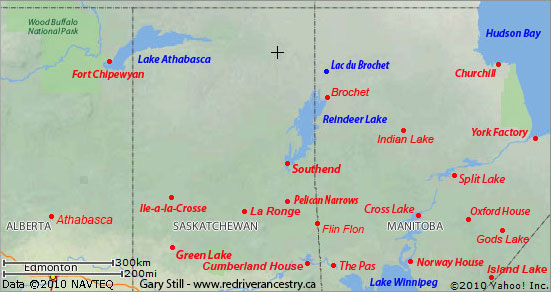 World War II
1939-1945
On Sept 4, 1939 Canada and Britain declared war on Germany.
We know that Albert UMPHERVILLE served overseas in World War II, but unfortunately we don't have any other details. When and where did he enlist, etc? If anyone can help us out please post comments on the Forum at link below.
On May 7, 1945 Germany surrendered and the War in Europe ended; the next day, May 8, was declared VE Day.
Marriage to Philomene LAPENSEE
The Pas
1946
On Sep 21, 1946 Albert married Philomene LAPENSEE at The Pas, daughter of Catherine COOK and Adolphe LAPENSEE (1881-1961). ** MORE ABOUT ADOLPHE LAPENSEE
Philomene had moved to The Pas in the early 1940's with her sister Victoria, and she was employed as a Nurse's Aide at the St Anthony's Hospital. She met soldier Albert UMPHERVILLE when he returned from overseas.
Brochet
1947
Around 1947, after the birth of two children at The Pas (Adrienne and Philip), Albert moved the family to Philomene's home village of Brochet where three more children were born (Tina, Clifford and Denise).
In the years to come Albert worked briefly at other communities (i.e. Wollaston Lake and Kinoosao in Saskatchewan), but they always returned to Brochet, where their children grew up among their many relatives.
For 23 years Albert worked for Manitoba Hydro as a Maintenance Man and Meter Reader, etc. He was mechanically inclined and often did outboard motor repairs for people. He was also a fisherman and a trapper.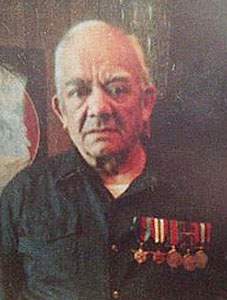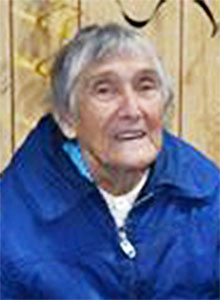 Albert and Philomene UMPHERVILLE

Albert UMPHERVILLE died in the year 2000.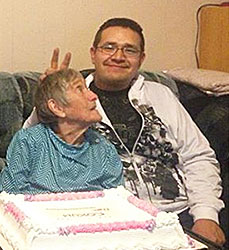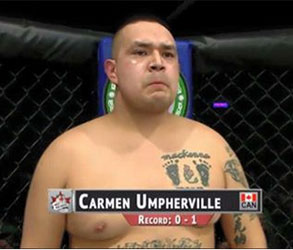 Philomene's 93rd Birthday (2013) with grandson Carmen, the MMA Wrestler
On Sep 8, 2015 Philomene (nee LAPENSEE) UMPHERVILLE died at The Pas at the age of 94.
Comments and queries at this link: FORUM DISCUSSING THE ALBERT UMPHERVILLE FAMILY
========================== Family Details ==========================
Children:
1. May 25, 1947 ADRIENNE MARIE CLAUDETTE UMPHERVILLE
2. PHILIP UMPHERVILLE (m. Bonnie)
3. TINA UMPHERVILLE (m. Dale)
4. CLIFFORD UMPHERVILLE (m. Sandra)
5. DENISE UMPHERVILLE (m. Dave)