JOHN HUMPHREYVILLE (1820-1883)
MARY BRASS (1821-1904)
(Last Updated: September 16, 2015)
John HUMPHREYVILLE was born around 1820 at The Pas, son of Hannah TURNER & Thomas HUMPHREYVILLE (b-1770). ** MORE ABOUT THOMAS HUMPHREYVILLE
In the summer of 1840 Native Catechist Henry BUDD (1814-1875) was sent to Cumberland House to establish a new mission there, which shortly after was permanently located at The Pas, some distance down the river to the east. Within two months he had gathered a Sunday group of 35 persons, 24 of whom were children.
In 1842 Reverend John SMITHURST (1807-1867) visited The Pas to consolidate the work already begun by Henry BUDD. On 26th, June, Mr. SMITHURST took 86 Baptisms there, and on 27th June, married 13 couples.
Marriage to Mary BRASS
1844
In 1844, Reverend James HUNTER (1817-1882) came to The Pas, organized his work, and then began to study Cree with the help of the bilingual Henry BUDD, schoolmaster and founder of the mission. 
On Sep 30, 1844 John HUMPHREYVILLE married Mary BRASS at The Pas Mission, Cumberland House, daughter of Suzanne COMTOIS & Peter BRASS (b-c1794). Their first three children (Betsy, George and Robert) were born at The Pas by 1847; the next five were born at Moose Lake (SE of the Pas) by 1860 (John, Jeremiah, Mary and Malcolm).
The family moves to Fort a la Corne
1861
In 1861 John moved his family to Fort a la Corne where the rest of his family was born.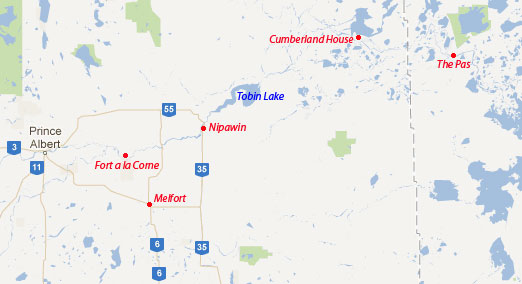 Canadian Confederation
1867
On July 1, 1867 the British colonies in North America were united under the British North American Act to become the Dominion of Canada.  Sir John A MACDONALD (1815-1891) was appointed as Canada's first Prime Minister; a month later he won the first federal election.
In 1869 daughter Mary became the 2nd wife of Reverend Edward COOK at Cumberland House, son of Catherine SINCLAIR & Joseph COOK (1792-1848).
Around 1870 daughter Betsy married Bernard CONSTANT of Fort a la Corne (b-1838)
               
In 1873 son John married Elizabeth SAYIS and in 1876 son Robert married Marguerite SAYIS, both daughters of Margaret BABY aka BASBLEU & Baptiste SAYIS (1835-1880).
Treaty Number Six
1876
In 1876 Chief James SMITH (1843-1902) signed Treaty Number Six at Fort Carlton, creating the James Smith First Nation Reserve at Fort a la Corne.
In 1877 son Malcolm married Mary SMITH at South Branch, daughter of Nancy BADGER & Chief John SMITH (b-1836). ** MORE ABOUT CHIEF JOHN SMITH
In 1880 daughter Flora married James BALLENDINE, son of Mary JEBB and John BALLENDINE (1800-1879).
** MORE ABOUT JOHN BALLENDINE
Around 1883 son Jeremiah married Martha BIRD, daughter of Betsy CHARLES & Samuel BIRD.
On Nov 10, 1883 John HUMPHREYVILLE died at Fort a la Corne.
In 1885 Widow Mary HUMPHREYVILLE of Fort a la Corne applied for Scrip for herself and her eleven surviving children as follows: Betsy (age 40), Robert (38), John (36), Jeremiah (34), Mary (32), Malcolm (27), Zachius (25), Flora (21), Sarah Jane (19), Peter (age 18) and Alice (age 17).
In 1886 son Zaccheus married Isabella ERASMUS, daughter of Isabelle SPENCE & William ERASMUS (b-1836).Also that year, daughter Alice married her brother-in-law, John SAYIS.
Around 1892 son Peter married Catherine JOURDAIN, daughter of Marguerite McKAY & Louis JOURDAIN (b-1841).
On July 10, 1904 Widow Mary HUMPHREYVILLE died.
Please post comments & queries at this link: FORUM DISCUSSING JOHN HUMPHREYVILLE & FAMILY
========================= Family Details =========================
Children:
1. 1844 BETSY HUMPHREYVILLE (m. Bernard CONSTANT)
2. Aug 4, 1847 ROBERT HUMPHRYVILLE SR (m. Marguerite SAYIS)
3. Feb 11, 1853 JEREMIAH HUMPHREYVILLE (m. Martha BIRD)
4. 1854 MARY HUMPHREYVILLE (m. Reverend Edward COOK)
5. Jul 11, 1857 JOHN HUMPHREYVILLE JR (m. Elizabeth SAYIS)
6. Dec 17, 1858 MALCOLM HUMPHREYVILLE (m. Mary SMITH)
7. Jul 10, 1860 ZACHIAS HUMPHREYVILLE (m. Isabella ERASMUS)
8. 1863 FLORA HUMPHREYVILLE (m. James BALLENDINE)
9. Apr 27, 1864 SARAH JANE HUMPHREYVILLE
10. Mar 18, 1867 PETER HUMPHREYVILLE (m. Catherine JOURDAIN)
11. Aug 1868 ALICE HUMPHREYVILLE (m. John SAYIS)