JOHN (JACK) BALLENDINE aka BALLANDYNE (1800-1879)
BETSEY GUNN (Died 1853)
MARY (POLLY) HUMPHREYVILLE (1817-1851)
MARY JEBB (?-1920)
(Last Updated: August 21, 2017)
John (Jack) BALLENDINE aka BALLANDYNE was probably born sometime around 1800. Very little definitive information can be found regarding John's origins. Perhaps the most reliable details of his familial relationships are those found in Raymond Morris Shirritt-Beaumont's narrative about the Rossveille Scandal. Beaumont refers to him as Jack BALLANDYNE, and indicates that his father was an Orkney man and his mother was a Cree woman. He also indicates that Jack was 88 years old when he died in 1879, suggesting he was born about 1791.
** Note of caution: Although Beaumont's narrative seems to be generally fairly accurate and verifiable in most of its detail, many of the dates he provides are either ambiguous or erratic. Some of his name spellings are also found to be erratic.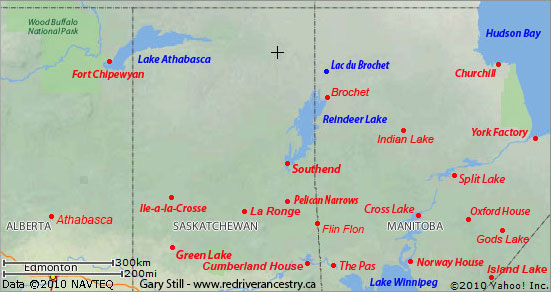 In the service of the Hudson's Bay Company
1830
In 1830 John BALLENDINE began his career with the Hudson's Bay Company (HBC) as a steersman in the Norway House District. From 1831 to 1835 he was a guide and interpreter in the Island Lake District
** HBC ARCHIVES BIO for JOHN BALLENDINE
First Wife – Betsey GUNN
Beaumont indicates that John's first wife was Betsey GUNN who was 'unable to have any children'. Very little information can be found to indicate when this union began, when she was born or who her parents were. ** Any information in this regard will love to hear from you on the Forum.
Cumberland District
John and Mary Polly HUMPHREYVILLE
1835
In 1835 John was sent to Moose Lake Post in the Cumberland District. Not long after he arrived there he was united with Mary (Polly) HUMPHREYVILLE, daughter of Hannah TURNER and Thomas HUMPHREYVILLE (b-1779). On Dec 10, 1836 son Peter was born at Cumberland House. Beaumont also refers to an eldest son named John Jr. (no birthdate provided). ** MORE ABOUT THOMAS HUMPHREYVILLE
** Note: This was a bigamous union. He apparently continued his relationship with Betsey GUNN after he took Polly as a wife.
Comments from Beaumont: There was no prohibition in that culture (referring to his Cree mother) against taking more than one wife or even a much younger wife. Indeed, there is no convincing evidence that BALLANDYNE was a "bad" man, or that he ever acted in opposition to the cultural norms with which he had been raised. Certainly, after he became a Christian, he was devoted to his new religion, and worked diligently to promote the work at Moose Lake. His wife Betsey was equally committed.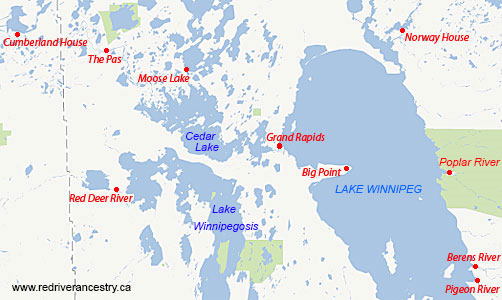 In 1838 son George was born at Moose Lake.
It is said that Eldest son Peter was educated at St John's School in Red River.
Formal Marriage to Betsey GUNN
1841
Beaumont: While on his way to Cumberland House in December 1840, Reverend James EVANS (1801-1846) passed through Moose Lake where he taught the HBC families and baptized seven children, including BALLANDYNE's four sons, a son and daughter of his fisherman, Baptiste BABUE, and Margaret SINCLAIR, the daughter of Bakie and Elizabeth SINCLAIR. Next he proceeded to Cumberland House where he taught more HBC families, including those of Thomas SAHPAH [SAPIN], and Bakie SINCLAIR (1802-1887), Margaret's father, and baptised a total of twenty children and adults on Jan 3, 1841. He also performed a number of marriages. Then on his return to Moose Lake, he baptised and married Jack BALLANDYNE and Betsey GUNN.  - - The sequence of events is a vital clue to BALLANDYNE's domestic arrangements prior to his becoming a Christian and also sheds some light on at least one aspect of Margaret's story. Apparently, when his first wife, Betsey GUNN, could not have children, he took a second in the late 1820's (?) named Polly UMPHERVILLE, and had four sons by her. However, in December of 1840, he "commenced the praying life" through EVANS' influence.
** MORE ABOUT REVEREND JAMES EVANS in DCBO
Mary Polly HUMPHREYVILLE marries Joseph Archibald McLENNAN
1843
Around 1843 Mary Polly (nee HUMPHREYVILLE) married a second time to Joseph Archibald McLENNAN (1814-1865) of uncertain origins who was born in St Paul Parish (Red River). ** MORE ABOUT JOSEPH ARCHIBALD McLENNAN
Belmont: He (John BALLANDYNE) even accompanied the missionary party to Cumberland House, not only joining them "in the morning and evening worship", but also attending to his own individual prayers "when arising from & retiring to rest." Why did he go? Evidently EVANS told him he could not be baptised unless he gave up one of his wives. Consequently, he was probably taking Polly UMPHERVILLE to Cumberland House to arrange a marriage between her and Joseph McLELLAN (actually McLENNAN), whom she knew well because he had earlier worked at Moose Lake under BALLANDYNE.
Belmont Notes: Although baptized as children of Jack and Betsy BALLENDINE, Peter, Robert and George all named Polly as their mother when they applied for Scrip. John Jr., the eldest son, was probably Polly's son too, because there is a record on May 31, 1854 of his giving £1 to a Mrs. UMPHERVILLE, who was probably Mrs. Thomas UMPHERVILLE, Polly's mother, and by this reasoning, his grandmother.
The Rossville Scandal
1846
The final problems between the aforementioned Reverend James EVANS and the HBC began in January, 1846, when EVANS came under suspicion for impropriety with an Indian from Rossville, Maggie MAMENAWATUM, and some girls from the missionary school. The officious and, perhaps, jealous Reverend William MASON (1818-1893) took upon himself, as the next senior white male member of the Rossville community, to act as an investigator and judge.
John and Mary JEBB
Cumberland House
1853
Beaumont: Indeed, there is no convincing evidence that BALLANDYNE was a "bad" man, or that he ever acted in opposition to the cultural norms with which he had been raised. Certainly, after he became a Christian, he was devoted to his new religion, and worked dilligently to promote the work at Moose Lake. His wife Betsey was equally committed. When she died in the spring of 1853, he was "swallowed up with grief" and the missionary James HUNTER (1817-1882) had to impress upon him "the duty of being resigned to the Divine will." Toward the end of that year, he married Mary JEBB as noted above, and they had 9 or 10 more children. ** MORE ABOUT REVEREND JAMES HUNTER in DCBO
Breamont: Mary JEBB was a daughter of George JEBB or KISSA-OOKEMAW, the "Great Chief", a fervent Christian leader at Moose Lake who died in 1850, leaving behind a widow and four children, two of them "little girls".
In 1854 John was "Free at Red River Settlement" (retired). However in 1855 he was back with the HBC service as the Postmaster at Cumberland House. Son Richard was born there that year.
Final Years at Moose Lake
1856
From 1856 to 1870 John was Postmaster at Moose Lake.
In 1863 son Peter married Caroline ROWLAND at Fort Carlton, daughter of Elizabeth BALLENDINE and William ROWLAND (1799-1873) from Scotland, an HBC voyageur and trader. ** MORE ABOUT WILLIAM ROWLAND
Also about 1863 son George married Jane BALLENDINE at The Pas, daughter of Margaret WIH-TIK-EWESHK and Henry BALLENDINE of uncertain origins.
In 1867 son Robert married Flora BUDD at The Pas, daughter of Betsy WORK and Reverend Henry BUDD (1814-1875).
** MORE ABOUT REVEREND HENRY BUDD in DCBO

Canadian Confederation
A Red River Rebellion
Manitoba becomes a Province
1867-1870
On July 1, 1867 the British colonies in North America were united under the British North American Act to become the Dominion of Canada.  Sir John A MACDONALD (1815-1891) was appointed as Canada's first Prime Minister. William McDOUGALL (1822-1905) became the Minister of Public Works, and he began negotiations to acquire Rupert's Land from the HBC; surveyors were sent to Red River to prepare the way for an expected influx of settlers.
On Oct 11, 1869, Louis RIEL (1844-1885) placed his foot on the surveyors' chain to tell them their work was finished! This marked the beginning of the historic Red River Métis Rebellion.
On July 15, 1870 the Rebellion ended when RIEL's Provisional Government accepted the terms of the Manitoba Act and Manitoba became the fifth province of Canada.
Treaty Number 5, 1875 (Treaty Commissioners MORRIS and McKAY): The Pas, Moose Lake and Cumberland Bands all accepted this Treaty.
In 1877 son Richard married Marie CHARTRAND at Grand Rapids, daughter of Charlotte THOMAS and Michel CHARTRAND alias NI-TO-WAY, an Indian born in 1842 at Duck Bay on Lake Winnipegosis.
On March 31, 1879 John BALLENDINE died at Cedar Lake. On Apr 2, 1879 he was buried at Moose Lake.
In 1880 daughter Harriet married Edward COOK at Chemawawin on Cedar Lake (west of Grand Rapids), son of Mary BEARDY and William COOK (1815-1885). ** MORE ABOUT WILLIAM COOK
Also in 1880 son James married Flora HUMPHREYVILLE at Fort a la Corne (SK), daughter of Mary BRASS and John HUMPHREYVILLE (1820-1883). ** MORE ABOUT JOHN HUMPHREYVILLE
In 1884 son Hardisty married Margaret COOK in Shoal River
.
In 1885 son Adam married Angelique LEMIRE in Battleford (SK), daughter of Susanne BOUCHER and Francois LEMIRE (b-1817).
In 1920 Mary (nee JEBB) BALLENDINE died.
Comments and queries at this link: FORUM DISCUSSING THE JOHN BALLENDINE FAMILY
=========================== Family Details ===========================
Children with Polly HUMPHREYVILLE:
1. JOHN BALLENDINE
2. Dec 10, 1836 PETER BALLENDINE (m. Caroline ROWLAND)
** MORE ABOUT PETER BALLENDINE
3. 1838 GEORGE BALLENDINE (m. Jane BALLENDINE)
4. Dec 10, 1839 ROBERT BALLENDINE (m. Flora BUDD)
Children with Mary JEBB:
1. 1855 RICHARD BALLENDINE (m. Marie CHARTRAND)
2. 1859 HARRIET BALLENDINE (m. Edward COOK)
3. 1864 JAMES BALLENDINE (m. Flora UMPHERVILLE)
4. 1864 ADAM BALLENDINE (m. Angelique LEMIRE)
5. 1865 HARDISTY BALLENDINE (m. Margaret COOK)