WILLIAM ROWLAND (1799-1873)
ELIZABETH "BETSY" BALLENDINE (1795-1894)
(Last Updated: September 16, 2015)
William ROWLAND was born 1799, Greeny, Birsay, Orkneys.
William recruited by the Hudson's Bay Company
1820
On June 8, 1820 William entered the service of the Hudson's Bay Company (HBC). His first posting was in the Island Lake District where he worked as a Labour. ** MORE ABOUT WILLIAM ROWLAND in the HBC ARCHIVES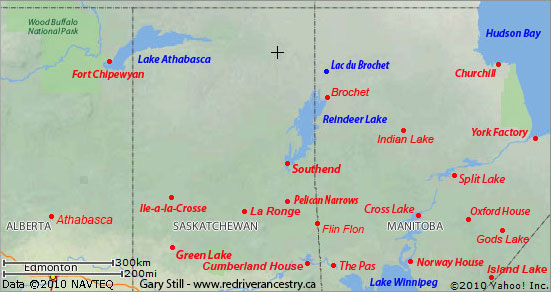 In 1821 the North West Company (NWC) was absorbed by the HBC, ending years of bitter rivalry for dominance of the fur trade in Western Canada.George SIMPSON (1786-1860) became the Governor of Rupert's Land.
Moose Lake Post, Cumberland District
Marriage to Betsy BALLENDINE
1822-1833
In 1822 William ROWLAND was moved to Moose Lake Post in the Cumberland District as a labourer and fisherman. There, on Jan 9, 1825 William married Elizabeth "Betsy" BALLENDINE, daughter of Jane FAVEL and John BALLENDINE (1758-1817) from the Orkneys. On Jan 6, 1826 their first child, William Jr. was born there.
Arctic Land Expedition
1833-1835
In 1833 William ROWLAND became a member of the historic Arctic Land Expedition led by the famous Arctic explorer George BACK (1796-1878). William's job was that of a fisherman. ** Some other members of this expedition: James McKAY and George SINCLAIR (Steersmen); John ROSS (Artilleryman); Thomas ANDERSON (Fisherman); Malcolm SMITH; James SPENCE; Peter TAYLOR and Thomas HASSEL (Interpreter). ** MORE ABOUT the BACK EXPEDITION in DCBO
Norway House
1837-1840
After returning from the Back Expedition, William resumed his job as a fisherman in the Nelson River and Norway House districts (1837-1840).
On Aug 21, 1838 Betsy BALLENDINE and William ROWLAND were church-wed at Norway House. Three of their children were baptized on the same day (William, John and Emma).
Saskatchewan District
1840
From 1840 until he died, William worked in the Saskatchewan District as a Fisherman, voyageur, Labourer, Hunter and Trader.
In 1841 daughter Elizabeth was born at Fort Carlton.
In 1844 daughter Eliza (age 12) was adopted by her Uncle John Lee LEWIS (1791-1872), an HBC Chief Factor from England. At the time LEWIS was married to Betsy's sister, Jane BALLENDINE.
In 1845 daughter Mary married George HODGSON at Ile a la Crosse (SK), son of Angelique and Thomas HODGSON (1789-1865). ** MORE ABOUT THOMAS HODGSON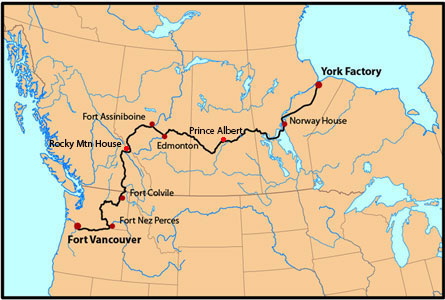 Early River Route from York Factory to Fort Vancouver
Perhaps around 1855, daughter Emma married Kenneth McDONALD at Fort Pitt (SK), an HBC Labourer from Scotland who joined the Company in 1850.
In 1855 son John married Sophie CHATELAIN aka CHASTELLAIN at Norway House, daughter of Genevieve BERTHELET and Louis CHASTELAIN (1808-1894).
In 1856 eldest son William Jr. married Helene BEAUREGARD at Edmonton, daughter of Suzette CALIHOO and Charles BEAUREGARD (1820-1885) of French Canadian descent.
In 1859 and 1864 William renewed his work contract at Fort Pitt (Frenchman Butte; just east of the Alberta border, north of the North Saskatchewan River).
In 1860, son William and his brother-in-law, Kenneth McDONALD staked their claims on land overlooking the North Saskatchewan River valley, becoming the first HBC men to live outside of Fort Edmonton.
In 1862 daughter Elizabeth "Betsy" married John SINCLAIR at Fort Pitt, son of Mary WADDEN-McKAY and William SINCLAIR (1797-1868).
In 1863 daughter Caroline married Peter BALLENDINE at Fort Carlton, son of Mary HUMPHREYVILLE and John BALLENDINE, (1800-1879) the HBC Post Master at Cumberland and Moose Lake.
That same year, also at Carlton, son James Samuel married Marie Juliet McGILLIS, daughter of Marguerite HENAULT dit DELORME and Cuthbert McGILLIS (1822-1906).
Around 1864 daughter Jane married Cornelius PRUDEN at St Johns (Red River), son of Nancy OGDEN-HENRY and William PRUDEN (1804-1844). ** MORE ABOUT WILLIAM PRUDEN
Canadian Confederation
William Retired
1867-1871
On July 1, 1867 the British colonies in North America were united under the British North American Act to become the Dominion of Canada. Sir John A MACDONALD (1815-1891) was appointed as Canada's first Prime Minister.
In 1871 William ROWLAND became a "Freeman", retiring in Edmonton.
Willam ROWLAND dies in Edmonton
1873
In 1873 daughter Maria married Henry HARDISTY, son of Margaret SUTHERLAND and Richard HARDISTY (1790-1865) from England. ** MORE ABOUT RICHARD HARDISTY
In November of 1873 William ROWLAND died at Fort Edmonton.
In 1876 daughter Flora married Colin FRASER in Edmonton, son of Nancy GAUDRY dit BEAUDRY and Colin FRASER SR (1805-1865).
In 1877 son Frederick married his sister-in-law, Adelaide FRASER, daughter of Nancy GAUDRY dit BEAUDRY and Colin FRASER SR (1805-1865).
In 1878 youngest son Alexander also married his sister-in-law, Caroline FRASER.
In 1880 daughter Maria, widowed (her first husband, Henry HARDISTY having died in 1876), re-married to William McKAY, son of Mary COOK & William McKAY  (1818-1883).
In 1885 Elizabeth claimed her Half-breed Scrip at Edmonton as the widow of William ROWLAND. She indicated she had 12 living children, listing them as William(age 58), Eliza (54), John (50), Emma (48), Jane (45), Caroline (40), James (38), Flora (36), Betsy (34), Maria (30), Frederick (28) and Alexander (age 26); also her deceased daughter Mary (born c1825 and died Oct, 1870).
On July 7, 1894 Elizabeth (Betsy) BALLENDINE-ROWLAND died in Edmonton. She would have been about 99 years old.
Comments and queries at this link: FORUM DISCUSSING the WILLIAM ROWLAND FAMILY
=========================== Family Details ===========================
Children:
1. Jan 6, 1826 WILLIAM ROWLAND (m. Helene BEAUREGARD)
2. May 28, 1828 EMMA ROWLAND (Kenneth McDONALD)
3. 1830 MARY ROWLAND (m. George HODGSON)
4. Oct 12, 1832 ELIZA ROWLAND
5. Aug, 1834 JOHN ROWLAND (m. Sophie CHASTELLAINE)
6. 1841 ELIZABETH "BETSY" ROWLAND (m. John SINCLAIR)
7. Oct 14, 1843 CAROLINE ROWLAND (m. Peter BALLENDINE)
** MORE ABOUT PETER BALLENDINE
8. Aug 16, 1846 JAMES SAMUEL ROWLAND (m. Marie Juliet McGILLIS)
9.  Oct 1, 1849 JANE ROWLAND (m. Cornelius PRUDEN)
** MORE ABOUT CORNELIUS PRUDEN
10. 1850 FLORA ROWLAND (m. Colin FRASER)
11. May 25, 1851 MARIA ROWLAND (m1. Henry HARDISTY, m2. William McKAY)
12. May 23, 1853 FREDERICK ROWLAND (m. Adelaide FRASER)
13. 1855 ALEXANDER ROWLAND (m. Caroline FRASER)