JOHN BALLENDINE (1758-1817)
JANE FAVEL (1763-1810)
ELIZABETH "BETTY" GRAY (1777-1853)
(Last Updated: November 06, 2014)
John BALLENDINE was born around 1758 in Stromness, Orkneys (Scotland). Surname variations are BALLENTINE, BALENDEN and BALLENDINE. He is said to have been the son of Jane GRAHAM and John BALLENDEN (1739-1817).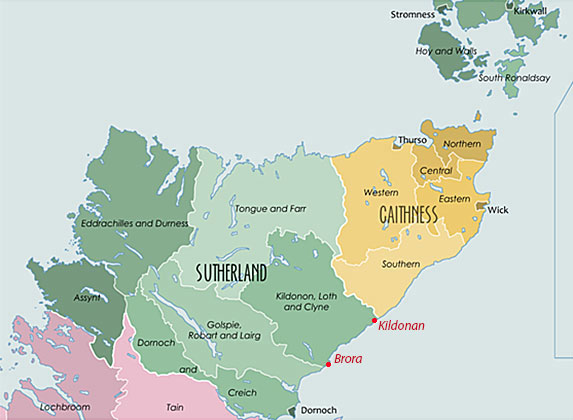 Northern Scotland - Stromness and the Orkney Islands at the top right
Hudson's Bay Company
1770
Around 1770 John came from Stromness to York Factory as a 13 year old servant of Andrew GRAHAM (1773-1815), said to have been his maternal grandfather.  His father, and grandfather, were in charge of Forts at York and Severn.
** MORE ABOUT JOHN BALLENDINE in HBC ARCHIVES
From 1761 to 1774 Andrew GRAHAM (1733-1815) was the Post Master at Fort Severn, and in 1775, when he retired he was Chief Factor at Prince of Wales Fort (Churchill). ** MORE ABOUT ANDREW GRAHAM in DCBO

Fort Prince of Wales
A Prisoner of LAPEROUSE
1782-83
From 1776 to 1782 John was a Writer (Accountant) at Fort Prince of Wales.
On Aug 8, 1782 Governor Samuel HEARNE (1745-1792) has a visit from the French by means of three ships bearing all told, 146 guns. HEARNE was forced to surrender Fort Prince of Wales (Churchill) to the celebrated navigator Jean-Francois LaPEROUSE. HEARNE's fort was sacked and burned, and he and his men were taken prisoner aboard the French ship. Among the prisoners was our John BALLENDINE.
LaPEROUSE next headed for York Factory. On Sep 10, 1782 Humphrey MARTIN (1729-1792) and his men, including William SINCLAIR) (1766-1818), were taken prisoner by LaPEROUSE, and Fort York was also destroyed.
The prisoners were taken to France and by October the Company had received letters from the prison at Dinan Castle, France, asking for the ransom of the men. By May, the ransomed men were in London.
** MORE ABOUT LA PEROUSE and his HUDSON BAY EXPEDITION in WIKIPEDIA
York Factory
1783-1787
In 1783 John BALLENDINE returned to York as an assistant to Humphrey MARTIN.
** MORE ABOUT HUMPHREY MARTEN in DCBO
In 1786 MARTEN left York for good. His replacement was Joseph COLEN (1751-1818).
Post Master at Fort Severn
Marriage to Jane FAVEL
1787-1796
In 1787 John was sent to Fort Severn as Post Master. He remained there for the next nine years.
Around1789 John married Jane FAVEL, daughter of TITAMEG & John FAVEL (1740-84). 
** MORE ABOUT JOHN FAVEL
In the fall of 1796 John returned home to Stromness in the Orkneys.
Marriage to Betty GRAY in Scotland
1797
In April of 1797 John BALLENDINE married Elizabeth "Betty" GRAY in Scotland. Essentially, this was bigamy. He now had two wives; one in Scotland and one in Canada.
Chief Factor at York Factory
1798-1802
In 1798 John returned from Stromness to serve out the rest of his HBC as the Chief Factor at York Factory.
On May 20, 1801, his Scottish wife, Elizabeth GRAY, requested that her husband return home, the request was denied (HBCA).
Around 1802 John's last child by Jane FAVEL, daughter Jane was born at York Factory.
Last Years in Stromness
1802-1817
In September of 1802 John BALLENDINE returned home to Stromness, never to return. This would have left his Native wife Jane (about 39 years old) with five young children, the eldest being William (about 12 years old); the youngest, Jane, was just a baby.
In 1803 daughter Sophia became the wife of William DENNETT (1780-1864) at York Factory, an HBC voyageur from the Orkneys.
Between 1803 and 1810 John BALLENDINE & Betty (GRAY) had six children in Stromness, Orkneys.
Widow Jane moves to Brandon House
In 1800 Jane's brother-in-law (married to her sister Mary) became the HBC Post Master at Brandon House. It was probably not long after this that Jane moved there along with some of her children, including daughter Harriet who later became the wife of her nephew, John Richards McKAY.
On Mar 19, 1810 Jane (nee FAVEL) BALLENDINE died at Brandon House.
================ // ================
Around 1811 daughter Jane married John Lee LEWIS (1791-1872), an HBC accountant from England.
Around 1815 at Brandon House, daughter Harriet became the wife of her cousin, John Richards "Little Bearskin" McKAY, half-breed son of Mary FAVEL and John McKAY (1758-1810). Harriet's mother (Jane) was Mary FAVEL's sister. ** MORE ABOUT JOHN McKAY
On May 23, 1817 John BALLENDINE died in Stromness (buried there) at the age of 62.
================ // ================
Union of the North West Company with the Hudson's Bay Company
1821
In 1821 the union of the North West Company (NWC) and the Hudson's Bay Company (HBC) occurred, ending years of bitter rivalry for dominance of the fur trade in Western Canada. After the merger, almost 1,300 employees lost their jobs since the single HBC organization that emerged had no need for most of the voyageurs and retired fur traders. George SIMPSON (1786-1860) became the Governor of Rupert's Land.
In 1822 daughter Elizabeth married William ROWLAND (1799-1873) from the Orkneys, an HBC fisherman at Cumberland House.
In 1829 John BALLENDEN JR (born 1811 in Stromness; child of Elizabeth GRAY) joined the HBC as an apprentice clerk at York Factory, and around 1834 he married Sarah McLEOD at Red Rover, daughter of an Indian woman and Alexander Roderick McLEOD (1782-1840) from Quebec.
Around 1834 eldest son William's wife was Mary STEVENS of uncertain origins (born around 1808). Their daughter Jane was born at that time in the St Peters Indian Settlement, Red River., suggesting that Mary may have been an Indian. She died about 1843 and William re-married to Charlotte COOK, possibly an Indian of uncertain origins.
In 1838 youngest son John McNab BALLENDEN married Elizabeth Wilson JOBSON, daughter of Margaret ATKINSON and John JOBSON (1782-1871).
In 1853 Betty (GRAY) BALLENDINE died in Stromness.
Comments and queries at this link: FORUM DISCUSSING the JOHN BALLENDINE FAMILIES
========================== Family Details ==========================
Children by Jane FAVEL:
1. c1790 WILLIAM BALLENDINE (m1. Mary STEVENS, m2. Charlotte COOK)
** MORE ABOUT WILLIAM BALLENDINE
2. 1792 SOPHIA BALLENDINE (m. William DENNETT)
3. 1795 ELIZABETH "BETSY" BALLENDINE (m. William ROWLAND)

4. c1795 HARRIET BALLENDEN (m. John Richards McKAY)
** MORE ABOUT JOHN RICHARDS McKAY
5. 1802 JANE BALLENDINE (m. John Lee LEWIS)
Children by Betty GRAY:
1. Jul 16, 1798 JANE ELIZA BALLENDEN
2. Aug 4, 1803 WILLIAM BALLENDEN (m. Mary Russell GERARD)
3. July 23, 1805 JANE ELIZABETH (ELIZA) BALLENDEN (m. James BANNATYNE)
4. May 8, 1807 ANDREW GRAHAM BALLENDEN
5. Feb 23, 1809 LAWRENDA GRAY BALLENDEN
6. May 26, 1811 JOHN BALLENDEN (m. Sarah McLEOD)
7. Nov 12, 1813 JOHN McNAB BALLENDEN (m. Elizabeth WILSON JOBSON)