WILLIAM BALLENDINE (1790-1869)
MARY STEVENS (1808-1843)
CHARLOTTE BUDD (1824-1901)
(Last Updated: October 24, 2014)
This family history is being developed in cooperation with Merrily (on the Forum) in order to further extend her ancestral origins. JC BRIERE has been very helpful in this as well, as these are his ancestors too.
William BALLENDINE was born around 1790, probably at Fort Severn, the first child of Jane FAVEL (a Cree Indian) and John BALLENDINE (1756-1817)from the Orkneys, an HBC Master Trader at that time. In the fall of 1796 William's father returned to Scotland where he married a Scottish lady named Elizabeth GRAY. However, in 1798 he returned to York Factory and in 1800 he became the Chief Factor there. ** MORE ABOUT JOHN BALLENDINE
In 1802 William's father returned again to Scotland where he remained the rest of his life with his second wife and family. He left behind his native wife (Jane) and five young children who then moved to Brandon House. William was the eldest, about 12 years old in 1802. At that time William's Uncle John McKAY (1758-1810; married to Jane's sister, Mary FAVEL) was the HBC Post Master at Brandon House. ** MORE ABOUT JOHN McKAY
On Mar 19, 1810 William's mother (Jane) died at Brandon House. That same year, both his Aunt Mary (nee FAVEL) and Uncle John McKAY died there too. William was now about 20 years old and entirely on his own.
Arrival of the Selkirk Settlers
1812
In the fall of 1812, Peter FIDLER (1769-1822) became the Postmaster at Brandon House, but he was soon sent to assist Lord SELKIRK by bringing in homesteaders, survey river lots for settlement, and building houses.
** MORE ABOUT PETER FIDLER and the SELKIRK SETTLERS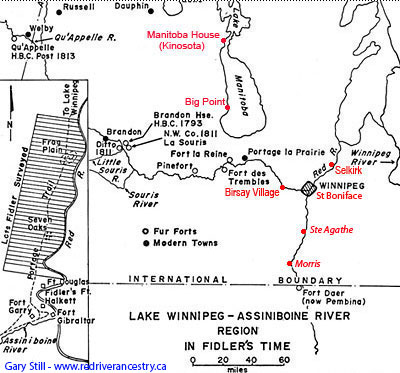 On May 23, 1817 William's father, John BALLENDINE died in Stromness.
Union of the North West Company with the Hudson's Bay Company
1821
In 1821 the union of the North West Company (NWC) and the Hudson's Bay Company (HBC) occurred, ending years of bitter rivalry for dominance of the fur trade in Western Canada. After the merger, almost 1,300 employees lost their jobs since the single HBC organization that emerged had no need for most of the voyageurs and retired fur traders. George SIMPSON (1786-1860) became the Governor of Rupert's Land.
William and Mary STEVENS
1833-1843
William's first wife was Mary STEVENS of uncertain origins who was born around 1808. Perhaps she was a daughter of Mary and John STEVENS, a half-breed who was born about 1878 according to Sprague & Frye ID-4478. Of course this is just an educated guess. Around 1834 daughter Jane was born in St Peters. In 1835 daughter Margaret was born.
In Census 1835 William is listed on Lot 84 in St Andrews Parish. This location is south of Lockport on the River Road.
In 1837 William began his first contract with the HBC as a Guide in the Red River District.
In 1843 Mary (nee STEVENS) BALLENDINE died.
William marries Charlotte BUDD
On Nov 7, 1844 William re-married to Charlotte BUDD at St Johns, Red River. She was born around 1824, probably at Norway House, the daughter of Betsy (nee CURLEYHEAD) and James (Charles) "The CASK" BUDD (1799-1829). Her mother's (Betsy's) second husband (Charlotte's step-father) was William JOHNSTON, so Betsy (and Charlotte) are sometimes referred to with that surname. CASK BUDD was the son of WASH-E-SOO-E'SQUEW (Agathas) COCKING and MUSKEGO CREE BUDD (1765-1811). ** MORE ABOUT MUSKEGO CREE BUDD
There are indications that Charlotte may have been a brother of Reverend Henry BUDD (1812-1875), the first Indian clergyman (Anclican) in the Northwest. ** MORE ABOUT REVEREND HENRY BUDD in DCBO
In 1851 William retired from the HBC. At that time he had been working as an Interpreter in the Red River District.
In 1854 daughter Margaret married Peter STEVENSON, believed to have been the son of Mary WILLIAMS and William STEVENSON (b-1807). ** Merrily says she has a copy of their marriage and death certificates which provide no other information except that witnesses at their marriage were a Catherine STEVENSON and a David STRANGER.
** MORE ABOUT WILLIAM STEVENSON
On Aug 28, 1869 William BALLENDINE died. He was buried in the old St Andrews Anglican Church Cemetery.
** This Page is under construction and further review is under way **
Please post comments and queries at this link: FORUM DISCUSSING the WILLIAM BALLENDINE FAMILY
========================== Family Details ==========================
Children by Mary STEVENS:
1. 1834 JANE BALLENDINE (m. James CAMERON)
2. 1835 MARGARET BALLENDINE (m. Peter STEVENSON)
Children by Charlotte BUDD: