MUSKEGO CREE BUDD (1765-1811)
WASH-E-SOO-E'SQUEW (AGATHAS) COCKING (1778-1850)
(Last Updated: May 15, 2014)
Muskego Cree BUDD was a Swampy or Muskego Cree Indian said to have been born around 1765. His people were often referred to as the "Home Guard Cree" who inhabited the environs of the Hudson's Bay Company (HBC) forts around Hudson Bay, providing furs, fresh provisions and other services to the traders in return for European goods. There are suggestions that BUDD may have had European ancestral origins as well.
Raymond M Beaumont was the author of the book 'Origins and Influences - The Family Ties of Reverend Henry BUDD'. Much of what follows is based upon his excellent research.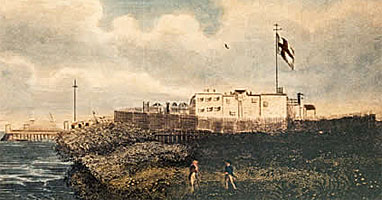 York Factory 1770's
Marriage to WASH-E-SOO-E'SQUAW COCKING
1782
Around 1782 Muskego BUDD married WASH-E-SOO-E'SQUAW COCKING, the teen-age daughter of KE-CHE-CHO-WICK and Englishman Matthew COCKING (1743-1799), the Acting HBC Chief Factor at York Factory who retired to England around that time, never to return. ** MORE ABOUT MATTHEW COCKING
WASH-E-SOO-E'SQUEW was also known as Mary and/or Agathas COCKING. When her father (Matthew COCKING) died in 1799, his Will bequeathed his Indian wife and half-breed family with annuities that left them considerably better off than most of their native kinfolk. In this narrative we will hereafter refer to her simply as Agathas, the name most commonly used in reference to her.
MUSKEGO BUDD Dies
WASH-E-SOO-E'SQUEW becomes another wife of William Hemmings COOK
1811
By 1811, Beaumont suggests that Muskego BUDD may have been deceased, and that Widow Agathas and some of her children moved in with her step-sister and brother-in-law, William Hemmings COOK (1768-1846), essentially becoming another one of his wives. COOK therefore essentially became the step-father to the BUDD children; James (The CASK) BUDD, the eldest son, was only about 12 years old; the younger children were Rebecca, Catherine, Nancy, Sally and Henry BUDD (the youngest, about one year old).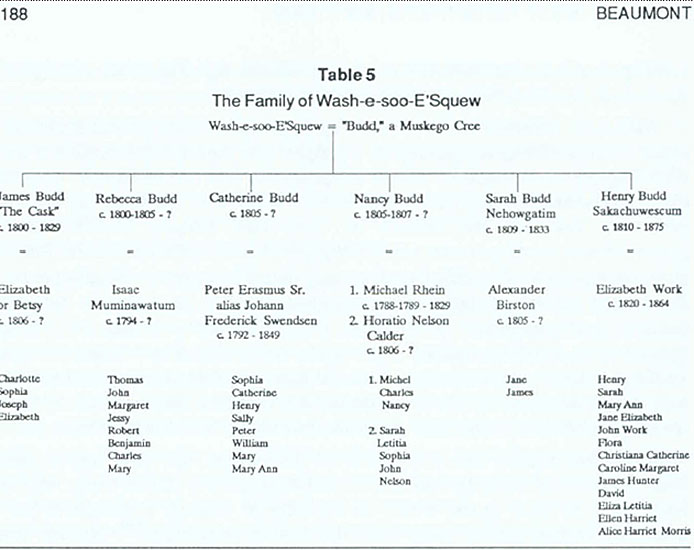 After Muskego BUDD died, Widow Agathas became the third wife of William Hemmings COOK (1763-1846).  
** MORE ABOUT WILLIAM HEMMINGS COOK
Eldest son James "The CASK" married Elizabeth, possibly CURLEY HEAD.
Around 1820 daughter Rebecca became the wife of Isaac MUMINAWATUM (born around 1794 at Norway House).
Also Around 1820 daughter Catherine became the wife of Peter ERASMUS (1794-1849) at Norway House, an HBC Labourer born in Denmark.
In the 1820's daughter Nancy married Michel RHEIN (1788-1829) who was born in France. In 1829 RHEIN died, and Nancy re-married to Horatio Nelson CALDER (1806-1885).
In 1831 daughter Sally married Alexander BIRSTON, son of an Indian Woman and Alexander BIRSTON SR (1775-1829). ** MORE ABOUT ALEXANDER BIRSTON
In 1836 youngest son Henry (later Reverend Henry BUDD) married at Grand Rapids to Elizabeth WORK, daughter of one of the Company's officers in New Caledonia.
Please post comments & queries at this link: FORUM DISCUSSING the MUSKEGO CREE BUDD FAMILY
=========================== Family Details ===========================
Children:
1. c1799 JAMES "THE CASK" BUDD (m. Elizabeth or Betsy CURLEY HEAD)
2. c1800 REBECCA BUDD (m. Isaac MUMINAWATUM)
** MORE ABOUT ISAAC MUMINAWATUM
3. Oct 5, 1805 CATHERINE "KITTY" BUDD (m. Peter ERASMUS SR)
4. c1806 NANCY BUDD (m1. Michael RHEIN, m2. Horatio Nelson CALDER)
5. c1809 NEHOWGATIM (SALLY, SARAH) BUDD (m. Alexander BIRSTON)
6. c1810 HENRY BUDD (m. Elizabeth "Betsy" WORK)