MATTHEW COCKING (1743-1799)
LE-LO-ES-COM
KE-CHE-CHO-WICK
A-PIS-TA-SQUA-SHISH
(Last Updated: January 09, 2013)
Matthew COCKING was born around 1743 in York, England.
Raymond M Beaumont was the author of the book 'Origins and Influences - The Family Ties of Reverend Henry BUDD'. Much of what follows is based upon the results of his excellent research.
In the Service of the Hudson's Bay Company
York Factory
1765
In 1765 Matthew (age 22) began his career with the Hudson's Bay Company (HBC) as a "writer" (Clerk) at York Factory on Hudson Bay.
The main focus of this narrative is on genealogy. Much more information about Matthew's activities can bee seen at these links:
HBC ARCHIVES BIO FOR MATTHEW COCKING
DICTIONARY OF CANADIAN BIOGRAPHY ONLINE re MATTHEW COCKING
Except for two voyages inland, Matthew spent the next 17 years at York Fort.
First Inland Voyage to Saskatchewan
1772-1773
During the Outfit year 1772-73 William travelled inland, up the Hayes and Fox Rivers to Saskatchewan. On June 18, 1773, he arrived back at York Fort.
Second in Command at York Factory
1773-1774
During 1773-74 Matthew was second in command at York Fort (to Acting Chief, GRAHAM?). 
A Second Inland Voyage
1774-1775
In 1774 Matthew embarked on his second trip inland to assist Samuel HEARNE (1745-1792) who that year established the second HBC inland trading post at Cumberland House. On June 27, 1775 Matthew arrived back at York Factory.
First Wife - LE-LO-ES-COM
In Charge at Cumberland House
1775-1777
Matthew's first wife was an Indian woman named LE-LO-ES-COM. Around 1775 daughter Elizabeth "Betsy" (Ke-che-cow-e-coot ) was born.
From 1775 to 1777 Matthew was in charge of the post at Cumberland House.
Post Master at Fort Severn
Second Wife - KE-CHE-CHO-WICK
1777-1781
From 1777 to 1781 Matthew was the Post Master at Fort Severn.
Matthew's second wife was an Indian woman named KE-CHE-CHO-WICK. Around 1778-80 daughter WASH-E-SOO-E'SQUEW (Agathas) was born.
Acting Chief Factor York Factory
A Third Wife - A-PIS-TA-SQUA-SHISH
1781-1782
DCBO: In 1781, although ill-health was "growing on him," Matthew took command of York when illness forced its chief, Humphrey MARTEN (1729-1792), to return to England. At York, COCKING's last recorded official act was to try to check the spread of the devastating smallpox epidemic of 1781–82 by sending urgent warnings to Severn, Albany (Fort Albany, Ont.), and Moose Factory (Ont.) in August 1782.
Matthew's third wife was an Indian woman named A-PIS-TA-SQUA-SHISH. Around 1782 daughter MITH-COO-COO-MAN-E'SQUEW (Mary) was born.
** Note: Agathas and/or Mary are names often used synonymously in reference to the two different COCKING daughters, a cause of much confusion for many who try to research this family for the first time. WASH-E-SOO-E'SQUEW most commonly refers to Agathas COCKING; MITH-COO-COO-MAN-E'SQUEW most commonly refers to as Mary COCKING. To avoid confusion, those are the definitions that will be used in this narrative.
Matthew Retired to England where he Died
York Factory destroyed by LAPEEROUSE
1782-1799
MARTEN returned to relieve COCKING just before the French commander Comte de LAPEROUSE [GALAUP] (1741-1788) captured York. On Aug 24, 1782, COCKING sailed for England on the King George, which, with a cargo of furs, eluded the French force.
DCBO: COCKING did not forget his transatlantic family ties; he secured permission from the company to send an annual remittance for "the use of his children and their parents in Hudson's Bay." When he died his major legatees were English relatives, but his will provided for goods worth £6 a year to be supplied to each of his three mixed-blood daughters, the eldest to receive the full amount, the others to share their portion with their mothers. The council at York requested that part of this legacy might be "laid out in Ginger Bread, Nuts &tc. as they have no other means of obtaining these little luxuries, with which the paternal fondness of a Father formally provided them."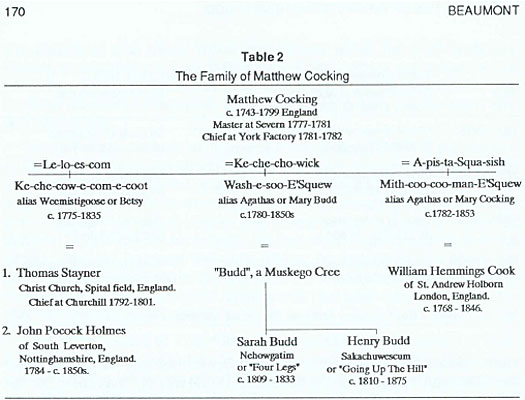 From Beaumont's book: The Family Ties of Reverend Henry Budd
Daughter WASH-E-SOO-E'SQUEW marries a Muskego Indian named BUDD
It was probably around 1782 that daughter WASH-E-SOO-E'SQUEW married a Muskego Indian named BUDD (1765-1811).
Arrival of William Hemmings COOK
1786
In 1786 eighteen-year-old William Hemmings COOK (1768-1846) came from London to Rupert's Land (York Factory) as a Writer (Clerk) in service of the HBC.
Arrival of Thomas STAYNOR
1787
On Aug 15, 1787 Thomas STAYNOR (born 1770 in England) arrived at Churchill as an HBC Writer and Assistant Trader at Churchill Factory.
Death of Matthew COCKING in England
1799
On Mar 17, 1799 Matthew COCKING died in Easingwold, 13 mi North of York, England. In his Will, Mathew provided for his Indian wife and half-breed children at York Factory with annuities, leaving them considerably better off than most of their native kinfolk.
Arrival of John Pocock HOLMES
1805
In 1805 John Pocock HOLMES (born 1783 in England) arrived at Fort Churchill as an HBC Surgeon.
Please post comments & queries at this link: FORUM DISCUSSING the MATTHEW COCKING FAMILY
========================== Family Details ==========================
Child by LE-LO-ES-COM:
c1775 ELIZABETH KE-CHE-COW-E-COM-E-COOT "BETSY" COCKING
(m1. Thomas STAYNOR, m2. John Pocock HOLMES)
Child by KE-CHE-CHO-WICK:
c1780 WASH-E-SOO-E'SQUEW (AGATHAS) COCKING
(m1. BUDD, Muskego Indian, m2. William Hemmings COOK)
** MORE ABOUT MUSKEGO CREE BUDD
Child by A-PIS-TA-SQUA-SHISH:
c1782 MITH-COO-COO-MAN-E'SQUEW (MARY) COCKING (m. William Hemmings COOK)
** MORE ABOUT WILLIAM HEMMINGS COOK