WILLIAM HEMMINGS COOK (1768-1846)
KAHNAPAWANAKAN (1769-1813)
KE-CHE-COW-E-COM-E-COOT (Betsy) COCKING
MITH-COO-COO-MAN-E'SQUEW (MARY) COCKING (-)
WASH-E-SOO-E'SQUEW (AGATHAS nee COCKING) BUDD (c1780-)
(Last Updated: October 17, 2016)
William Hemmings COOK was baptized on May 30, 1768 in the Parish of St Andrew, Holborn, London, England, son of Elizabeth and John COOK.
His biography, authored by Irene Spry can be seen at this link:
** WILLIAM HEMMINGS COOK in DICTIONARY OF CANADIAN BIOGRAPHY ONLINE
** It should perhaps be noted that even Spry's information has been questioned and debated by other historians and genealogists including Beaumont. Spry is nevertheless perhaps the most often referenced source regarding W.H.C.
** More from Beaumont: ORIGINS and INFLUENCES: THE FAMILY TIES of REVEREND HENRY BUDD
Wayne JONES also provides excellent information about the COOK genealogy, himself a descendant. He has been one of my favorite sources. See his comments in related Forum discussions on my website.
Here's the link to his website: WAYNE'S PLACE
In the Service of the Hudson's Bay Company
York Factory
1786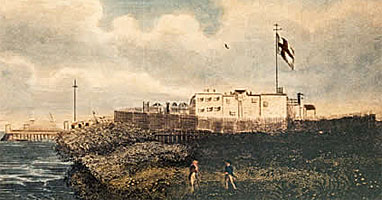 York Factory 1770
In 1786 William COOK (age 18) came from London to Rupert's Land (York Factory) as a Writer (Clerk) in service of the Hudson's Bay Company (HBC). At that time William TOMISON (1739-1829) was the Chief Factor at York Factory. However, TOMISON was ordered to reside inland and Joseph COLEN (1751-1818) was appointed the Resident Chief at York, subject to the orders of TOMISON when the latter visited York.
** MORE ABOUT WILLIAM HEMMINGS COOK in the HBC ARCHIVES
Daughters of Matthew COCKING - Wives of William COOK
Englishman Matthew COCKING (1743-1799) was the Acting Chief Factor at York Factory when he retired to England in 1782 (four years before COOK arrived). COCKING never returned to the Bay. He left behind a wife named A-PIS-TA-SQUA-SISH as well as several daughters born of three different wives. ** MORE ABOUT MATTHEW COCKING
** There are widely divergent views and speculation by many respected historians and genealogists with regard to the birth and marriage (union) dates for the wives and for the children of both Matthew COCKING and William Hemmings COOK whose families were intertwined in a most complex fashion.
** These are ancestors of Chantal KREVIAZUK, the internationally respected, Juno award-winning singer, songwriter, and musician. Chantal herself tells us all about her COOK  ancestors on the following Video:
First Wife – KAHNAPAWANAKAN
1786-87
William's first wife was KAHNAPAWANAKAN, and their first child was Nancy, born around 1787. Many sources indicate that Nancy was born in 1786. However, if COOK arrived in the summer of 1786 and Nancy was his child, it is unlikely that she was born that same year. His second child was Jane (Jenny) born around 1788.
Chatham House
1790-1794
To meet the competition from the North West Company (NWC), Joseph COLEN sent men inland to establish new posts. In 1791 William COOK built Chatham House on Wintering Lake in opposition to William McKAY of the NWC. Around 1792 his first son, Joseph was born there. Wintering Lake is located north of Cross Lake (just south of today's Thompson, MB), along the Nelson River fur trade route to Lake Winnipeg.
William was the Post Master at Chatham House until the fall of 1794 when he returned to England aboard the Prince of Wales. In 1795 he returned to York to resume duties as an Inland Trader in charge of various Nelson River posts.
Split Lake
1797-1809
From 1797 to 1809 William was based at Split Lake; in charge of all the Nelson River posts. In 1797 son Joseph (about six years old) was listed one of the students at the York School (Teacher was Mr. GEDDES) as was Catherine SINCLAIR, daughter of William SINCLAIR. Catherine SINCLAIR would later become Joseph COOK's wife.
Around 1801 daughter Jane "Jenny" married Dr. John McNAB, son of a Cree woman and Governor John McNAB SR (1755-1820). ** MORE ABOUT GOVERNOR JOHN McNAB
Born about 1780 at Fort Albany, John McNAB JR was sent to Scotland at a young age by his father, where he studied medicine. In 1802 he became the Chief Factor and Surgeon at Fort Albany (He abandoned Jenny and their children in 1812 when he went to England).
By 1808 William is said to have had about seven children with KAHNAPAWANAKAN: Nancy, Jane, Joseph, James, Samuel, Jeremiah and Margaret.
Nahovway pg 204: September of 1809: - - entered Sam COOK (about six years old) on the School List, and shortly after James SUTHERLAND JR was added. Joseph COOK (about 17 years old now) also attended part time, but is mentioned more often as a hunter who provided food for the school children. This was a likely time when he and Catherine SINCLAIR formed a likeness for each other. They formed a union shortly thereafter.
Second Wife – KE-CHE-COW-E-COM-E-COOT (Betsy) COCKING
Wayne Jones: William COOK's second wife was KE-CHE-COW-E-COM-E-COOT (Betsy, Agatha) COCKING, daughter of LE-LO-ES-COM and Matthew COCKING (1743-1799). ** MORE ABOUT MATTHEW COCKING
Betsy COCKING and her daughter were living with William Hemmings COOK after 1801 when her first husband returned to England with her other two children. Samuel and Jeremiah were born during this time.
Chief Factor - Governor at York Factory
HBC Restructured
1809-1810
As second in command at York in 1809, WH COOK won the approval of Chief Factor John McNAB, with whom he had worked in 1808-09 on a relay system of inland transportation.
In 1810 the HBC divided Rupert's Land into two new jurisdictions, the Northern and Southern Departments. Thomas THOMAS (1765-1828) was appointed Superintendant of the Southern Department (Fort Albany, Moose Factory and Eastmain Factory).William AULD (1770-1830) was appointed Superintendant of the Northern Department (Churchill, York Factory, Winnipeg and Saskatchewan Districts).
Appointed Chief Factor in 1810, COOK was responsible, under the command of AULD, for York "dependencies" including Fort Severn (Ontario) and Inland Posts.
Around 1810 son Joseph married Catherine SINCLAIR, daughter of NAHOVWAY and William SINCLAIR (1768-1846) from England, the HBC Chief Trader at Oxford House, also in Charge of Inland Posts in that region.
The First Selkirk Settlers Arrive
A Third Wife
1811
During the winter of 1811-12 COOK struggled with problems of provisioning and transport for the Selkirk settlers - Scots and Irishmen who, under Miles MacDONELL (1767-1828) and William HILLIER, were wintering at York on their way to the Red River.
Around 1811 William COOK acquired a third wife, MITH-COO-COO-MAN-E'SQUEW (Agathas) COCKING, step-sister of his first wife Mary.
Miles MACDONELL would later write an observations regarding the exploitation of Native women (Donna Sutherland - Manitoba Archives, Selkirk Papers) "They [HBC men] have almost uniformly taken up with Indian women. Some have a plurality & even to these their cupidity is not always confined. The present chief at YF [Wm COOK] has three wives by whom he has numerous issue. One he has discarded for being old [KAHNAPAWANAKAN], the other two are younger and live with him at the Factory. It is not surprising that the young subordinate officers should follow the example sets by their more elderly superiors."
Death of KAHNAPAWAMAKAN
1812-13
COOK apparently had absented himself from York in 1812-13 while still receiving emoluments of a chief factor, which had annoyed the Company's brass.  He was allowed to resign and, in view of his long and faithful service, to settle on the Nelson with his family on a private and temporary basis. It would seem that COOK was living with more than one of his wives at a time for in 1812, Miles McDONELL observed "It may easily be supposed that a chief who occupies himself the Mess room with a squaw occupying an apartment on each side opening into it, would not be very desirous of having his family arrangements deranged by visitors" (Many Tender Ties, pg 42-43).
He was at York again in 1813-14, and he seems to have been in the Nelson River Dist, at half his old salary.  COOK and many of his colleagues, including his eldest son Joseph, had long been concerned to secure 'a retreat for our children'. 
Last Wife - Widow WASH-E-SOO-E'SQUEW (Agathas nee COCKING) BUDD
1815
In 1815, William COOK appears to have had two wives already when his sister-in-law and her children moved in with him as well. This was Widow WASH-E-SOO-E'SQUEW Agathas (nee COCKING) BUDD, daughter of A-PIS-TA-SQUA-ISH, one of the wives of Matthew COCKING. Agathas was the widow of Muskego Cree BUDD (1765-1815), recently deceased. COOK now essentially became the step-father to Agathas' children, the BUDD family.
** MORE ABOUT MUSKEGO CREE BUDD
In 1815-16 William retired to the Oxford House area for the winter. From 1816 to 1818 he was again at Split Lake in charge of the Nelson River District.
The COOK Family settles in Red River
1818-1819
In 1818 William was sent to the Swan River District with headquarters at Fort Hibernia (on the Assiniboine River near Kamsack, Saskatchewan). Around this time, his eldest daughter Nancy married James SUTHERLAND (b-c1785).  From there, in the spring of 1819, COOK resigned to become a settler at Red River.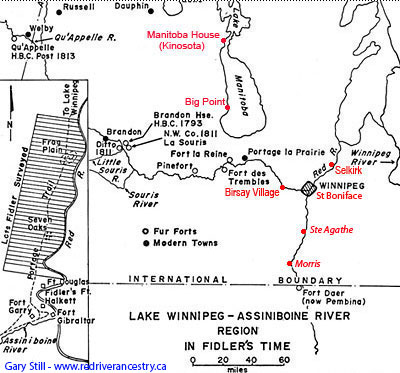 1820
In 1820 Reverend John WEST (1778-1845) arrived at Red River from England, the first HBC Chaplain to Rupert's Land. James HOPE and Henry BUDD were the first two students at the Mission School started by WEST. Henry was William COOK's step-son, a child of his wife by her first husband, Muskego BUDD.
Around 1820 step-daughter Rebecca BUDD became the wife of Isaac MUMINAWATUM (born around 1794 at Norway House).
Union of the North West Company with the Hudson's Bay Company
1821
In 1821 union of the North West Company (NWC) and the Hudson's Bay Company (HBC) occurred, ending years of bitter rivalry for dominance of the fur trade in Western Canada. After the merger, almost 1,300 employees lost their jobs since the single HBC organization that emerged had no need for most of the voyageurs and retired fur traders. At the time of the HBC-NWC union, (Sir) George SIMPSON (1786-1860) became the Governor of Rupert's Land.
In 1821 daughter Nancy (previously married to James SUTHERLAND) re-married Scotsman William GARRIOCH (1779-1844), an Orkney Scot.
One of COOK's wives died by 1821 (Aggathas?), when he was established in the RRS.  He apparently worked as a "petty trader (retailer) and freighter.  Appointed a Councilor to the Governor of Assiniboia in 1822, he attended 6 meetings.  According to SIMPSON in 1822, he had changed "his residence about a Doz different times, for as many absurd reasons".  Though Donald GUNN thought of him a "kind hearted gentleman".
In the 1820's Governor SIMPSON considered COOK to be "timid and weak", "useless from age and want of firmness" and from fear of losing popularity, a "most extraordinary mixture of generous eccentricity, Religion, Drunkeness and Misanthropy".  COOK was often at odds with the other principal settlers at RRS who had been his colleagues in the HBC.
In 1822 James HOPE and Henry BUDD were the first two students of WEST to be baptized into the church. Others were baptized the following year, including a girl named NEHOWGATIM or Sally BUDD, a sister of Henry." She had arrived in the fall of 1822 with their mother," a woman named "Agathus," who assisted in looking after the children at the school." West left scant information about Agathus , other than she was being supported by the Church Missionary Society in 1823.
In 1823 Reverend David JONES (1796-1844) arrived in Red River as the replacement for Rev. WEST.
In 1823 at St Johns, son Jeremiah married Ellen SPENCE, daughter of Nancy and James SPENCE (1778-1857).
In 1825 son Samuel was married at St John's by Reverend David JONES (1796-1844) to Isabelle GADDY, daughter of Mary & James GADDY (b-1772) from Scotland.
Red River Census of 1827
In the Red River Census of 1827 William H COOD was recorded as a 61 year-old Protestant from England. With him he had a wife; four adult sons and one son under the age of 16; and six daughters under the age of 15. He had two houses, a barn and two stables; three horses and a mare; five bulls, six cows, five oxen and five calves and 23 swine. He had two carts, two ploughs, two harrows and a canoe. He had five acres under cultivation. Essentially he appears to have become a fairly successful and prosperous farmer.
In the 1820's step-daughter Nancy BUDD married Michel RHEIN (1788-1829) who was born in France. In 1829 RHEIN died, and Nancy re-married to Horatio Nelson CALDER (1806-1885).
In 1831 step-daughter Sarah BUDD married Alexander BIRSTON, son of an Indian woman and Alexander BIRSTON SR (1775-1829) from the Orkneys of Scotland.
In 1836 youngest step-son Henry BUDD (later Reverend Henry BUDD) married at Grand Rapids to Elizabeth WORK, daughter of one of the Company's officers in New Caledonia.
Also in 1836 daughter Catherine married James LYONS, and son Charles married James' sister, Mary Ann LYONS, children of Margaret KIPLING and John LYONS (1786-1875). ** MORE ABOUT JOHN LYONS
William is Church-wed to Agathas (Mary) COCKING
1838
On Mar 8, 1838, he formally married Mary (Agathas) COCKING, thus fulfilling what Thomas SIMPSON (1808-1840) had described in a private letter of 1836 as his "intention of bringing his 35 yrs of courtship to an early close."
On Feb 27, 1839, three years after ownership of the district passed from the estate of Lord Selkirk to the HBC, William COOK was appointed to the Council of Assiniboia.  
Around 1842 daughter Sophia married Joseph HALCROW, son of Mary SUTHERLAND and Thomas HALCROW (1781-1854). ** MORE ABOUT THOMAS HALCROW
By 1843, when his name last appeared in the Census returns, COOK had only 20 acres under cultivation. 
William COOK dies in Red River
1846
On Feb 22, 1846 William HEMMINGS COOK died; buried at St Johns Anglican Cemetery.
COOK's will provided an income for his "beloved wife Mary" (Agathas) and bequests for four sons, seveb daughters, and a granddaughter.  His land was divided equally among 10 of his children.  It was his children and their progeny who constituted his most notable contribution to western Canada. 
In 1847 daughter Catherine (widowed) re-married to Joseph KIRTON (1812-1891) from England.
** MORE ABOUT JOSEPH KIRTON
When recording COOK's death, Peter GARRIOCH (1811-1890), a grandson and a trader and freighter at Red River, called him "the Father of us all".
As of 2013 there were no less than 37 Family Trees on Ancestry.com relating to William Hemmings COOK and his descendants. Due to the complexity of this family lineage and the ongoing nature of investigations, expect frequent changes to this Family Page as new information is revealed.
Please post comments & queries about the BUDD children at this link:
FORUM DISCUSSING the MUSKEGO BUDD FAMILY
Please post comments & queries about the William COOK family at this link:
FORUM DISCUSSING the WILLIAM HEMMINGS COOK FAMILY
=========================== Family Details ===========================
BUDD Step-Children:
1. c1799 JAMES "THE CASK" BUDD (m. Elizabeth or Betsy)
2. c1800 REBECCA BUDD (m. Isaac MUMINAWATUM)
3. Oct 5, 1805 CATHERINE "KITTY" BUDD (m. Peter ERASMUS SR)
4. c1806 NANCY BUDD (m1. Michael RHEIN, m2. Horatio Nelson CALDER)
5. c1809 NEHOWGATIM (SALLY, SARAH) BUDD (m. Alexander BIRSTON)
** MORE ABOUT ALEXANDER BIRSTON
6. c1810 HENRY BUDD (m. Elizabeth "Betsy" WORK)
Children by KAHNAPAWAMAKAN:
1. c1787 NANCY COOK (m1. James SUTHERLAND, m2. William GARRIOCH)
** MORE ABOUT JAMES SUTHERLAND
** MORE ABOUT WILLIAM GARRIOCH
2. 1788 JANE JENNIE COOK (m1. John McNAB, m2. Henry HICKENBERGER)
** MORE ABOUT GOVERNOR JOHN McNAB
3. 1792 JOSEPH COOK (m. Catherine SINCLAIR)
** MORE ABOUT JOSEPH COOK
4. 1803 JAMES COOK
Children by KE-CHE-COW-E-COM-E-COOT and/or MITH-COO-COO-MAN ESQUAW Agathas COCKING:
1. 1804 SAMUEL COOK (m1. Isabelle GADDY, m2. Susannah "Suzette" SHORT)
** MORE ABOUT SAMUEL COOK
2. c1804-05 JEREMIAH "JERRY" COOK (m. Ellen SPENCE)
3. 1808 MARGARET COOK (m. William SANDERSON aka SAUNDERS)
** MORE ABOUT WILLIAM SANDERSON aka SAUNDERS
4. c1810 CHARLES COOK (m1. Mary Ann LYONS, m2. Catherine ANDERSON)
** MORE ABOUT CHARLES COOK
5. 1810 MARY POLLY COOK (m. William LEASK SR)
6. c1816 CATHERINE "KITTY" COOK (m1. James LYONS, m2. Joseph KIRTON)
7. c1817 WILLIAM COOK JR (?m. Mary BEARDY, ?m. Charlotte SPENCE?)
8. c1820 FRANCES FANNY COOK (m. Rev George FLETT)
9. 1824  SARAH COOK
10. 1825 LYDIA COOK (m. Joseph FLETT)
11. July 1, 1827 SOPHIA COOK (m. Joseph HALCRO)
12. 1830 LETITIA COOK (m1. David FLETT, m2. Joseph Berry RODGERS)