GOVERNOR JOHN McNAB (1755-1820)
UNKNOWN WIFE (?-?)
(Last Updated: December 18, 2013)
John McNAB was born on Nov 2, 1755 in the village of Aberdour in Fifeshire, Scotland, son of John McNAB SR. ** This is verified in Scotland's People.
In the Service of the Hudson's Bay Company
Albany District
1779
In 1779 John McNAB joined the Hudson's Bay Company (HBC) and was sent to Albany Fort, on James Bay where he landed on Sep 7 that year. It seems that he must have received some medical training for he is referred to as 'Dr. John McNAB' in the HBCA, but no record has yet been found of any formal qualifications. ** Some people suggest that the Elder John McNAB is being confused with his son John in that regard.
When John arrived at Albany the Chief Factor was Thomas HUTCHINS (1742-1790), who was also a surgeon.
** MORE ABOUT JOHN McNAB in HBC ARCHIVES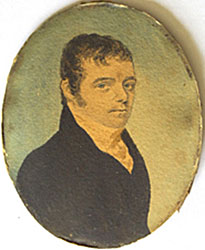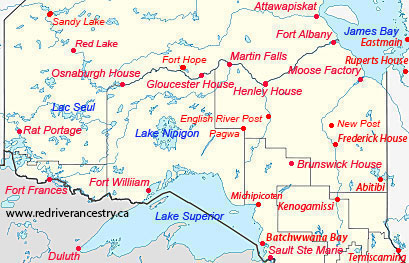 Portrait of John McNab courtesy of David Elder
Question – Is this the Dr John McNAB born 1780 or the one born 1755?
The above unsigned watercolor miniature of John McNAB. Dates to approximately 1780, courtesy of David ELDER, G-G-Great Nephew who in 1998 found a note on the reverse of the portrait in his father's handwriting: "Dr McNAB, Doctor in Canada, HBC. Our Great-Grandmother's Uncle". This led ELDER to research his family history, and he has since made connections with several relatives in Canada who descend from John McNAB's 'country marriage' to Jane COOK.
** MORE ABOUT JOHN McNAB in MATERIAL HISTORIES (DAVID ELDER)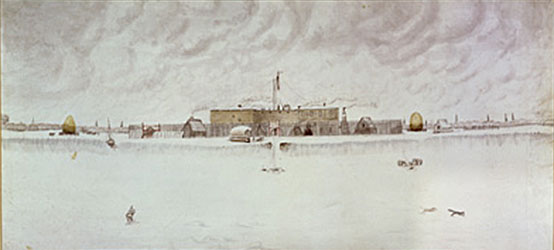 Albany Factory from the south east, 1804-1811.
HBC Archives of Manitoba, Artist William Richards
An Unknown Wife and Children
1780
Around 1780, based on most accounts, John McNAB SR began having children with someone in the Albany River District. Their first three children were allegedly born in the early 1780's, presumably Mary, John Jr. and Thomas for whom birth dates presented in most literature are only approximations. His eldest/ first child was most likely John Jr. (customarily first-borns were named after their father).
One has to question the accuracy and integrity of some of the HBC Archives information regarding the Elder John McNAB, his wife and his children. In some places this bio seems to be an admixture of facts that may be referring to John the Elder and/or his son John Jr. in the same bio. Nevertheless, many researchers accept the HBCA information as the gospel truth and use it as a basis for descendant genealogies which results in a great deal of confusion.
Fact 1: The John McNAB born around 1755 was the earliest and only person with the surname McNAB found in the HBC Archives (HBCA) who was born at that early date. Therefore, any McNAB children born in the early 1780's almost certainly had to have been his children, unless they were not his biological children and acquired the McNAB name in some other manner.
Fact 2: There were no white (European) women in the Albany district during that era, so the mother of the aforementioned children had to have been either a half-breed or Indian woman. However, those sources (including HBCA) referring to Jane "Jennie" COOK (daughter of William Hemmings COOK) as the wife of the Elder John McNAB do not stand up to scrutiny. It seems obvious that Jennie was more likely the wife of John McNAB Junior.
I look forward to debate and discussion of the Forum of this website (use link below) from anyone who can provide further enlightenment.
Post Master at Henley House
1781-1787
In 1781-82 John became a Post Master at Henley House where he worked with John FAVEL (1740-1784). On Jan 12, 1782 there was a fire at Henley House. Thomas HUTCHINS (1742-1790) of Albany reports that "Henley House, "the most unfortunate place in the country, was burned.  Three European servants - - John LOUTIT, James ROWLAND, and Robert CROMARTIE - - died in the fire, while master McNAB and 2 others "escaped naked to an Indian tent but were terribly froze." HUTCHINS departed Albany for London in 1782.
Surgeon and Second in Charge, then Chief Factor at Albany
1787-1791
HBCA: From 1787 to 1790 John was Surgeon, and Second in Charge at Albany. In 1790 he was made the Chief Factor there until he returned to England in 1791. In 1792 he returned to the Bay, at which time reference is made to his son coming home. ** My guess is that this must have been either John (most likely) or Thomas who were presumably sent to England for their early schooling.
Second, then Chief at Albany
1792-1799
On June 28, 1792, John KIPLING(1724-1794) was left in charge at Albany, while John McNAB travelled inland. (Remarks by Rod McQarrie)
Pat McLoy:  On May 4, 1793 John McNAB was Chief Factor at Albany. At that time "Mad" Donald McKAY (1753-1833) was there with a Cree wife and two sons. Indians killed his wife and burned his house. Donald McKAY was left for dead, but he survived. ** MORE ABOUT DONALD McKAY in DCBO
In 1797 son Thomas McNAB began his own HBC career with the HBC at Point au Foutre (at the mouth of the Winnipeg River where it empties into Lake Winnipeg).
Around 1797 daughter Sarah became the wife of Thomas BUNN (1765-1853), who had only recently arrived at Albany as a 'Writer' (Accountant) for the HBC. ** MORE ABOUT THOMAS BUNN
Second trip to England
1799-1801
Chief Factor at Fort Prince of Wales (Churchill)
Sons John & Thomas take wives
HBCA: In September of 1799 John returned to England from Albany.
In 1801 he returned to the Bay, having been promoted to Chief Factor (Governor) at Fort Prince of Wales (Churchill). Again, reference to his son (John or Thomas) coming home.
It was around 1801 that son Thomas was 'country wed' to Mary, a Salteaux Indian, and son John Jr. was 'country wed' to Half-breed Jane "Jennie" COOK, daughter of  KAHNAPAWANAKAN (Cree) and William Hemmings COOK (1768-1846) from England who was the HBC man in charge of Inland Nelson River posts.
** MORE ABOUT WILLIAM HEMMINGS COOK
Chief Factor at York Factory
1802-1809
In 1802 John McNAB the Elder was moved from Churchill down to York Factory where he would serve out the rest of his HBC career as Chief Factor (Governor) of the York District.
In 1806 daughter Sarah (Mrs. Thomas BUNN) died after giving birth to two children (Mary & John BUNN). As their grandparents, John and his wife then assumed the role as caregivers and surrogate parents to their daughter's children. In 1909 widowed son-in-law Thomas BUNN re-married to Phoebe SINCLAIR at York Factory, daughter of NAHOVWAY (Cree) and William SINCLAIR (1766-1818) from the Orkneys, an HBC inland trader.
** MORE ABOUT WILLIAM SINCLAIR
Retired in England
1809-1812
HBCA: On Sep 23, 1809 John returned again to England on the King George with his son (Thomas) and his grandson. On this occasion the son was definitely Thomas, whose Bio indicates that in September of 1809 he went to London on the King George, arriving there on Nov 23, 1809. On Jun 5, 1810 he (Thomas) returned to York Factory, arriving there on Aug 19, 1810.
** Here is where some of the HBCA information gets fuzzy. Did the Elder John McNAB in fact ever return to the Bay?

HBCA: On May 2, 1810 (in London) John was "called in and informed that the Committee would not have occasion for his further services." The Elder John would have been about 55 years old then, son John Jr. about 30 years old.
It was also in 1810 that the same London Committee granted Lord SELKIRK about 116, 000 square miles of land at Red River to which he would bring settlers from the Old Country, the SEKIRK Settlers.
** MORE ABOUT LORD SELKIRK in DCBO
Arrival of the First Selkirk Settlers at York Factory
1811
HBCA: In 1811 John (more likely John Jr.) returned to the Bay aboard the Prince of Wales. ** It appears that John arrived at York Factory along with the first group of Lord SELKIRK's settlers.
McNAB then travelled overland from Moose Factory to Montreal, then to Liverpool to report the over-wintering of the ship and to deliver the packet (mail packet)."
Elder:  For historians of the fur trade, his most notable achievement was to be the first HBC man to lead an overland journey from Moose Fort to Montreal. Due to severe weather conditions, the Company's ship The Prince of Wales was forced to spend the winter of 1812 at Hudson Bay. Without the efforts of McNab and his expedition team the year's mail would not have reached London for many more months. This would have had serious consequences for the future provision of the Company's posts.
On May 11, 1812 he (John Jr.?) arrived in England as a retired man. (The elder John was already retired two years earlier)
On June 22, 1812 Miles MACDONELL (1767-1828) departed from York Factory with the first group of Selkirk Settlers. This group arrives at Red River on August 30 that year.
Lord Selkirk captures Fort William
HBCA: 1816: On Apr 25, 1816 John (John Jr.?) wrote from Montreal that he intended to go to accept an offer from the Earl of Selkirk, then to return to Fife by Dec. 1817.
On Aug 12-13, 1816 Lord Selkirk and his soldiers captured Fort William and spent the winter there.
Elder: By 1817 he (the Elder John) had a farm in Kennoway Parish, Fife, which he leased out, and he arranged for at least one of his two sons to be educated in Scotland. ** This must have been John Jr. because son Thomas was working in the Lake Winnipeg District during this period. He was also extremely supportive of his grandson, John BUNN, (Dr John BUNN b-1803, son his daughter Sarah & Thomas BUNN b-1764) who followed in his footsteps and studied medicine at the University of Edinburgh.
HBCA: By December, 1817 John (Jr?) returned to Fife.
In 1818 John (Jr?) requested the HBC to have his son and family join him in Canada.
An 1819 Letter addressed to him at University of Edinburgh acknowledging his letter dated Dec 26, 1818 and stating that claims on the Company are not substantiated.
HBCA: In 1820 John McNAB SR died.
Comments and queries at this link: FORUM DISCUSSING JOHN McNAB (1755-1820) and his CHILDREN
=========================== Family Details ===========================
Potential Children:
1. c1780 SARAH McNAB (m. Thomas BUNN)
2. c1780 JOHN McNAB (m. Jane COOK)
3. 1782 THOMAS McNAB (m. Mary SAULTEAUX)