THOMAS McNAB (1782-1866)
MARY SAULTEAUX (1786-1856)
(Last Updated: December 18, 2013)
Thomas McNAB was born around.1782 at Albany Fort on James Bay, believed to be the eldest son of a Cree woman and Governor John McNAB (1755-1820). It seems that Thomas may have been taken to England for some education as a youngster.** MORE ABOUT GOVERNOR JOHN McNAB
Recruited by the Hudson's Bay Company
1797
In 1797 Thomas began his career with the Hudson's Bay Company (HBC) as a Labourer at Point au Foutre Post in the Albany District, working under Thomas VINCENT (1776-1832) who became the Post Master there that year. Point au Foutre probably got its name because it was the last portage, or the first, on the Winnipeg River where it discharges into Lake Winnipeg.
** MORE ABOUT THOMAS VINCENT in DCBO
** MORE ABOUT THOMAS McNAB in HBC ARCHIVES
** Note: That the HBCA bio indicated Thomas' mother as Jane COOK which is very suspect.
In 1800 John HODGSON (1763-1826) became the Post Master at Albany, succeeding John McNAB (Thomas' father).
** MORE ABOUT JOHN HODGSON
Country Marriage to Mary (Salteaux Indian)
1801
Around 1801 Thomas was 'country wed' to Mary, a Saulteaux Indian. On May 10, 1802 their first child, daughter Sarah was born at Berens River.
Thomas continued working in the Albany district until 1806 when (age 25) he was a Steersman & Trader at York Factory
.
In 1808-09 he was "In Charge" at Sucker Lake in the Merry's House District.

In September of 1809 Thomas (and his father, John the Elder) went to London on the King George, arriving there on Nov 23, 1809.

On Jun 5, 1810 Thomas returned to York Factory, arriving there on Aug 19, 1810. He then became an Assistant Trader and Interpreter in the Lake Winnipeg District at Pigeon River, Berens River and Merry's House.
The First Selkirk Settlers Arrive
1811-1814
On Sep 24, 1811, the first group of Lord Selkirk's Settlers arrived at York Factory, bound for Red River led by Miles MacDONELL (1767-1828), the newly appointed Governor of what was to become the District of Assiniboia. He was accompanied by William HILLIER who was to assume responsibilities for the fur trade and competition with the North West Company (NWC). Due to their late arrival they were forced to spend the winter at York before embarking on the long journey south.
Around 1812 at Pigeon River, daughter Sarah became the country wife of Andrew McDERMOT (1791-1881) from Ireland.
From 1818 to 1821 McNAB was Assistant Trader at Halkett House and Partridge Crop River posts.
Union of the North West Company with the Hudson's Bay Company
1821
In 1821 the union of the North West Company (NWC) and the Hudson's Bay Company (HBC) occurred, ending years of bitter rivalry for dominance of the fur trade in Western Canada. After the merger, almost 1,300 employees lost their jobs since the single HBC organization that emerged had no need for most of the voyageurs and retired fur traders.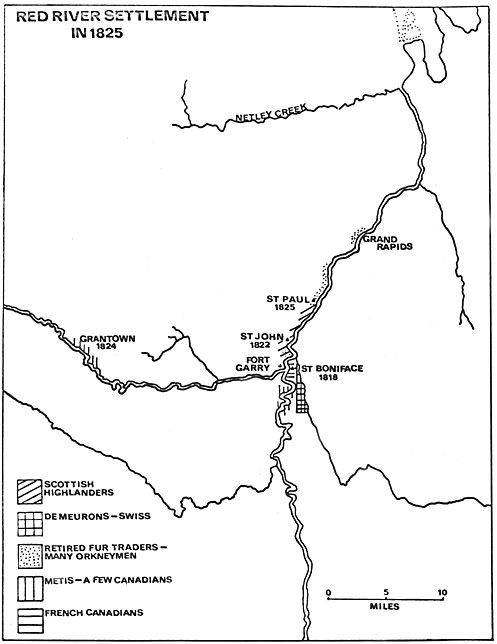 HBCA: In 1821 Thomas was retired to Montreal. He obviously didn't remain there very long, and returned to Red River prior to the census of 1827.
A Double Wedding
1827
Red River Census of 1827: Thomas McNAB, age 56 with his wife and two adult sons (John & Thomas) and two adult daughters (Margaret & Eleanor) as well as two younger sons (James & Charles) and one young daughter (Jane).He had a house and stable and a canoe, and he had one acre under cultivation.

On Dec 18, 1827 there was a double-wedding at St John's Anglican Church in Red River. Thomas McNAB married Margaret, and his eldest son John McNAB married Jane Margaret SANDERSON, daughter of John "Jack" SAUNDERS aka SANDERSON (1780-1831). ** MORE ABOUT JOHN SANDERSON
In 1832 daughter Margaret married William FLETT at St Johns, son of Betsy SASKATCHEWAN and William FLETT SR (1762-1823). ** MORE ABOUT WILLIAM FLETT SR
In 1833 son Thomas Jr. married at St Johns to Harriet WEST of unknown origins.
Around 1835 son James married Sarah MICHAEL of unknown origins.
In 1848 daughter Jane married Robert SANDERSON at St John's, son of Elizabeth LAGIMODIERE and George SANDERSON (1796-1868).
Around 1849 youngest daughter Eleanor married Henry Andrew HALLETT, son of Catherine PARENTEAU and Henry HALLETT (1799-1871).
In 1856 Thomas' wife Mary died.
In 1859 son Charles married Mary Ann McLEOD (b-1835) of unknown origins.
In 1866 Thomas McNAB died and was buried in the St Johns Anglican Cemetery.
Comments and queries at this link: FORUM DISCUSSING the THOMAS McNAB FAMILY
=========================== Family Details ===========================
Children:
1. May 10, 1802 SARAH MARY McNAB (m. Andrew McDERMOT)
2. Aug 22, 1806 JOHN McNAB (m. Jane (Margaret) SAUNDERS aka SANDERSON)
3. c1807 MARGARET McNAB (m. William FLETT)
4. c1807 THOMAS McNAB JR (m. Harriet WEST)
5. 1815 JAMES McNAB (m. Sarah MICHAEL)
6. 1820 CHARLES McNAB (m. Mary Ann McLEOD)
7. c1824 JANE McNAB (m. Robert SANDERSON)
8. Apr 1, 1829 ELEANOR "ELLEN" McNAB (m. Henry Andrew HALLETT)