WILLIAM FLETT (1762-1823)
ISABELLA SASKATCHEWAN (c1775-1846)
(Last Updated: April 07, 2014)
William FLETT was born around 1762 in the Parish of Firth (Orkney Islands), Scotland (HBCA).
** I will forever be grateful to Beth Balsillie for her help in setting me straight with some of the genealogy about SASKATCHEWAN and this William FLETT, which for a long time had me baffled. It was she who pointed me to the article called 'A City Called Home – Memories' by Shirley A and Vernon R Wishart. This article tells this family's story with lots of details and references. I will include some quotes from that article with the denotation Wishart.
William Hired by the Hudson's Bay Company
1782
On June 19, 1782 William was hired by the Hudson's Bay Company (HBC) and began his career as a Labourer at York Factory on Hudson Bay. He was said to be a slender man, 5' 7" in height and "well proportioned."
** MORE ABOUT WILLIAM FLETT in the HBC ARCHIVES

A Prisoner of LAPEROUSE
1782
In 1782 William FLETT arrived at York Factory along with HBC Governor Humphrey MARTEN (1729-1792), just two days before three French warships led by the celebrated French navigator Jean-Francois de GALUP, Comte de la PEROUSE (1741-1788), arrived offshore. One week earlier they had sacked Prince of Wales Fort at Churchill, then in the charge of Governor Samuel HEARNE (1745-1792).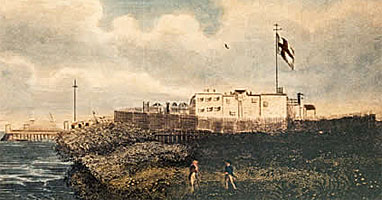 York Factory - Under French naval attack by Laperouse in 1782
William FLETT was among the prisoners taken by LAPEROUSE at York Factory along with Humphrey MARTEN.
** MORE ABOUT LAPEROUSE in DCBO
In November of 1782 La PEROUSE's prisoners, were dropped at Stromness in November, whether on the way to France or back from France is uncertain; their letters do not reach the HBC until March of 1783. After MARTEN's release to England, the Company persuaded him to take charge of York Factory once more. He arrived there on Sep 15, 1783, twelve days after the signing of the Treaty of Paris.
In 1783 William FLETT returned to York Factory along with Humphrey MARTEN to help in the reconstruction of the fort that had been destroyed by the French. For the next 26 years he would work as an Inland Laborer and Steersman (voyageur).
Typically in the late summer and fall, these voyageurs would load up canoes with European trade goods at their home base (York Factory) and transport them to inland posts where they would be traded for furs. In the following spring and summer these furs were bundles up and transported back to the Bay to be shipped to European markets.
Wishart: In 1793 FLETT accompanied Peter FIDLER (1769-1822) as they explored the site for a Hudson's Bay post which was to become known as Edmonton House. ** MORE ABOUT PETER FIDLER 
It was in 1793 that Alexander MACKENZIE (1764-1820) became the first European to cross the continent overland to the Pacific Ocean. ** MORE ABOUT ALEXANDER MACKENZIE in WIKIPEDIA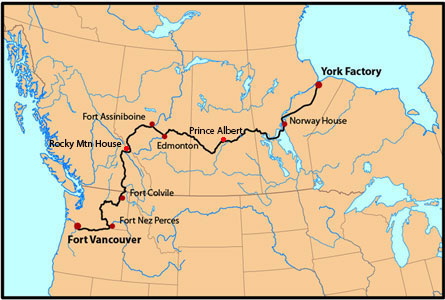 Early Trade Route from York Factory to Fort Vancouver
Marriage to Isabella SASKATCHEWAN
1797
Around 1797 William began a marital union with Isabella SASKATCHEWAN, a Cree Indian. Daughter Elizabeth was born around 1798.
From 1810 onward our William FLETT was referred to as a Master Trader; his first posting in that capacity was at Acton House in the Saskatchewan (River) District in opposition to the North West Company's Rocky Mountain House (In present day Alberta).
In 1812-13 he was posted to Little White Earth House, near Smoky Lake (northeast of Edmonton).
From 1813 until he retired, William was also referred to as a Canoe Builder.as well as a Master Trader. From 1814 to 1820 he was at Edmonton House.
Perhaps as early as 1815, eldest daughter Elizabeth began a relationship with Robert ROWLAND, an HBC voyageur from the Orkneys.
The North West Company Absorbed by the HBC
William Dies at Red River
1821-1823
In 1821 the Union of the North West Company (NWC) and the Hudson's Bay Company (HBC) occurred, ending years of bitter rivalry for dominance of the fur trade in Western Canada. At the time of the union, (Sir) George SIMPSON (1786-1860) became the Governor of Rupert's Land. After the merger, almost 1,300 employees lost their jobs since the single HBC organization that emerged had no need for most of the voyageurs and retired fur traders.
William FLETT was retired to Red River, where on Nov 10, 1823 he died at the age of 61, the day after he had prepared his Last Will and Testament.
Wishart: He died on November 10. 1823, at the age of 61 years. His widow SASKATCHEWAN took up residence with her daughter, Elizabeth, and son-in-law Robert ROWLAND until her death in 1845 at the age of 70. In his will dated November 9. 1823. William FLETT directed that 'all his monies be put in trust' for the sole use and benefit of his 'reputed wife SASKATCHEWAN and their four children'.
On May 29, 1824 there was a double wedding at St John's, legitimizing the marriage of daughter Elizabeth to Robert ROWLAND, and her younger sister Ann to William GIBSON (b-1788), another retired HBC voyageur from the Orkneys.
In 1832 eldest son William married Margaret McNAB at St Johns, daughter of Mary (Indian) and Thomas McNAB (1782-1866), another retired HBC fur trader. ** MORE ABOUT THOMAS McNAB
In 1834 youngest son Peter married Euphemia HALCROW at St Johns, daughter of Mary SUTHERLAND and Thomas HALCROW (1781-1854), a retired HBC Blacksmith who became Red River Colonist.
** MORE ABOUT THOMAS HALCROW
Comments and queries at this link: FORUM DISCUSSING this WILLIAM FLETT FAMILY
========================== Family Details ==========================
Children:

1. 1799 ELIZABETH FLETT (m. Robert ROWLAND)
2. 1800 ANN FLETT (m. William GIBSON)
3. 1809 WILLIAM FLETT JR (m. Margaret McNAB)
4. Nov 13, 1812 PETER FLETT (m. Euphemia HALCRO)