THOMAS HALCROW (1781-1854)
MARY (Indian) (c1795-1860)
(Last Updated: August 06, 2016)
Thomas HALCROW (also spelled HALCRO) was born around 1781 in Stromness (Orkney Islands), Scotland.
Thomas recruited by the Hudson's Bay Company
Fort Churchill – York Factory
1804
In 1804 Thomas was hired by the Hudson's Bay Company (HBC) as a Blacksmith, and posted to the Churchill River District (Fort Churchill) until 1813. Thomas worked as a Blacksmith throughout his entire 20 years of service with the HBC.
** MORE ABOUT THOMAS HALCROW in HBC ARCHIVES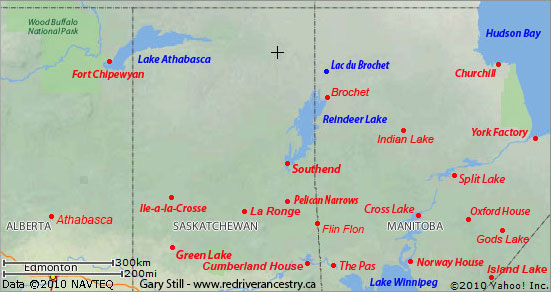 Thomas marries Mary (Indian)
1814
Between 1813 and 1815 Thomas was at York Fort. It was during this period that he was united with Mary (Indian).
Brandon House – Red River
1818-19
During 1818-19 Thomas was the Blacksmith at Brandon House, and in 1819 he was moved to the Upper Red River District (Kildonan; Winnipeg).
On Oct 14, 1820 Reverend John WEST (1778-1845) arrived in Red River from England as the first Chaplain in the northwest. According to HBCA, three children were baptized on Oct 25, 1820, those being Thomas Jr., Euphemia and Mary.
** MORE ABOUT REVEREND JOHN WEST and the FIRST RED RIVER CHURCHES & SCHOOLS
Union of the North West Company with the Hudson's Bay Company
1821
In 1821 the union of the North West Company (NWC) and the Hudson's Bay Company (HBC) occurred, ending years of bitter rivalry for dominance of the fur trade in Western Canada. At the time of the union, (Sir) George SIMPSON (1786-1860) became the Governor of Rupert's Land.
After the merger, almost 1,300 employees lost their jobs since the single HBC organization that emerged had no need for most of the voyageurs and retired fur traders.
By 1821 Reverend WEST has established the first Anglican Mission in Western Canada, St. John's (in Kildonan). On Oct 25, 1821 Mary (Indian) and Thomas HALCROW were church-wed at St John's by Reverend WEST.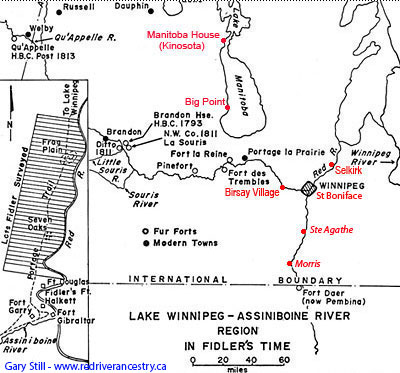 Thomas retired to Red River
1824
In 1824 Thomas was retired from HBC service. He settled in Red River (Lot 186), probably in Kildonan Parish.
On Dec 10, 1826 son James was baptized.
In the Red River Census of 1827 the family was recorded as follows: Thomas HALCROW (age 45), Protestant from the Orkneys, with a wife and children consisting of three sons and three daughters (all under the age of 16). The sons would have been Thomas (age 7), Joseph (2) and James (a baby). The daughters would have been Euphemia (age 10), Mary (8) and Barbara (age 2). He had a house and stable, three horses, four cows, three oxen and a calf. He had a cart and a harrow, and had eight acres under cultivation.
In 1834 eldest daughter Euphemia married Peter FLETT, the youngest child of a Cree woman named Isabella "Betsy" SASKATCHEWAN and William FLETT (1762-1823), an HBC post master from the Orkneys of Scotland.
In 1835 Sprague & Frye lists Thomas HALCROW as the owner of Lot 50 in St Paul Parish. He then had four horses and 15 cattle; one farm implement and two carts, and he had eight acres under cultivation. There were six persons in his household. Excluding him and his wife, this would indicate there were four children still at home.
In 1836 son Thomas Jr. married Charlotte KNIGHT, daughter of Sophia HALLETT and James KNIGHT (1783-1854), a retired HBC voyageur who was born in the Orkneys.
Around 1842 son Joseph married Sophia COOK, daughter of Mary COCKING & William Hemmings COOK (1768-1846).
** MORE ABOUT WILLIAM HEMMINGS COOK

Also around 1842 daughter Barbara married William WORK, son of Isabella (Indian) and Alexander WORK (1785-1850), a retired HBC voyageur from the Orkneys.
Around 1849 daughter Catherine became the second wife of Donald SPENCE, son of Mary (Indian) and James SPENCE (1778-1857). ** MORE ABOUT JAMES SPENCE
Around 1850 youngest son David married Elizabeth CORRIGAL, daughter of Hannah ANDERSON and James CORRIGAL (1810-1887) a Scotch Half-breed. ** MORE ABOUT JAMES CORRIGAL
On March 17, 1854 Thomas HALCROW died.
On April 2, 1860 Widow Mary HALCROW died in St Andrews.
Comments and queries at this link: FORUM DISCUSSING the THOMAS HALCROW FAMILY
======================== Family Details ========================
Children:
1. Aug 7, 1815 THOMAS HALCRO JR (m. Charlotte KNIGHT)
** MORE ABOUT THOMAS HALCROW JR
2. Dec 19, 1817 EUPHEMIA HALCRO (m. Peter FLETT)
3. Dec 4, 1819 MARY HALCROW (Died age 28)
4. Jan 3, 1825 JOSEPH HALCRO (Sophia COOK)
5. Nov 3, 1825 BARBARA HALCROW (m. William WORK)
6. Dec, 1826 JAMES HALCROW (Died age 16)
10. 1827 CATHERINE HALCROW (m. Donald SPENCE)
11. May, 1832 DAVID HALCROW (m. Elizabeth CORRIGAL)
Adopted son re HBCA:
1. c1844 JAMES HALCRO (Died in infancy)