WILLIAM FLETT (1786-1852)
BETSY (1787-1847)
(Last Updated: January 06, 2017)
Sorry for my screw-ups! Thanks to enlightenment provided by Beth Balsillie, we must discount SASKATCHEWAN as the wife of this William FLETT (B), but she was rather the wife of William FLETT (A) (1762-1823). Accordingly, that Family Page had to be revised and updated as well at this link: ** UPDATED PAGE for WILLIAM FLETT (1762-1823)
** Part of the confusion between the two William FLETTs arises from the fact that they were both born in Firth. However, William FLETT (A) was born around 1762 making him about 24 years older than his contemporary William FLETT (B) who was old enough to be his father. In fact the HBCA does refer to him as William Junior.
We will start afresh with this William FLETT (B) and will base his story on the Bio presented in the HBC Archives at the following link (Beth assures me that this one is correct): ** WILLIAM FLETT 'B' (1786-1852) in the HBC ARCHIVES
This William FLETT (B) was born around 1786 in Firth, Scotland.
Recruited by the Hudson's Bay Company
York Factory
1807-1810
Around 1806-07 William began service with the Hudson's Bay Company (HBC) at York Factory where he started out as a Labourer. In 1810 he began working inland as a voyageur in the Saskatchewan River District.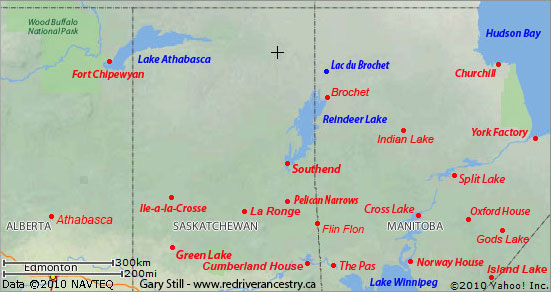 In the fall of 1818 William sailed home to the Orkneys on a furlough.
Cumberland House District
1819-1832
Presumably in 1819, William returned to HBC service, this time in the Cumberland District (Moose Lake Post and Cumberland House) where he remained for the rest of his career, primarily as a Fisherman.
In 1821 the Union of the Hudson's Bay Company and the Northwest Company occurred, ending many years of bitter rivalry to dominate the fur trade in the great northwest.George SIMPSON (1786-1860) became the Governor of Rupert's Land.
Marriage to Betsy
1824-25
Around 1824-25 William's wife was Betsy. Betsy's origins are so far unknown; she was most likely an Indian or half-breed woman.
Their first three children were John, born around 1825, Archibald in 1826 and James in 1829, probably all born at Cumberland House.
Retired to Red River
1832
In the summer of 1832 William was retired to Red River. On Sep 9, 1934 at The Rapids (today's Lockport-St Andrews), wife Betsy was baptized along with her sons John, Archibald and James. Their last child, Sally was baptized there on June 30, 1835.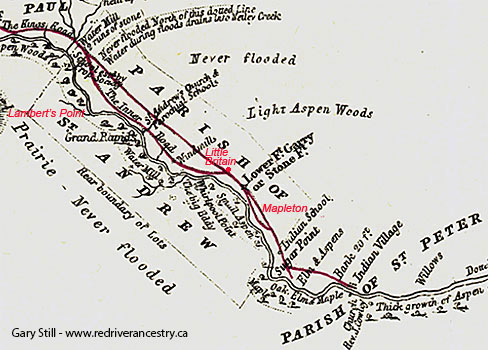 St Andrews Parish from Hind's Map of 1857
The appearance of hundreds of newcomers led the HBC to make a general survey of land fronting along the Red River, dividing it into long narrow lots, each measuring about 400 feet wide and two miles deep. These lots became the basis of the HBC Land Grants.
In 1847 Betsey FLETT died (buried Mar 6, 1847 St Andrews re HBCA, age 60).
On March 17, 1852 William FLETT died in St Andrews.
In 1853 son Archie married Nancy WARD, daughter of Angelique BRUYERE and John WARD (1805-1916).
In 1854 son James married Margaret BIRSTON, daughter of Mary KIRKNESS & William BIRSTON (1808-1888).
In 1855 son John married Eleanor ATKINSON, daughter of Nancy KIPLING and George ATKINSON JR (1815-1846).
** MORE ABOUT GEORGE ATKINSON JR
Also in 1855 daughter Sarah became the second wife of James FRANKS (1811-1884) at the "Rapids" (now Lockport, MB). FRANKS was born in England, a retired HBC Farm Servant. ** MORE ABOUT JAMES FRANKS
Comments and queries at this link: FORUM DISCUSSING this WILLIAM FLETT FAMILY
============================= Family Details =============================
Children:
1. 1825 JOHN FLETT (m. Eleanor ATKINSON)
2. Jun 13, 1826 ARCHIBALD FLETT (m. Nancy WARD)
3. Mar 1, 1829 JAMES FLETT (m. Margaret BIRSTON)

4. 1834 SARAH (SALLY) FLETT (m. James FRANKS)