JAMES FRANKS (1813-1884)
JUSTINA STEPHENS (1817-1855)
SARAH FLETT (1834-1909)

(Last Updated: January 06, 2017)
James FRANKS was born on April 6, 1813, in Gedney, Lincolnshire (England), son of Lucy HAND & King FRANKS who both died in 1829 when James was about 16 years old.
Marriage to Justina STEPHENS in England
1830
In 1830 James married Justina STEPHENS in England.
Hired by the Hudson's Bay Company
York Factory – Red River Experimental Farm
1836-1841
On Feb 22, 1836 James was hired by the Hudson's Bay Company (HBC)as a labourer. He sailed from London aboard the Prince Rupert with wife Justina and son Charles. Another child, Rupert, was born aboard ship enroute to York Factory.
** Note: There seems to be no further records for these two children. Perhaps they died.
It appears Justina gave birth to twins, at sea, on the way to Red River in 1836, one twin was "buried at sea", and the other died "on route to Lake Winnipeg" (Abe was born on the north bank of the Assiniboine River and died in infancy).
In 1837 James was signed on as a Farm Servant (Agricultural Labourer) on the HBC Experimental Farm at Red River Settlement.  It was located not far from the Upper Fort Garry on the flats along the Red River. Interestingly, James and Joseph KIRTON (1812-1891) both arrived aboard the Prince Rupert and were both hired as Experimental Farm workers in Red River. ** MORE ABOUT JOSEPH KIRTON

In 1841 the HBC Experimental Farm was abandoned, and James was retired to Red River (St Andrews Parish).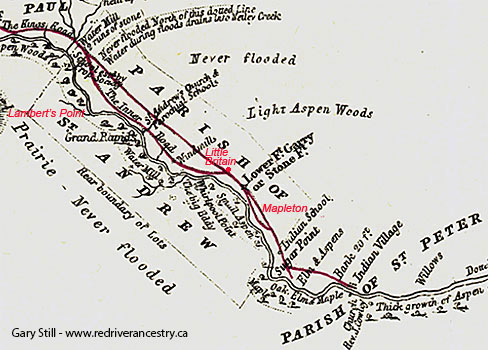 St Andrews Parish from Hind's Map of 1857
Justine Dies
James re-marries to Sarah FLETT
1855
In April of 1855 Justine STEPHENS-FRANKS died in St Andrews, leaving 38 year old. James with a large young family, the youngest only about three years old.
James re-married in December of 1855, at St Andrews, to Sarah FLETT, daughter of Betsy and William FLETT (1786-1852). ** MORE ABOUT WILLIAM FLETT 
In 1859 daughter Georgina married John McLEOD in St Andrews, son of Elizabeth SWAIN and John McLEOD SR (1793-1873). ** MORE ABOUT JOHN McLEOD SR
In 1861 at Lower Fort Garry, daughter Mary Ann married Jonah SWANSON (1837-1922) from Sweden.
In 1864 daughter Eliza married George INKSTER in St James, son of Elizabeth SUTHERLAND and James INKSTER (1805-1865) from Scotland. 
Canadian Confederation
A Red River Rebellion
Manitoba becomes a Province
1867-1870
On July 1, 1867 the British colonies in North America were united under the British North American Act to become the Dominion of Canada.  Sir John A MACDONALD (1815-1891) was appointed as Canada's first Prime Minister. William McDOUGALL (1822-1905) became the Minister of Public Works, and he began negotiations to acquire Rupert's Land from the HBC; surveyors were sent to Red River to prepare the way for an expected influx of settlers.
On Oct 11, 1869, Louis RIEL (1844-1885) placed his foot on the surveyors' chain to tell them their work was finished! This marked the beginning of the historic Red River Métis Rebellion.
On July 15, 1870 the Rebellion ended when RIEL's Provisional Government accepted the terms of the Manitoba Act and Manitoba became the fifth province of Canada.
In 1870 son James Jr. married Janet MATHESON in Kildonan, daughter of Anne POLSON and John Pagee MATHESON (1796-1878) from Scotland.
Census of 1870 in St Andrews: James FRANKS, age 57; wife Sarah, age 40. Children: Donald (age 14), Sarah (12), Alfred (10), Elise (4) and George (age 2).
In 1871 daughter Christina became the second wife of Joseph ADAMS in High Bluff (MB), son of Ann HEYWOOD and George ADAMS (1796-1866). ** MORE ABOUT GEORGE ADAMS
In 1873 daughter Esther married Henry HODGSON (1838-1913) in St James.
In 1880 daughter Hannah married William Robert Pemble SMITH, son of Elizabeth MOORE and John Lee Lewis SMITH (1820-1910). ** MORE ABOUT JOHN LEE LEWIS SMITH
Census of 1881 in St Andrews: James FRANK, age 67; wife Sarah, age 45.  Children:  Donald (age 23), Alfred (18); George (12); Jemima (8); Victoria (8) and Jane (age 1).
It was in 1882 that Selkirk was officially incorporated as a Town. In 1883 the Rural Municipality of St Clements was formed. Without going to a lot of detail, essentially the RM of St Clements now referred to the East side of the Red River and Lake Winnipeg all the way from Winnipeg to Grand Beach, extending eastward as far as Garson. Hereafter, St Andrews only referred to the west side of the river.
In 1882 son Alfred married Barbara Ann COX in St Andrews, daughter of Nancy SINCLAIR and John COX (1837-1904).
In 1884 son Edward married Mary Ann PATERSON in Kildonan, daughter of Barbara KAUFMAN and Malcolm PATERSON (b-1820) from Scotland.
James FRANKS Dies
1885
On Jan 24, 1885 James FRANK died in St Andrews (Lower Fort Garry) at the age of 71. (MB Vital Stats)
By about 1886 son William was married to Margaret SANDERSON, daughter of Mary WHITFORD and George SANDERSON (1823-1903).
Census of 1891 in West Selkirk: Widow Sarah FRANK, age 54. Children: George (age 23), Jemima (16) and Lucy Jane (age 10).
In 1894 daughter Jemima married Robert COOK in Selkirk, son of Nancy SANDERSON and Baptiste COOK (1836-1888).
Also in 1894, daughter Victoria married George COX in Selkirk, son of Mary SANDERSON and Robert COX (1836-1890).
In 1902 daughter Sarah married George TWEED (born1852 in the USA).
Census 1906: Widow Sarah FRANKS (age 62) with daughter Lucy and son-in-law George TWEED on Taylor Avenue in Selkirk.
On Jun 5, 1909 Sarah (nee FLETT) FRANKS died at St Andrews at the age of 75.
Comments and queries at this link: FORUM for DISCUSSING THE FAMILY OF JAMES FRANKS
========================== Family Details ==========================
Children with Justine STEPHENS:
1.  July 31, 1835 LOUISE ANN FRANKS (Died age 12)
2. c1836 ABRAHAM (twin) FRANKS (Died in infancy)
3. Oct 31, 1837 MARY ANN FRANKS (m. Jonah SWANSON)
4. Sep 28, 1840 GEORGINA FRANKS (m. John McLEOD)
5. Nov 28, 1843 WILLIAM FRANKS (m1. Genevieve DUQUET, m2. Margaret Harriet SANDERSON)
6. Apr 3, 1845 ELIZABETH "ELIZA" FRANKS (m. George INKSTER)
7. May 15, 1846 JAMES FRANKS (m. Janet MATHESON)
8. May 15, 1848 CHRISTINA ANN FRANKS (m. Joseph ADAMS)
9. Jan 19, 1851 EDWARD FRANK(S) (m. Mary Ann PATERSON)
10.  Apr 3, 1852 ESTHER FRANKS (m. Henry HODGSON)
Children with Sarah FLETT:
1. Jan 4, 1857 DONALD ELIJAH FRANKS
2. Nov 2, 1859 HANNAH SARAH MAUDE FRANKS (m. William Robert Pemble SMITH)
** MORE ABOUT WILLIAM ROBERT PEMBLE SMITH
3. Dec 11, 1863 ALFRED FRANKS (m. Barbara Ann COX)
4. 1863 KING ISRAEL FRANKS (Died 1864)
5. 1865 EPHRAIM FRANKS (Died 1866)
6. 1866 ELIZA BRIDGETT FRANKS (Died 1875)
7. 1869 ARCHIBALD GEORGE FRANKS
8. May 24, 1871 VICTORIA FRANKS (m. George COX)
9. 1873 JEMIMA ANNE FRANKS (m. Robert George COOK)
10. 1874 TIMOTHY TITUS (PETER) FRANKS (Died in infancy)
11. Feb 13, 1880 LUCY JANE FRANKS (m1. George MANSFIELD, m2. George HANDFORD, m3. George TWEED)