JOSEPH HARWOOD KIRTON (1812-1891)
SUSANNAH BURBELOW (c1812-1843)
CATHERINE "KITTY" COOK (1815-1891)

(Last Updated: October 17, 2016)
Joseph Harwood KIRTON, born around 1812 in Long Sutton, Lincolnshire, England, son of Susannah HARWOOD and William KIRTON (1780-1872).
Marriage to Susannah BURBELOW
1831
  On Oct 25, 1831 Joseph married Susannah BURBELOW in Long Sutton, daughter of Mary and Thomas BURBELOW. Around 1835 son George was born there.
In the Service of the Hudsson's Bay Company
1836-1841
On May 30, 1836 Joseph began to work for the Hudson's Bay Company (HBC). On June 2 that year he, with Susannah and baby George, sailed from Stromness on the Prince Rupert IV. Due to freeze up, they had to snowshoe 180 frozen miles from York Factory to Norway House. They were allotted land in Canada, should they stay the full 5 year term. They did.
Joseph had signed on as a farm servant on the HBC experimental farm in Red River (near Ft Garry) until 1841. He would work there with the GOODs and GOWLERs who also sailed out of Stromness that June. They were under the direction of Captain George Marcus CAREY (KERRY). This was the last farm started by the HBC in Red River. It was located not far from Upper Fort Garry (Winnipeg) on the flats of the Red River.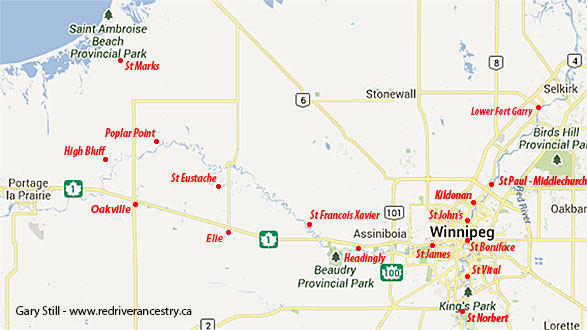 In 1843 the Typhoid Fever Epidemic claimed the lives of Joseph's wife Susannah, and their 8 year old son George in St Andrews
Marriage to Catherine COOK
1847
On Nov 16, 1847 Joseph re-married to Widow Catherine "Kitty" (nee COOK) LYONS b-1815 at St Johns (Winnipeg), daughter of Mary COCKING and William Hemmings COOK (1768-1846).
** MORE ABOUT WILLIAM HEMMINGS COOK
Catherine was the widow of James LYONS who had died earlier that year at a young age.  James (b-1817) was the son of Margaret KIPLING and John LYONS (1786-1875). ** MORE ABOUT JOHN LYONS
In 1860 daughter Mary Ann married Joseph William GOOD in St James, son of Delilah SCARF and James GOOD (1812-1847) from England.
In 1862 son Peter married Elizabeth BOUCHER at Victoria Mission in Alberta, daughter of Nancy McDOUGALL and Jean Baptiste "Wakan" BOUCHER (1789-1849). Elizabeth died in 1874, and Peter later re-married to Justine GLADU, daughter of Suzanne DESJARLAIS and Louis GLADU (1816-1904).
Also in 1862, daughter Jessie married Richard COOK in St Paul, son of Susannah SHORT and Samuel COOK (1800-1864). ** MORE ABOUT SAMUEL COOK
** Richard COOK died in 1865, and in 1868 daughter Jessie re-married to Henry FOULDS, son of Nancy CALDER and Samuel FOULDS (1803-1870). ** MORE ABOUT SAMUEL FOULDS
Canadian Confederation
A Red River Rebellion
Manitoba becomes a Province
1867-1870
On July 1, 1867 the British colonies in North America were united under the British North American Act to become the Dominion of Canada.  Sir John A MACDONALD (1815-1891) was appointed as Canada's first Prime Minister. William McDOUGALL (1822-1905) became the Minister of Public Works, and he began negotiations to acquire Rupert's Land from the HBC; surveyors were sent to Red River to prepare the way for an expected influx of settlers.
On Oct 11, 1869, Louis RIEL (1844-1885) placed his foot on the surveyors' chain to tell them their work was finished! This marked the beginning of the historic Red River Métis Rebellion.
On July 15, 1870 the Rebellion ended when RIEL's Provisional Government accepted the terms of the Manitoba Act and Manitoba became the fifth province of Canada.
Census of 1870 in St James: Joseph KIRTON (age 60) and his wife Catherine (age 55).
Census of 1881 in Kildonan: Joseph KIRTON (age 70) and his wife Catherine (age 69).
On Mar 10, 1891 Catherine (nee COOK) KIRTON died in Portage la Prairie
On Apr 25, 1891 Joseph KIRTON diedin St James (Winnipeg)
Comments and queries at this link: FORUM DISCUSSING THE FAMILY OF JOSEPH KIRTON
=========================== Family Details ===========================
Children with Susannah BURBELOW:
1. 1835 GEORGE KIRTON (Died in infancy, age 8)
2. Jan 28, 1839 PETER KIRTON (m1. Elzabeth BOUCHER, m2. Justine GLADU)
3. 1841 (bapt Feb 20, 1842) MARY ANN KIRTON (m. Joseph William GOOD)
4. Dec 5, 1843 JESSIE (SUSANNAH JOYCE) KIRTON (m1. Richard COOK, m2. Henry FOULDS)