SAMUEL COOK (c1800-1864)
ISABELLE GADDY (1808-1833)
SUSANNAH "SUZETTE" SHORT (1815-?)
(Last Updated: August 21, 2017)
Samuel COOK was born around 1800, son of William Hemmings COOK (1768-1846), an Englishman, and one of his Inidan wives. ** MORE ABOUT WILLIAM HEMMINGS COOK
In 1818 Sam's father was sent to the Swan River district, with headquarters at Fort Hibernia.  Fort Hibernia was a south-eastern Saskatchewan HBC trading post near Fort Pelly.
Sam's father resigned in 1819 and became a settler in Red River (St Paul).
In 1820 Reverend John WEST (1778-1845) arrived at Red River from England, the first HBC Chaplain to Rupert's Land. James HOPE and Henry BUDD (Samuel's step-mother's child by Muskego Cree BUDD) were the first two students at the Mission School started by WEST.
Union of the North West Company with the Hudson's Bay Company
1821
In 1821 union of the North West Company (NWC) and the Hudson's Bay Company (HBC) occurred, ending years of bitter rivalry for dominance of the fur trade in Western Canada. After the merger, almost 1,300 employees lost their jobs since the single HBC organization that emerged had no need for most of the voyageurs and retired fur traders. At the time of the HBC-NWC union, (Sir) George SIMPSON (1786-1860) became the Governor of Rupert's Land.
In 1823 Reverend WEST left Red River for good. His replacement that year was Reverend David JONES (1796-1844).
During the summer of 1824 Rev. JONES built a second church, Middle Church (St Paul's) and a day-school, a few miles (6 miles or so) downstream (Image Plain) from the original mission at the Upper Church (St John's). In 1825 Reverend William COCKRAN (1798-1865) arrived at the Red River as the assistant to Rev. JONES at the Upper and Middle Churches
Marriage to Isabelle GADDY
1825-1833
On Apr 12, 1825 Samuel was married at St Johns Anglican Church in Red River to Isabelle GADDY by Reverend David JONES (1796-1844); witnessed by George HARBRIDGE and James SUTHERLAND. Isabelle was the daughter of Mary (Indian) and James GADDY (1774-1833) an HBC Trader at Fort Hibernia where the couple first met in 1818.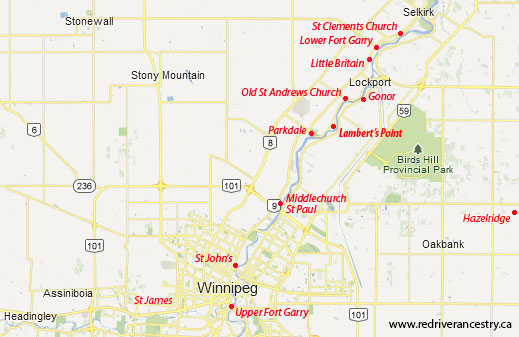 Isabelle apparently died in the spring of 1833.
Marriage to Susannah SHORT
1834
On Dec 2, 1834 Sam re-married at St Johns (again by Rev. JONES) to Susannah "Suzette" SHORT, daughter of Elizabeth (Indian) and James SHORT (an Orkney Scot b-1767) in the presence of William CORRIGAL.
In 1849 daughter Nancy married William HODGSON, son of Charlotte YORKSTON and John HODGSON (795-1875).
** MORE ABOUT JOHN HODGSON
In 1857 daughter Mary married George ADAMS, son of Anne HAYWOOD & George ADAMS SR (1796-1865).

In 1862 son Richard married in St Paul to Jessie KIRTON, daughter of Susannah BURBELOW and Joseph KIRTON (1810-1891) from England. In 1865 Richard COOK died, after fathering two children.
Samuel COOK Dies
1864
In 1864 Samuel COOK died; buried in St Paul.
In 1864 daughter Elizabeth married Benjamin BRUCE, son of Mary McNAB and James BRUCE (1801-1878).
Around 1865 daughter Lydia became the wife of John ANDERSON (1833-1885) from Sweden.
Canadian Confederation
The Riel Rebellion
Manitoba becomes a Province
1867-1870
On July 1, 1867 the British colonies in North America were united under the British North American Act to become the Dominion of Canada. Between 1869 and 1870, The Red River Rebellion occurred; led by Louis RIEL (1844-1885).
In December of 1867 son Roderick conceived an illegitimate child with Mary Ann LILLIE, daughter of Mary Ann RICHARDS & Daniel (aka David) LILLIE (1780-1858) from England.  Then in 1869 he married Eliza McLENNAN, daughter of Mary HUMPHREYVILLE and Joseph McLENNAN (1814-1865).
** MORE ABOUT JOSEPH ARCHIBALD McLENNAN
On July 15,1870 Manitoba became the fifth province of Canada, the Canadian Government having acquired the territory previously governed by the HBC.
In 1870 Sam's family was recorded on Lot 44 in St Paul Parish; children as Samuel (age 27?), Joseph (21), Margaret (19), John (17), Maria (15) and Benjamin (age 13).
Around 1871 daughter Margaret married Gilbert PAQUIN, son of Marie LAPOINTE and Joseph PAQUIN (1800-1895).
Before 1875 son Jeremiah married Jane Mary McNAB, daughter of Mary Ann McLEOD & Charles McNAB (b-1820).
In 1875 son Joseph married Margaret Matilda (born SLATER) LEWIS, an illegitimate child of Mary LINKLATER and Jeremiah SLATER (1844-1912). Before and after Margaret was born her mother was married to James LEWIS (1837-1875).
In 1875, when Scrip for son Benjamin was claimed, Widow Susannah was at Poplar Point.

In 1878 daughter Maria married her brother-in-law, Benjamin BRUCE who was previously married to her sister, Elizabeth COOK who died in 1875.
Around 1880 son John married Catherine KIRKNESS, daughter of Elizabeth COOK and John KIRKNESS (b-1822).

Around 1880 son Benjamin married Sophia HALCRO, daughter of Sophia COOK & Joseph HALCRO (1825-1906).
Please post comments & queries at this link: FORUM DISCUSSING the SAMUEL COOK FAMILY
=========================== Family Details ===========================
Children by Isabelle GADDY:
1. c1828 SAMUEL COOK JR
2. Apr, 1830 NANCY ANN COOK (m. William HODGSON)
Children by Susannah SHORT:
1. c1834 MARY COOK (m. George ADAMS)
** MORE ABOUT GEORGE ADAMS
2. 1838 RICHARD COOK (m. Jessie-Susannah-Joyce KIRTON)
3. Apr, 1839 WILLIAM JAMES COOK
4. 1842 ELIZABETH COOK (m. Benjamin BRUCE)
5. Jan 5, 1845 LYDIA COOK (m. John ANDERSON)
6. July, 1846 RODERICK COOK (m1. Mary Ann LILLIE, m2. Elizabeth "Eliza" McLENNAN)
7. Nov 18, 1846 JEREMIAH COOK (m. Jane Mary McNAB)
8. Aug 16, 1848 ROBERT COOK
9. 1850 JOSEPH COOK (m. Margaret Matilda (born SLATER) LEWIS)
10. 1851 MARGARET COOK (m. Gilbert PAQUIN)
11. 1853 JOHN COOK (m. Catherine KIRKNESS)
12. Oct 30, 1856 MARIA COOK (m. Benjamin BRUCE)
13. Nov 4, 1858 BENJAMIN COOK (m. Sophia HALCRO)