GEORGE ADAMS (1796-1865)
ANNE HAYWOOD (1815-1896)
(Last Updated: January 06, 2017)
George ADAMS was born 1796 near London, England, son of Elizabeth and John ADAMS (1769-1793).
** HBC ARCHIVES BIOGRAPHY for GEORGE ADAMS
A Selkirk Settler to Red River
1815
HBCA: George ADAMS (age 19) is listed as one of seven passengers boarding the chartered vessel Hadlow (Captain John DAVIDSON) at Gravesend on Jun 2, 1815. A Joseph ADAMS (his brother) and his wife May likewise boarded the Hadlow at Gravesend. George and Joseph ADAMSare listed as Labourers in the log of the Hadlow. Most of the passengers, settlers for Red River, embarked in the Orkneys. The Hadlow reached York Factory in August, 1815.
** MORE ABOUT THE SELKIRK SETTLERS (LORD SELKIRK ASSOCIATION)
On Nov 3, 1815 George's group of settlers arrived at Red River under the command of Robert SEMPLE (1777-1816), the new Governor of Assiniboia. It was too late for crops, so the settlers went on to Pembina for the winter, closer to the source of buffalo meat and with some huts to live in.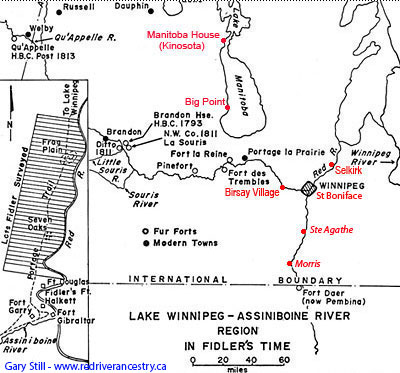 George Begins Service with the HBC
Swan River District
1816-1820
In summer 1816 ADAMS apparently joined the employ of the Hudson's Bay Company (HBC) and spent the ensuing winter at Red Deer River Post, in the Company's Swan River District. In spring, 1817 all HBC posts in the Swan River District and all Company employees there were captured by the North West Company (NWC). Unfortunately the Swan River Post Journals for 1816-17 have not survived to provide details. ADAMS was paid 20 pounds as wages for this year's employ with the Company, 1816-17.
After 1817, ADAMS apparently was not in the Company's regular employ but was presumably at the Red River Settlement. In 1818 and 1819, grasshoppers destroyed the crops. In 1820, he was paid 15 pounds for two trips to York Factory.
Union of the North West Company with the Hudson's Bay Company
1821
In 1821 the union of the North West Company (NWC) and the Hudson's Bay Company (HBC) occurred, ending years of bitter rivalry for dominance of the fur trade in Western Canada. After the merger, almost 1,300 employees lost their jobs since the single HBC organization that emerged had no need for most of the voyageurs and retired fur traders. At the time of the union, (Sir) George SIMPSON (1786-1860) became the Governor of Rupert's Land.
Marriage to Ann Nancy HAYWOOD
1832
On Oct 25,1832 George married Ann Nancy HAYWOOD (HEYWOOD) at St Johns, daughter of Half-breed Jane ASHAM & Joseph HAYWOOD (1780-1826) of Derbyshire, England, an HBC voyageur. The marriage ceremony performed by Reverend David JONES (1796-1844), and witnessed by Adam MOWAT and Joseph MONKMAN.
In 1835, George ADAMS was granted 50 acres of land in the Poplar Point - High Bluff area of Manitoba where he remained the rest of his life. His first child, daughter Mary Anne was born that spring.
In 1855 eldest daughter Mary Anne married John FOULDS, son of Half-breed Mary FIDLER and Englishman John FOULDS SR (1798-1868).
In 1857 eldest son, George Jr. married Mary COOK, daughter of Susannah SHORT & Samuel COOK (1798-1864).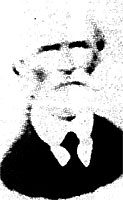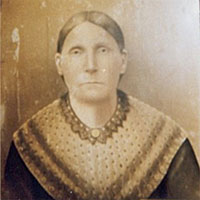 George Adams & Ann Haywood
(From Ancestry.ca)
In 1865 son Charles married Ann NORQUAY, daughter of Nancy WARD and John NORQUAY (1810-1849).
George ADAMS Dies
1866
On Jan 14, 1866 George ADAMS died at High Bluff. That same year, son James married Elizabeth BRUCE, daughter of Half-breed Elizabeth BIRD & James BRUCE (1815-1873)from the Orkneys of Scotland. Also that yearson Joseph married Ann Elizabeth BIRD, daughter of Mary Ann THOMAS & George BIRD (1798-1855).
Canadian Confederation
A Red River Métis Rebellion
Manitoba becomes a Province
1867-1871
On July 1, 1867 the British colonies in North America were united under the British North American Act to become the Dominion of Canada. Sir John A MACDONALD (1815-1891) was appointed as Canada's first Prime Minister. William McDOUGALL (1822-1905) became the Minister of Public Works, and he began negotiations to acquire Rupert's Land from the HBC. Surveyors were sent to Red River to prepare the way for an expected influx of settlers.
On Oct 11, 1869, Louis RIEL (1844-1885) placed his foot on the surveyors' chain to tell them their work was finished! This marked the beginning of another Red River Métis Rebellion. RIEL began to organize resistance to the anticipated transfer of the North-West to the Dominion of Canada without prearranged terms.
In 1869 son Robert married Ann POCHA, daughter of Marie LAPOINTE and Joseph POCHA (1800-1896). Also around that time daughter Elizabeth married George SANDERSON, son of Elizabeth ANDERSON and James SANDERSON (1816-1850). ** MORE ABOUT JAMES SANDERSON
On July 15,1870 Manitoba became the fifth province of Canada, the Canadian Government having acquired the territory previously governed by the HBC.
In 1870 Widow Anne ADAMS was still living in High Bluff. 
In 1871 daughter-in-law Ann Elizabeth died and in 1872 her widowed husband, son George re-married to Christina Ann FRANKS, daughter of Justine STEVENS and James FRANKS (1813-1884), both from England. 
Around 1879 youngest daughter Maria married George SPENCE, son of Letitia Ann COOK & Andrew Frederick SPENCE (1837-1907). 
In 1880, some of the married ADAMS children moved to Lindsay District of Saskatchewan, and in 1882 their widowed mother, Anne, joined them. In 1891 Widow Ann ADAMS (age 75) was recorded with her daughter and son-in-law, Maria & George SPENCE, in Red Deer Hill (SK), south of Prince Albert.
In 1896 Widow Anne ADAMS died (she would have been about 81 years old). At the time of her death she had 8 surviving children, 68 grandchildren and 73 great-grandchildren.
Please post comments and queries at this link: FORUM DISCUSSING the GEORGE ADAMS FAMILY
============================ Family Details ============================
Children:
1. May 27, 1835 MARY ANNE ADAMS (m. John FOULDS)
2. Feb 5, 1837 GEORGE ADAMS (m. Mary COOK)
3. Aug 30, 1838 CHARLES ALEXANDER ADAMS (m. Anne "Nancy" NORQUAY)
4. 1840 WILLIAM ADAMS (Died 1844, 4 yrs old)
5. c1842 JOSEPH ADAMS (m1. Ann Elizabeth BIRD, m2. Christina Ann FRANKS)
6. Aug 20, 1844 JAMES ADAMS (m. Elizabeth BRUCE)
7. July 14, 1846 HENRY ADAMS (Died 1847, age 1)
8. May 6, 1848 ROBERT "ROBBIE" ADAMS (m. Ann POCHA)
9. 1854 SARAH ADAMS (Died yr of birth)
10. Jan 4, 1854 ELIZABETH BARBARA ADAMS (m. George William "Bill" SANDERSON)
** MORE ABOUT GEORGE WILLIAM SANDERSON
11. Jun 15, 1856 MARY ADAMS (m. Charles James COOK)
12. Dec 9, 1861 MARIA ADAMS (m. George Charles SPENCE)