JOHN NORQUAY (1810-1849)
ISABELLA TRUTHWAITE (1818-1843)
NANCY ANNE WARD (1830-?)
(Last Updated: September 26, 2015)
John NORQUAY was born around 1810, probably in the Saskatchewan (River) District to Jane (MORWICK), a Métis, and Oman NORQUAY (1773-1820) from the Orkneys. ** MORE ABOUT OMAN NORQUAY
In 1820 John's father (Oman) died in the White Horse Plains. He and his brother (Henry) were both around 10 yrs old.  In 1822 their mother, Widow Jane (nee MORWICK) NORQUAY, remarried to James SPENCE (1778-1857), himself widowed with a large, young family. ** MORE ABOUT JAMES SPENCE
John probably received some education at the Church Mission School in Kildonan, established by Reverend John WEST (1778-1845), the first Anglican clergyman in the northwest. His step-father, James SPENCE was a tailor for the HBC and he made outfits for the St Johns Boy School established by WEST. In 1823 Reverend WEST was replaced by Reverend David JONES (1796-1844). ** MORE ABOUT REVEREND JOHN WEST
Marriage to Isabella TRUTHWAITE
1832
On Feb 21, 1832, John married Isabella TRUTHWAITE, daughter of Elizabeth VINCENT and Jacob TRUTHWAITE (1786-1873), a retired HBC Trader who lived at the Grand Rapids (Lockport) as shown on the map below.
** MORE ABOUT JACOB TRUTHWAITE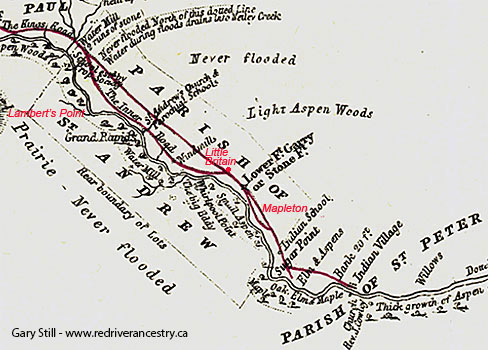 St Andrews Parish from Hind's Map of 1857
Narrow river lots extend two miles east and west of the river
Recruited by the Hudson's Bay Company
1833-1838
On Jan 16, 1833 John entered the service of the Hudson's Bay Company (HBC) as a laborer-voyageur in the Norway House District, spending the winters at posts between York Factory and Bas de la Riviere (Fort Alexander) for the next five years . ** MORE ABOUT JOHN NORQUAY in the HBC ARCHIVES
John and Isabella built a log house on the TRUTHWAITE property (River Lot 90; south of the Rapids Church). In 1833 their first child, Jacob(named after his maternal grandfather) was born. This is where Isabella remained to raise their children while her husband was away from home. Baby Jacob died in 1834.
In 1838 John retired from the HBC.
Isabella Dies – John Re-marries to Nancy WARD
1843-1845
On Oct 18, 1843 Isabella died. On Nov 10 that same year daughter Emma died at the age of five. This left John with four surviving children; Jane (age 7), Mary Ann (6), John (5) and baby Thomas (9 months old).
Baby Tom and two young daughters (Jane & Mary Ann) were taken in by their TRUTHWAITE grandparents (Elizabeth & Jacob) while their son John went to live with his paternal grandmother Jane (nee MORWICK) and her 2nd husband, James SPENCE.  
On Oct 9, 1845 John remarried to Nancy WARD at St John's, daughter of Angelique BRUYERE & Jacques John WARD (1805-1916). They would have two children; Nancy born in 1846 and Louis in 1848 who died in infancy.
John NORQUAY Dies
1849
In June of 1849 John NORQUAY died, only about 39 years old.
Around 1853 Nancy WARD re-married to Archibald FLETT, son of Betsy and William FLETT (1786-1852) from the Orkneys.
Around 1856 daughter Jane married Edward MOWAT son of Margaret (Indian) and Edward MOWAT SR (1786-1857), an HBC employee from Scotland. ** MORE ABOUT EDWARD MOWAT SR
In 1862 son John Jr. married Elizabeth SETTER in Portage la Prairie, daughter of Isabella KENNEDY & George SETTER (1815-1899). ** MORE ABOUT GEORGE SETTER
In 1865 daughter Ann married Charles Alexander ADAMS, son of Anne HAYWOOD and George ADAMS (1796-1865). ** MORE ABOUT GEORGE ADAMS
In 1866 son Thomas married Elizabeth MILLER, daughter of Elizabeth SETTER & Robert MILLER (1802-1867), a retired HBC voyageur. ** MORE ABOUT ROBERT MILLER
Around 1866 daughter Mary Ann married James BALLENDINE, son of Fanny LEWIS and James BALLENDINE SR (1807-1864), an HBC voyageur.
Please post comments and queries at this link: FORUM DISCUSSING the JOHN NORQUAY FAMILY
========================== Family Details ==========================
Children by Isabella TRUTHWAITE:
1. 1833 JACOB NORQUAY (Died in infancy)
2. Apr 25, 1836 JANE NORQUAY (m. Edward MOWAT)
3. 1838 EMMA NORQUAY (Died age 5)
4. 1839 MARY ANN NORQUAY (m. James BALLENDINE)
** MORE ABOUT JAMES BALLENDINE
5. May 8, 1841 JOHN NORQUAY (m. Elizabeth SETTER)
** MORE ABOUT PREMIER JOHN NORQUAY
6. Jan 26, 1843 THOMAS NORQUAY (m. Elizabeth MILLER)
Children by Nancy WARD:
1. Aug 18, 1846 ANNE "NANCY" NORQUAY (m. Charles Alexander ADAMS)
2. 1848 LOUTIT NORQUAY (Died in infancy)