PREMIER JOHN NORQUAY (1841-1889)
ELIZABETH SETTER (1842-1933)
(Last Updated: July 11, 2013)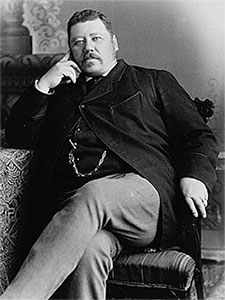 Premier John Norquay (Archives Canada)
John NORQUAY was born May 8, 1841 near Parks Creek in the Parish of St Andrews to Isabella (nee TRUTHWAITE) & John NORQUAY SR (1810-1849), a retired HBC voyageur. ** MORE ABOUT JOHN NORQUAY SR
In 1843 John was only two years old when his mother (Isabella) died. John was then taken in by his grandmother, Jane (nee MORWICK) and her second husband, James SPENCE (1778-1857). Grandpa James SPENCE was a Tailor who at one time made outfits for the students at the St John's Boy's School in Kildonan. ** MORE ABOUT JAMES SPENCE
In 1845 John's father, John NORQUAY SR re-married to Nancy WARD at St John's, daughter of Angelique BRUYERE & Jacques John WARD (1805-1916).  
Then in 1849 his father (John Sr.) died at the young age of 39 and young John was subsequently raised by his SPENCE grandparents.
John NORQUAY JR would eventually become the first Premier of Manitoba and fortunately due to his prominence in the history of Manitoba much has been written about his political life in particular. For that reason, this narrative will only focus on his genealogy, his ancestors, descendants and his various family relationships. Following are a couple of Links for further details:
MORE ABOUT JOHN NORQUAY in DCBO
MORE ABOUT JOHN NORQUAY in WIKIPEDIA

Marriage to Elizabeth SETTER
1862
On June 2, 1862 John married in Portage la Prairie to Elizabeth SETTER, daughter of Isabella KENNEDY & George SETTER (1815-1899). ** MORE ABOUT GEORGE SETTER
After his marriage to Elizabeth SETTER they farmed at High Bluff, did some fur trading at White Horse Plains and farmed again as that was more remunerative. For a time, he was sheriff of the central judicial district of the province.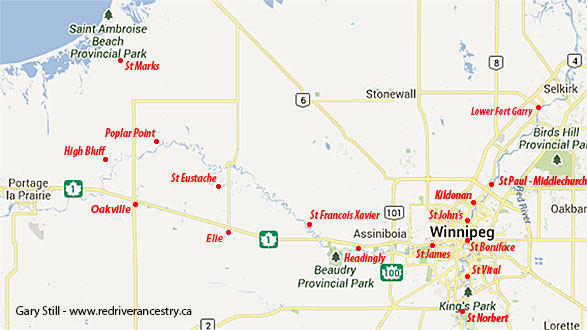 Around 1865 Annie RAE came to Lower Fort Garry from Fort Benton, USA. She lived in the Middlechuch area for a few years before she was adopted by Elizabeth and John NORQUAY. Annie was said to be the daughter of a Sioux woman and a Captain RAE of the US Army. (Story from Serena Willis & Agnes King)
Canadian Confederation
A Red River Metis Rebellion
Manitoba becomes a Province
The First Manitoba Provincial Election
A Manitoba Legislature replaces the Provisional Government
John NORQUAY becomes the first Premier of Manitoba
1867-1871
On July 1, 1867 the British colonies in North America were united under the British North American Act to become the Dominion of Canada.  Sir John A MacDONALD (1815-1891) was appointed as Canada's first Prime Minister; a month later he won the first federal election.William McDOUGALL (1822-1905) became the Minister of Public Works, and he began nnegotiations to acquire Rupert's Land from the HBC; surveyors were sent out to prepare the way for an expected influx of settlers.
In 1869 Louis RIEL (1844-1885) began to organize resistance to the transfer of the North-West to the Dominion of Canada without prearranged terms. This marked the beginning of the historic Red River Metis Rebellion.
On July 15,1870 Manitoba became the fifth province of Canada, the Canadian Government having acquired the territory previously governed by the HBC. The Rebellion was essentially over.
In 1875 both Elizabeth and John (of St Andrews (late of High Bluff) applied for their Half-breed Scrip.
In 1877 adopted daughter Annie RAE-NORQUAY married Nathaniel DAVIES at St Eustache, son of Mary HARTLEY and Nathaniel DAVIES SR (1800-1866).
Premier of Manitoba
1878
In 1878 John NORQUAY became the Premier of Manitoba.  NORQUAY was in the government until 1887 and for twelve of those seventeen years he was Premier. He was the first citizen born in the province to become Premier. For a time he represented St. Andrews south and lived in that district. This was, perhaps, influenced by the fact that his illustrious uncle, by marriage, Captain William KENNEDY (1814-1890), was a respected citizen of that community.
Premier John Norquay's wife, Elizabeth (Setter) and daughters,
Caroline Ellen (McAllister) and Isabella Jessie Anne andgrandson John Norquay McAllister
(From Beyond the Gates of Lower Fort Garry)
After 1880 the NORQUAYs lived in the northern part of Winnipeg.
John NORQUAY dies
1889
On July 5, 1889 John NORQUAY died in Winnipeg at the age 48, from appendicitis complications and he is buried in St Johns Cemetery.
In 1895 daughter Caroline became the second wife of John Edward McALLISTER, son of Catherine HANCOCK and Alexander Hardy McCALLISTER (1832-1905).
Around 1898 son Horatio (Horace) married Mattie ALLEN of uncertain origins.
In 1904 son Alexander married Julia Alberta McCAULEY in Tofield, Alberta, daughter of Matilda BENSON and Matthew McCAULEY (1851-1930).
In the 1906 Census, Widow Elizabeth NORQUAY (age 64) was recorded with son Andrew and daughter Isabella in Winnipeg.
Maple Grove becomes "Dun Allister"
1908
In 1908 Widow Elizabeth came to live at the old house of her uncle (Maple Grove) at St. Andrews. Her son-in-law, John McALLISTER, had bought the property and renamed it Dun Allister. She lived quietly on the banks of the Red River, not far from where she had been born. This was the original home of Captain William KENNEDY (1814-1890).
** MORE ABOUT CAPTAIN WILLIAM KENNEDY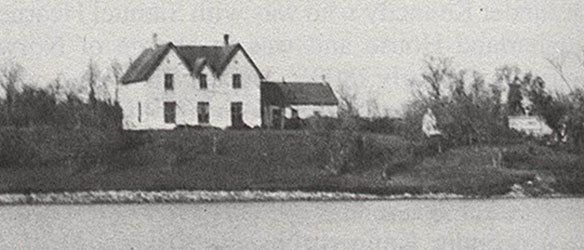 "Dun Allister", Residence of John E McAllister in 1908
(Built by Captain William Kennedy in 1870 )
Later restored, it became the Historic Site named Captain Kennedy House
(From Beyond the Gates of Lower Fort Garry)
In 1913 son Horatio (Horace) re-married to Orpha TAYLOR, daughter of Lucinda CAREY & Henry TAYLOR (1842-1923). His first wife Mattie had died in 1911.
On Aug 5, 1933 Widow Elizabeth NORQUAY died in St Andrews at the age of 91.
Please post comments and queries at this link: FORUM DISCUSSING the FAMILY OF PREMIER JOHN NORQUAY
========================= Family Details =========================
Children:
1. Oct 17, 1863 THOMAS NORQUAY
2. Jul 11, 1865 ISABELLA JESSIE ANNE "BELLA" NORQUAY
3. Aug 7, 1866 JOHN GEORGE NORQUAY (m. Evelyn PRITCHARD)
4. Nov 6, 1867 ALEXANDER NORQUAY (m. Julia Alberta McCAULEY)
5. Nov 8, 1869 HORATIO CLARENCE (HORACE) NORQUAY (m. Orpha TAYLOR)
6. Mar 23, 1871 CAROLINE ELLEN NORQUAY (m. John Edgar McALLISTER)
7. Aug 11, 1872 ANDREW JAMES NORQUAY
8. 1881 THEODORA ADA NORQUAY (Died in infancy)
Child Adopted:
1. Jan 15, 1851 ANNIE (born RAE) NORQUAY (m. Nathaniel DAVIES)