CAPTAIN WILLIAM KENNEDY (1814-1890)
SARAH STEVENS (1809-?)
ELEANOR ELIZA CRIPPS (1825-1913)
(Last Updated: July 11, 2013)
William KENNEDY was born in the spring of 1814 at Cumberland House, half-breed son of Aggathas BEAR & Alexander KENNEDY (1781-1832), a Master Trader for the Hudson's Bay Company (HBC).
** MORE ABOUT ALEXANDER KENNEDY
William's life has been fairly well documented, so there is no need to go into all the fine details here. The primary objective of this narrative is to provide a brief timeline of events; the main focus being the genealogy of his family. More details can be found at the following links.
** MORE ABOUT WILLIAM KENNEDY in MHS
** MORE ABOUT WILLIAM KENNEDY in DCBO
William was just eight years old in 1822 when his father was assigned the position of Chief Trader at Fort George (later Fort Vancouver) in the Columbia District. The family travelled there from Cumberland in company of Governor George SIMPSON (1786-1860) on his first tour through his new domain.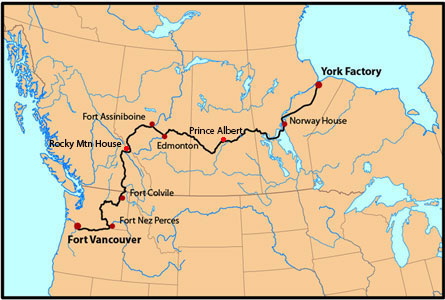 The family was stationed at Fort George for the next three years. Then in 1825 they returned back across the mountains, this time all the way to York Factory. From there William (age 11) sailed to England with his father aboard the Prince of Wales, to be placed in the same school as his older brothers, John (age 20) and Alex (age 18). The school was located at St Margaret's Hope in South Ronaldshay in the Orkneys of Scotland, birthplace of his father.
In July of 1832 William's father (Alexander KENNEDY) died on the streets of London while on a furlough there, leaving his mother (Aggatha BEAR-KENNEDY) a widow with four of his younger siblings George (age 16), Philip (age 14), Isabella (age 12) and Roderick (age 10). At that time they were living near the Old St Andrews Church on the Red River.
After his father's death, William asked to be allowed to study medicine as his brother John had done. John had already become a physician and was now an HBC Surgeon (Factor) in charge of Fort Simpson in the Columbia District. William SMITH, the executor of the estate and secretary of the HBC, refused his request and offered him an apprenticeship in the fur trade. William returned to serve the company for five years in the Ottawa Valley
The Ottawa Valley – Fort Coulonge
Marriage to Sarah STEVENS
1834-1837
In 1834 William arrived at Fort Coulonge (NW of Ottawa near Allumette Island). That year he met and was married "a la facon du pays" (in a native ceremony) to Sarah STEVENS, an Algonquian woman, Bird Clan.
** MORE ABOUT KENNEDY at FORT COULONGE in HBC ARCHIVES
Dr. David McNab:  By this country marriage to Sarah, William had two children, the eldest born in 1835, was named, as was the practice, William, after him. The youngest was Anthony, born in 1837, who was likely named by Sarah. Sometime after the latter's birth, likely 1838, William left Sarah for his posting with the Hudson's Bay Company to Fort Chimo in the Ungava Peninsula in Labrador. He left Sarah with two small children on a small fifty farm on the banks of the Grand River near present-day Winterbourne, in Waterloo County, Ontario.
** MORE ABOUT KENNEDY in TURTLE ISLAND NATIVE NETWORK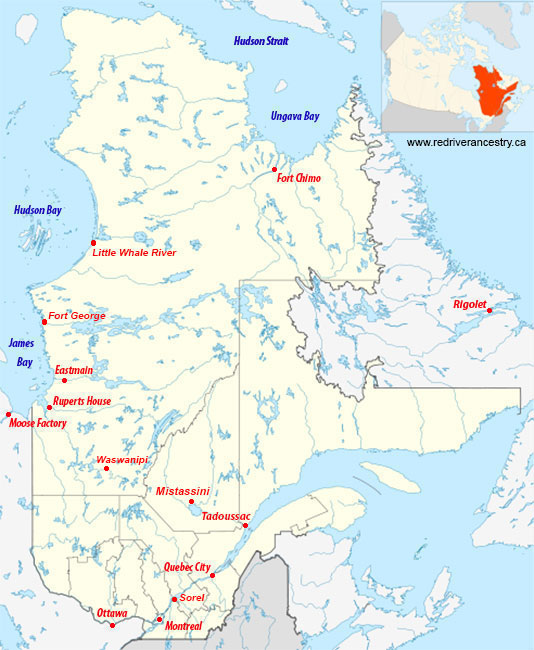 Ungava – Fort Chimo - Labrador
1838-1846
It was William's brother-in-law Nicol FINLAYSON (1794-1877) who built Fort Chimo in 1830. Nicol was married to William's sister, Elizabeth KENNEDY. ** MORE ABOUT NICOL FINLAYSON
MRC:  In 1838 William was posted to Port Chimo. He travelled through unknown territory and served at various places in what is now northern Quebec and Labrador. He left the company in 1846, in protest of its liquor trade.  He opened a store in Kingston, ON, that year .He spent the next four years in Upper Canada lobbying against the continued regime of the Hudson's Bay Company in Rupertsland and the additional territories of the North and the West.
The FRANKLIN Expeditions
1851-1852
In 1851 William KENNEDY commanded an expedition in search of Sir John FRANKLIN (1786-1847) who had become lost looking for the Northwest Passage. ** MORE ABOUT SIR JOHN FRANKLIN in DCBO
KENNEDY wintered his little ship, the Prince Albert, on the east coast of Somerset Island and made an 1100 mile trek into unknown territory with a small party of men which included his second-in-command, Lieutenant Joseph Rene BELLOT. He discovered a strait which marked the northernmost tip of the North American Continent. He named it the Bellot Strait.
In the fall of 1852 William returned to Britain and commanded a second ship around the Horn to Valparaiso. In 1856 he returned to Upper Canada and took up his lobby against the HBC.
William Marries Eleanor CRIPPS and Settles in Red River
1860
On Nov 29, 1859 William married Eleanor CRIPPS in London, England, daughter of Hannah & William CRIPPS. The following year they came to Red River. ** MORE ABOUT ELEANOR CRIPPS in DCBO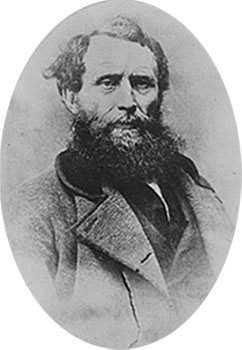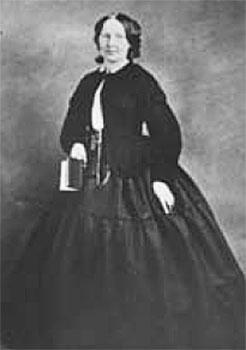 Captain William Kennedy – Eleanor Cripps
(Archives of Manitoba)
Around 1861 in Waterloo County (west of Toronto), eldest son William Jr. married a lady named Catherine from Germany. ** These were the great-great grandparents of Dr. David McNAB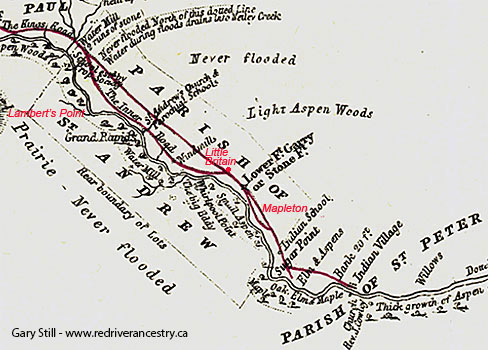 St Andrews Parish from Hind's Map of 1857
Maple Grove (Captain Kennedy House)
1866
When Captain KENNEDY took up permanent residence at "Maple Grove" (just north of the Old St Andrews Church) in 1866, he was 52.  Like many country-born people of mixed ancestry, he found few economic opportunities in Red River. He made a living trading goods from England to local First Nations people, Métis and settlers.
Canadian Confederation
A Red River Metis Rebellion
Manitoba becomes a Province
1867-1871
On July 1, 1867 the British colonies in North America were united under the British North American Act to become the Dominion of Canada.  Sir John A MacDONALD (1815-1891) was appointed as Canada's first Prime Minister; a month later he won the first federal election.William McDOUGALL (1822-1905) became the Minister of Public Works, and he began nnegotiations to acquire Rupert's Land from the HBC; surveyors were sent out to prepare the way for an expected influx of settlers.
In 1869 Louis RIEL (1844-1885) began to organize resistance to the transfer of the North-West to the Dominion of Canada without prearranged terms. This marked the beginning of the historic Red River Metis Rebellion.
On July 15,1870 Manitoba became the fifth province of Canada, the Canadian Government having acquired the territory previously governed by the HBC. The Rebellion was essentially over.
John NORQUAY becomes the First Premier of Manitoba
1878
In 1878 John NORQUAY became the Premier of Manitoba.  NORQUAY was in the government until 1887 and for twelve of those seventeen years he was Premier. He was the first citizen born in the province to become Premier. For a time he represented St. Andrews south and lived in that district. This was, perhaps, influenced by the fact that his illustrious uncle, by marriage, Captain William KENNEDY, was a respected citizen of that community.
Captain William KENNEDY Dies
Widow Eleanor moves to Virden
1890-91
On Jan 25, 1890 William KENNEDY died in St Andrews at the age 76. He was buried in the Old St Andrews Church Cemetery.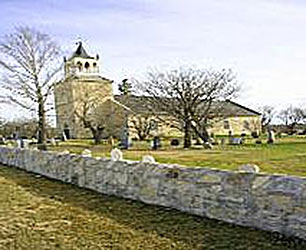 The Old St Andrews Church
DCBO: In 1891 Eleanor sold Maple Grove and moved with her daughter (Mary Louisa) to Virden, where her son served as registrar of land titles. A talented artist, she loved to paint landscapes and plants, and she continued to do so while in Virden. In addition, she wrote poetry and reminiscences, and occasionally she played the organ at St Mary's Church or performed on the piano at local concerts. She was named an honorary member of the Women's Canadian Club of Winnipeg. Eleanor would make Virden her home for the rest of her life.
BGLFG: After their move to Virden, people by the name of REID bought Maple Grove. This is probably John REID (1826-1897), a retired HBC Chief Trader from Scotland who died in St Andrews in 1897. In 1906 his widow Harriet REID was living on Lot 64 which appears to be the same location as Maple Grove.
In 1908 Maple Grove was purchased by its third owner, John Edward McALLISTER (1867-1953) from England who married Caroline NORQUAY, Captain KENNEDY's niece. J.E. McALLISTER was the son-in-law of Premier John NORQUAY (1841-1889). ** MORE ABOUT PREMIER JOHN NORQUAY
McALLISTER renamed Maple Grove as Dun Allister, dun being the Gaelic for "home of" - - ." Caroline NORQUAY remembered visiting the house as a child and sitting with her hands under her to keep warm while she listened to Mrs. KENNEDY play the piano.
Widow Eleanor KENNEDY Dies in Virden
1913
As she grew older Eleanor too began suffering from rheumatism. Eleven weeks before she died she was crippled by a fall from which she never recovered.
On Oct 4, 1913 Eleanor (CRIPPS) KENNEDY died in Virden at the age of 87. Her funeral was held in Virden, and she was buried in St Andrews. Local newspapers noted that a "special train of electric cars has been arranged [from Winnipeg to St Andrews] for the convenience of those wishing to attend the funeral." After a brief service conducted by the Reverend John William MATHESON, Eleanor Eliza KENNEDY was buried beside her husband.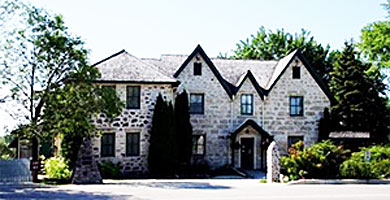 Manitoba Provincial Heritage Site No. 16
The restored Captain William Kennedy House, 417 River Road, St Andrews
Please post comments and queries at this link: FORUM DISCUSSING the CAPTAIN KENNEDY FAMILY
======================== Family Details ========================
Children by Sarah STEVENS:
1. 1835 WILLIAM KENNEDY (m. Catherine UNKNOWN)
2. 1837 ANTHONY KENNEDY
Children by Eleanor CRIPPS:
1. June 16, 1861 WILLIAM THEODORE BALLENDINE KENNEDY
2. 1862 CAROLINE KENNEDY
3. Feb 16, 1863 MARY LOUISA KENNEDY