JAMES SPENCE (1778-1857)
MARY (STONE INDIAN) (1795-1821)
JANE (nee MORWICK) NORQUAY (1794-1874)
(Last Updated: February 12, 2015)
James SPENCE was born around 1780 in Orphir, Orkney, Scotland.
Recent information provided by Wayne Jones indicates that James was a son of Marjory LESK and James SPENCE and that he had a brother, Robert SPENCE (1772-1834), who was a wealthy merchant in Kirkwall.
James becomes a Tailor for the Hudson's Bay Company
1797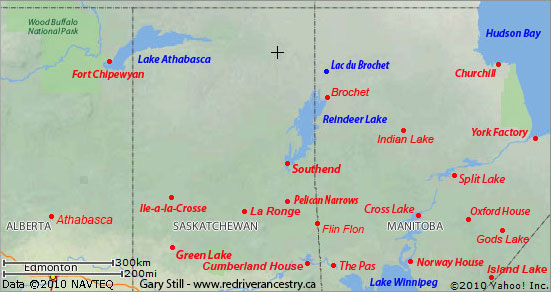 In 1797 James was hired by the Hudson's Bay Company (HBC) as a Tailor. That summer he sailed from Stromness to York Factory aboard the King George. From 1797 to 1810 he worked as a Tailor, inland from York.
** MORE ABOUT JAMES SPENCE in the HBC ARCHIVES
The wars of 1778-83 and 1793-1815 had stripped the Orkneys of seamen at such a rate that at one point the HBC was permitted to recruit only locals shorter than 5'4" - the height restriction of the Royal Navy.  The Co's agent in the Orkneys could meet his recruitment quota only by taking boys 12 to 14 yrs old. ** James height was 5'5 ½".
The combination of youthfulness and short stature prompted the Cree wife of a different James SPENCE, a HBC officer of York, to comment as she watched the Lilliputians leave a supply ship:  "James, have you not always told me that the people in your country are as numerous as the leaves on the trees?  How can you speak such falsehood?  Do we not see plainly that the very last of them is come; if there were any more would these dwarfs have come here?"
Marriage to Mary (a Stone Indian)
1808
By about 1808 James had a wife named Mary (a Stone Indian). Daughter Barbara was born around that time.

From 1811 to 1818 James continued his work as a tailor in the Saskatchewan Dstrict.
Red River
1818
In 1818, the HBC Archives indicates that James SPENCE was "Gone to the Colony" (Red River Settlement). By 1818, fewer than 50 of the families Lord SELKIRK had brought over still remained in the Red River area.  A handful of his private army had also been persuaded to stay but increasingly through the 1820's, the colony emerged as a gathering place for the two groups of native people that had developed with the two companies before 1821.
Around 1820 eldest daughter Barbara married Thomas WISHART (1797-1840) in Red River, an HBC Labourer from Scotland.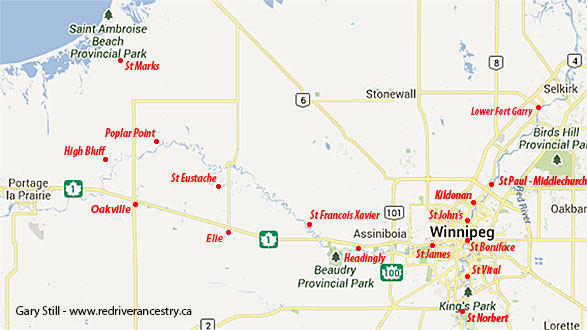 NWC – HBC Union
George SIMPSON becomes Governor of Rupert's Land
Arrival of Rev John WEST
Upper Fort Garry is established
1821-22
The 1821 union of the North West Company (NWC) and the Hudson's Bay Company (HBC) occurred, ending years of bitter rivalry for dominance of the fur trade in Western Canada. After the merger, almost 1,300 employees lost their jobs since the single HBC organization that emerged had no need for most of the voyageurs and retired fur traders.
At the time of the HBC-NWC union, (Sir) George SIMPSON (1786-1860) became the Governor of Rupert's Land.
** MORE ABOUT GOVERNOR GEORGE SIMPSON
Also at the time of the Union, Rev John WEST (1778-1845) arrived from England as the first Chaplain in the northwest. He was sponsored by the Church Missionary Society (CMS) and the HBC. Governor SIMPSON and the HBC expected him to devote most of his efforts at providing religious services to the white settlers, but WEST had an agenda of his own. His passion was his missionary work with the Indians. Almost from the day he arrived at York Factory, he began to recruit Indian youngsters for the school he would build near the Forks (St Johns).
** MORE ABOUT REVEREND WEST and the FIRST RED RIVER CHURCHES and SCHOOLS
It is said that James SPENCE, as the HBC Tailor for Red River, made outfits for the St Johns Boy's School that had been established by Reverend WEST.
In 1821 James' wife Mary died in 1821, leaving James with a large family of young children.
Marriage to Widow Jane (nee MORWICK) NORQUAY
1822
On June 17, 1822, James SPENCE (in his mid-40's) re-married at Fort Garry to Widow Jane (nee MORWICK) NORQUAY. Jane was in her mid-30's, born around 1788, daughter of an Indian woman and James MORWICK from the Orkneys. Jane's former husband (Oman NORQUAY) had died in 1820 on the White Horse Plains, leaving Jane with about five young children. ** MORE ABOUT JANE MORWICK and OMAN NORQUAY
This must have been quite an event! On the same day of their marriage James SPENCE's children were baptized (Robert, Betsy, Charlotte and Ellen SPENCE), children of James and his deceased Indian wife Mary. Also the same day, Jane's children by Oman NORQUAY were also baptized (Nancy, William, Isabella, James, and John NORQUAY). 
Since Jane was the widow of Oman NORQUAY, Oman was probably the father of the five children rather than James.  However, another source holds that Nancy was James' daughter by his first wife.
On May 20, 1822, SIMPSON reported to the board of governors of the HBC that he had established a fort at the junction of the Red and Assiniboine Rivers. He named it Fort Garry (the Upper Fort). Around this fort was to grow the city of Winnipeg.
Reverend JONES replaces Rev WEST
1823
In the summer of 1823 Reverend WEST departed Red River. At York Factory, on his way to England, he met his replacement, Reverend David JONES (1796-1844).
In 1823 daughter Ellen married Jeremiah COOK, son of son of KAHNAPAWAMAKAN and William Hemmings COOK (1768-1846).  ** MORE ABOUT WILLIAM HEMMINGS COOK
On Sep 5, 1824 son David SPENCE was born to Jane & James SPENCE, their first child together. On Sep 16 David was baptized at St John's.
In 1825 step-son John MORWICK seems to have married his step-sister, Isabella NORQUAY, daughter of his mother's first husband, Oman NORQUAY (1773-1820). ** MORE ABOUT OMAN NORQUAY
Red River Census of 1827: River Lot 247 (fronting on the Assiniboine River in the Fort Rouge area of Winnipeg): James SPENCE, age 50, Protestant from the Orkney; with a wife and six children, one adult daughter and three sons under the age of 16. He has a house and stable and livestock consisting of a horse and mare, four cows and two calves, an ox and one swine. He has a plough and harrow and a cart and canoe. He had seven acres under cultivation.
In 1831 daughter Nancy married Henry NORQUAY, son of Jane MORWICK and Oman NORQUAY (1773-1820).  
** Note: It looks like Nancy married her step-brother, assuming that Henry was her mother's child from her previous marriage to Oman NORQUAY.
In 1832 step-son, John NORQUAY, married Isabella TRUTHWAITE, daughter of Elizabeth VINCENT & Jacob TRUTHWAITE (1790-1873).  ** MORE ABOUT JACOB TRUTHWAITE
In 1834 daughter Charlotte married George GROAT (1799-) from Scotland.
In 1837 daughter Harriet died, after having married Francois DESMARAIS, son of Marie Suzette (a Salteaux Indian) and Francois DESMARAIS SR (1770-1849) from Quebec.
In 1839 son Peter married Theresa (or Genevieve?) BRUCE of uncertain origins.
In 1841 son Donald married Nancy HARCUS, daughter of Margaret RICHARDS and David HARCUS (1798-1845) from the Orkneys of Scotland. That same year, daughter Letita married Thomas HAY, son of Sarah HARCUS & Henry HAY (1778-1852), an HBC employee also from the Orkneys.
In 1843, Jane's daughter-in-law (Isabella nee TRUTHWAITE) NORQUAY died, leaving her husband, John NORQUAY Sr with four young children in need of care. Son John NORQUAY (age 2) was taken in by Grandma Jane & James SPENCE. This toddler would later become the Premier of Manitoba. ** MORE ABOUT PREMIER JOHN NORQUAY
The other NORQUAY grandchildren (Baby Tom and two young daughters) were taken in by their TRUTHWAITE grandparents, Elizabeth & Jacob TRUTHWAITE (1790-1873).
In 1844 son David married Catherine HALLETT, daughter of Catherine PARENTEAU and Henry HALLETT (b-1799).
In 1846 daughter Jane married her brother-in-law, Antoine HALLETT, son of Catherine PARENTEAU and Henry HALLETT (b-1799).
Around 1849 son Donald married a second time to Catherine HALCROW, daughter of Mary SUTHERLAND and Thomas HALCROW (1781-1854), an HBC Blacksmith from the Orkneys of Scotland.
The area where James SPENCE settled would later become the Parish of St James. Notable early parishioners included Charles and Cornelius FIDLER, James SPENCE, James FOULDSs, the BOURKE family and Gavin GARRIOCH. The Parish population grew mainly because of the resettling of Selkirk Settler families from the Kildonan area after the disastrous 1852 flood. These farmers sought higher land to avoid future floods and much of the land along the Assiniboine River had remained dry.
On July 8, 1857 son Joseph married his sister-in-law, Jane (Janet) HALLETT.
On Nov 30, 1857 James SPENCE was buried at St Johns, aged 78.
Widow Jane, now in her late 60's, and 16 year old grandson John NORQUAY were on their own. John was still attending St John's College?
On June 2, 1862 grandson John NORQUAY married in Portage la Prairie to Elizabeth SETTER, daughter of Isabella KENNEDY & George SETTER (1815-1899). ** MORE ABOUT GEORGE SETTER
On March 23, 1875 Jane (nee MORWICK) NORQUAY-SPENCE died at Poplar Point (NW of Portage la Prairie).
Please post comments and queries at this link: FORUM DISCUSSING the FAMILY OF JAMES SPENCE
========================= Family Details =========================
Step-Children (Children of Jane MORWICK & Oman NORQUAY:
1. c1808 ISABELLA NORQUAY (m. John MORWICK)
2. c1810 JOHN NORQUAY (m1. Isabella TRUTHWAITE, m2. Nancy Anne WARD)
3. c1810 HENRY NORQUAY (m1. Anne SPENCE, m2. Mary Polly ANDERSON, m3.  Mary MONKMAN)
Children of James SPENCE & Mary (Stone Indian):
1. c1800 BARBARA SPENCE (m. Thomas WISHART)
2. 1807 ELLEN or ELEANOR SPENCE (m. Jeremiah "Jerry" COOK)
3. c1811 ANNE (NANCY) SPENCE (m. Henry NORQUAY)
4. 1813 PETER SPENCE (m. Theresa (or Genevieve?) BRUCE)
5. 1815 DONALD SPENCE (m1. Nancy HARCUS, m2. Catherine HALCRO)
6. 1815 HARRIET SPENCE (m. Francois DESMARAIS)
7. 1817 JANE SPENCE (m1. Antoine or Edwin HALLETT, m2. William SYMONSON)
8. May 24, 1820 CHARLOTTE SPENCE (m. George GROAT)
9. c1826 LETITIA "LETTIE" SPENCE (m1. Thomas HAY, m2. Joseph PAQUIN)
10. ROBERT SPENCE
11. ELIZABETH (BETSY) SPENCE
Children of James SPENCE & Jane MORWICK:
1. Sep 5, 1824 DAVID SPENCE (m. Catherine HALLETT)
2. 1826 JOSEPH SPENCE (m1. Janet HALLETT, m2. Elizabeth BUBBIE\BAUBEE)
3. 1829 CATHERINE SPENCE