THOMAS WISHART (1797-1840)
BARBARA SPENCE (1800-1850)
(Last Updated: December 20, 2013)
Thomas WISHART was born on March 22, 1797 in Orphir, Orkney Islands (Scotland), son of Elizabeth SMITH and Edward WISHART (b-1775).
Recruited by the Hudson's Bay Company
1819
In 1819 Thomas embarked from Gravesend (near London) on the Prince of Wales as a 22 year old Laborer for the Hudson's Bay Company (HBC). ** MORE ABOUT THOMAS WISHART in the HBC ARCHIVES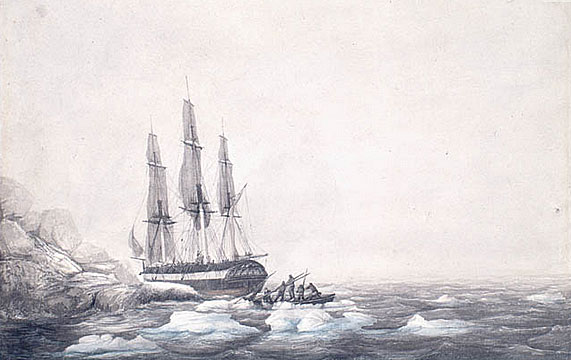 "The Prince of Wales Striking Against the Rocks on the East Side of Resolution Island, Hudson Strait"
(Robert Hood, watercolor painting in 1819)
From 1820-24 the HBCA indicates that Thomas WISHART was a Colonial Servant in the Red River Settlement.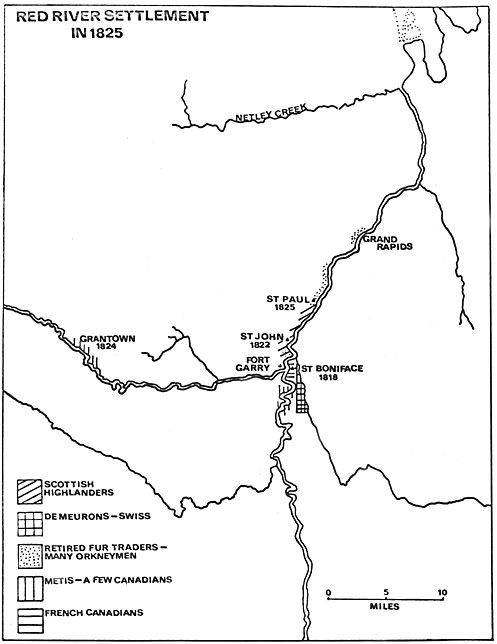 Thomas and Barbara SPENCE
1820
Around 1820 Tom began a connubial relationship with Barbara SPENCE, daughter of Mary (Stone Indian) and James SPENCE (1778-1857), an HBC Tailor. ** MORE ABOUT JAMES SPENCE
Union of the North West Company with the Hudson's Bay Company
1821
In 1821 the union of the North West Company (NWC) and the Hudson's Bay Company (HBC) occurred, ending years of bitter rivalry for dominance of the fur trade in Western Canada. George SIMPSON (1786-1860) became the Governor of Rupert's Land.
In the 1827 Red River Census Thomas WISHART was recorded as a 32 year old Protestant from Scotland with a wife, and a son and a daughter, both under the age of 16. These would have been baby Solomon and probably Elizabeth who later died in infancy.
In 1828 HBCA indicate Thomas was a Servant to Mr LOGAN, on Lot 818 in Red River. This would be Robert LOGAN (1773-1866) who at that time was a Councillor of Assiniboia. ** MORE ABOUT ROBERT LOGAN in DCBO
In 1835 Thomas and his family were recorded on Lot 29 in St James Parish. He had 11 acres under cultivation and he had seven cattle, a farm implement and a cart. There were seven persons in his household. That would have included five children, namely Solomon (age 8), Janet (7), James (4), Mary (3) and Elijah (age 1).
Thomas WISHART dies in Iowa. USA
1838
Around 1838 the WISHART family moved to the USA, and in 1840 Thomas WISHART died in Turkey Junction, Clayton, Iowa, USA.
In 1848 daughter Janet married Leverett Hooker ALVORD (1824-1898) in Wisconsin, USA.
In 1850 Widow Barbara SPENCE died in Clayton County, Iowa, USA. After their mother died, son James (age 19) and daughter Mary (age 16) decided to returned in Red River.
In 1853 son James married Eliza FLETT at St John's, Red River, the daughter of Euphemia HALCROW and Peter FLETT (1812-1905). ** MORE ABOUT PETER FLETT
The marriage was performed by Reverend David JONES (1796-1844).
** MORE ABOUT REVEREND DAVID JONES in DCBO
In 1857 daughter Mary married John McNAB in Red River, son of Jane SANDERSON and John McNAB SR (1806-1908). ** MORE ABOUT JOHN McNAB SR

The American Civil War
1861-1865
On Apr 19, 1861 son Thomas WISHART JR. of Freeport, Illinois, enlisted for service in the American Civil War.
** MORE ABOUT THE AMERICAN CIVIL WAR in WIKIPEDIA
It is said that son Elijah WISHART also enlisted on May 6, 1861.
On May 24, 1862 son Solomon enlisted in Texas; discharged 1865
On Nov 21, 1863 son Thomas died a soldier in Memphis, Tennessee.
** THE BATTLE of MEMPHIS in WIKIPEDIA

Around 1871 son Solomon married Frances LITTLE in Mississippi, daughter of Nancy NIX and Raliegh LITTLE (1797-1860)
Comments and queries at this link: FORUM DISCUSSING the THOMAS WISHART FAMILY
========================== Family Details ==========================
Children who survived to adulthood:
1. Apr 15, 1827 SOLOMON WISHART (m. Frances LITTLE)
2. Nov 8, 1829 JANET "JENNIE" WISHART (m1. Leverett Hooker ALVORD, m2. Evrington VAN WORMER)
3. Aug, 1831 JAMES WISHART (m. Elizabeth "Eliza" FLETT)
4. 1834 MARY WISHART (m. John McNAB)
5. 1836 ELIJAH HENRY "EDWARD" WISHART (m1. Jennie DAUGHERTY, m2. Emeline THHORNLEY)
6. 1840 THOMAS WISHART JR (Died age 23 in the American Civil War)