JAMES "JIM" WISHART (1831-1906)
ELIZABETH "ELIZA" FLETT (1835-1900)
(Last Updated: October 31, 2013)
James "Jim" WISHART was born on Aug 5, 1831 at Winnipeg (St James), son of Half-breed Barbara SPENCE and Thomas WISHART (1797-1840) from Scotland. He was baptized on Sep 18, 1832 by Reverend David JONES (1796-1844).
Around 1838, when Jim was about seven years old, the WISHART family moved to Clayton County in Iowa, USA where his father (Thomas WISHART) died in 1840.
In 1850 Jim's mother (Barbara) died in Iowa. She was survived by six children; Solomon (age 23), Janet (age 21, Mrs. ALVORD), James (age 19), Mary (16), Elijah (14) and Thomas Jr. (age 10).
Jim and his sister Mary return to Red River
After 1850
Sometime after their mother died, Jim (age 19) and his sister Mary (about 16) decided to return to their birthplace at Red River, while their other four siblings remained in the USA. Their elderly maternal grandfather, James SPENCE (1778-1857) was still living in Winnipeg then, and they had lots of SPENCE aunts, uncles and cousins in the area. Upper Fort Garry was built in 1850 and the settlement was fast becoming a major center of activity.
*Martin: Jim and his younger sister had been left in care of an uncle who raised them, and thus, they were the only survivors of the WISHART family in Canada - - At an early age Jim went to work for the Hudson's Bay Company driving river boats on the Nelson River from York Factory on the west side of the Hudson Bay, down the Hayes River to Norway House, and thence to the Red River Settlement and Fort Garry.
Marriage to Eliza FLETT
1853
On Sep 22, 1853 James WISHART married Eliza FLETT in St Paul Parish, the eldest daughter of Euphemia HALCROW and Peter FLETT (1812-1905). ** MORE ABOUT PETER FLETT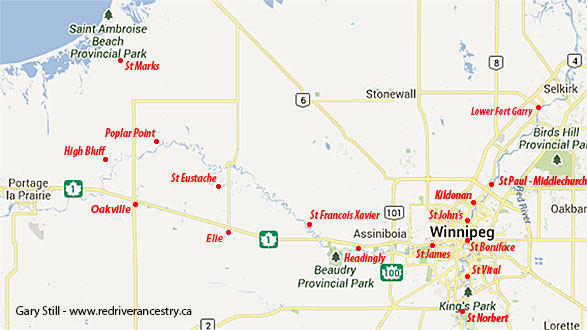 Jim and his new wife settled at Poplar Point, and on July 4, 1856 their first child, Barbara Ann (named after her grandmother) was born there. That same year, Jim's sister Mary married John McNAB, and they too settled at Poplar Point.
Canadian Confederation
A Métis Rebellion
Manitoba becomes a Province
1867-1870
On July 1, 1867 the British colonies in North America were united under the British North American Act to become the Dominion of Canada.  Sir John A MACDONALD (1815-1891) was appointed as Canada's first Prime Minister. William McDOUGALL (1822-1905) was appointed as the Lieutenant Governor Designate of the North-West Territories (Rupert's Land). McDOUGALL sent surveyors to Red River in anticipation of an influx of settlers.On Oct 11, 1869, Louis RIEL (1844-1885) placed his foot on the surveyors' chain to tell them their work was finished. This led to the historic Red River Rebellion.
*Martin: Jim fought in the Red River Rebellion in 1869, and was given land at Portage la Prairie for his services.
On July 15,1870, the Rebellion was essentially over, and Manitoba became the fifth province of Canada, the Canadian Government having acquired the territory previously governed by the HBC.
Around 1872 eldest daughter Barbara married James SLATER, son of Maria ROWLAND and William SLATER (1820-1885) who also lived in Poplar Point.
In 1875 James (of Poplar Point) claimed his Half-breed Scrip.
In 1877 James received Patent for River Lot 48 in Poplar Point Parish (199 acres).
Around 1878 son George married Caroline FORBISTER, daughter of Catherine FOULDS and James FORBISTER (b-1827).
Around 1882 son Joseph married Margaret Mary Ann GOWLER, daughter of Ann MILLER and William GOWLER (1842-1913).
In 1887 son Peter married Harriet SPENCE at Poplar Point, daughter of Catherine HALLETT & David SPENCE (1824-1885). 
The 1881 Census in Poplar Point Parish: James WISHART, age 54; wife Eliza, age 46. Children: Peter Henry (age 19), Margaret J (17), David C (14), Mary (11), Ben (7) and Herbert Allan (age 1).
Rosebud, Alberta
1885
The first railway in Alberta was the Canadian Pacific Railway (CPR) which was built across the province through Medicine Hat, Calgary and Banff in 1882-83. In 1884 Calgary was incorporated as the Town of Calgary.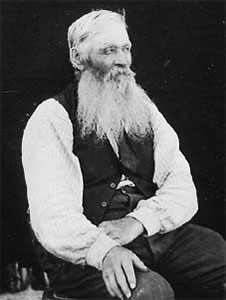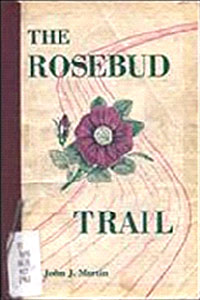 James Wishart in Rosebud, Alberta (Glenbow Archives NA-1470-2)
The Book Rosebud Trail authored by John Julius Martin
*Martin: In 1883 he (Jim) shipped west to Gleichen, as he thought the No.12 siding (not yet named) was the end of steel; he was on his way to Red Deer Settlement, where he took up land. From Gleichen, with oxcart, the family trekked over the Rosebud Trail to their new home, all walking beside the carts. At Red Deer Jenny married WILSON and Eddy (their son) was born in 1885. ** This was Clarence WILSON, born about 1859 in USA and died before 1891 in Alberta.
In early 1885 James WISHART and his family moved south from Red Deer to the Rosebud River. He was the founder of the Hamlet of Rosebud. He called it "the Promised Land; we go no further."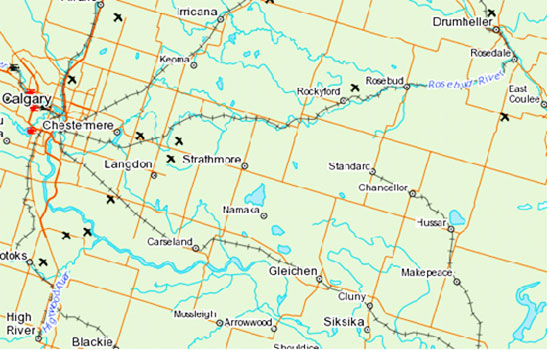 In 1887 son Peter Henry WISHART married Harriet SPENCE in Poplar Point (MB), daughter of Catherine HALLETT and David SPENCE (1824-1885). Peter seems to be the only child who raised his family in Manitoba.
In 1890 daughter Mary married William David COOK in Drumheller. William was born in 1864 in Headingly, parents uncertain at this time.
The 1891 Census in the Rosebud area: James WISHART (age 59), his wife Eliza (age 56) and their children: Joseph J (age 34), George R (32), Peter H (30), Margaret (26), David C (24), Mary (22) Benjamin (17) and Herbert A (age 11).
In 1892 son Davie married Maude Eva Mary VIGAR in Rosebud. Maude had only recently emigrated from England.
In 1895 son Benjamin married Mary MARTIN (1874-1933) from Ontario. Mary was a sister of the author John Julius MARTIN.
Around 1898 daughter Margaret (widowed) re-married in Drumheller to John James (Jack) CUMMING (1867-1970) from Aberdeenshire, Scotland.
*Martin: Eliza passed away in the old log house on February 15, 1900, at the age of 63 (in the same room she had delivered Easter, my niece). She died from what was thought to be a ruptured appendix, and was buried in the cemetery at Gleichen; Canon STOCKEN took the service.
In the 1901 Census James WISHART, a widowed rancher (age 70) was recorded in Rosebud. He had an 18 year old niece with him, Linda WISHART. Son Charles and his family were on a neighbouring ranch.
In 1905 youngest son Herbert married Florence LEDOUX in Gleichen, Alberta.
On July 4, 1906 James WISHART died in the old General Hospital in Calgary. He would have been about 75 years old. He was buried in Gleichen.

*Martin: Upon his death his estate was (roughly) $10, 000, and was divided equally among the nine living children.
Comments and queries at this link: FORUM DISCUSSING the JAMES WISHART FAMILY
========================== Family Details ==========================
Children:
1. July 4, 1856 BARBARA ANN WISHART (m. James SLATER)
2. Feb 3, 1858 JOSEPH JAMES WISHART (m. Margaret Mary Ann GOWLER)
3. May 4, 1860 GEORGE ROBERT WISHART (m. Caroline "Kitty" FORBISTER)
4. Mar 13, 1862 PETER HENRY WISHART (m. Harriet SPENCE)
** MORE ABOUT PETER HENRY WISHART
5. 1864 MARGARET JANE "JENNY" WISHART (m1. Clarence WILSON, m2. John James CUMMING)
6. Aug 2, 1867 DAVID CHARLES WISHART (m. Maude Eva Mary VIGAR)
7. May 2, 1868 MARY ELIZABETH WISHART (m. William David COOK)
8. Jan 15, 1874 BENJAMIN WISHART (m. Mary MARTIN)
9. May 12, 1879 HERBERT ALLAN WISHART (m. Florence LEDOUX)
========================== Notes & References ==========================
*Martin = The Rosebud Trail by John Julius Martin, a sister of Mary MARTIN who later married Jim's son, Benjamin WHISHART. He was born on Oct 21, 1888 on the MARTIN homestead just east of Gleichen.
** MORE ABOUT ROSEBUD in WIKIPEDIA

** MORE ABOUT WISHART in ROSEBUD HISTORICAL SOCIETY