PETER HENRY WISHART (1862-1936)
HARRIET SPENCE (1863-1927)
(Last Updated: October 31, 2013)
Peter Henry WISHART was born on March 13, 1862 in Poplar Point, northeast of Portage la Prairie along the Assiniboine River, son of Elizabeth FLETT and James WISHART (1831-1906). ** MORE ABOUT JAMES WISHART
Census 1881: Peter Henry (age 19) with parents in Poplar Point.
In 1885 most of the WISHART family moved to Alberta and settled in the Rosebud River area, southwest of Drumheller.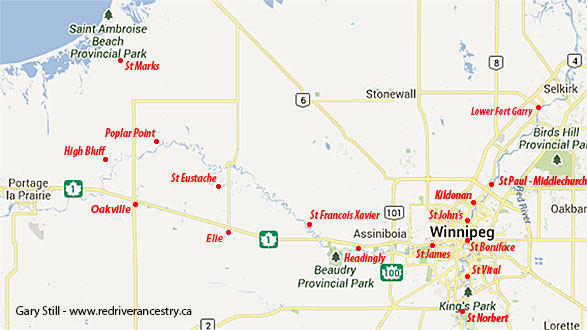 Peter and Harriet SPENCE
1886
By the summer of 1886 Peter was in a connubial relationship with Harriet SPENCE, half-breed daughter of Catherine HALLETT & David SPENCE (1824-1885). ** MORE ABOUT DAVID SPENCE
On March 3, 1887 Peter and Harriet were church-wed at Poplar Point. On Aug 9, 1887 their first child, Florence was born at Poplar Point. In 1889 son Henry was born, followed by son Edgar on Feb 4, 1891.

In the 1891 census Peter (age 30) was recorded with his parents in Rosebud, Alberta. His wife and two children were not recorded with him there. It appears that he didn't stay there very long, and on March 29, 1896 daughter Edna was born in Portage la Prairie, Manitoba.

The Census of 1901 recorded the family in the Portage la Prairie District.
Oakville
1906-1911
In the 1906 Census the entire family was recorded on Section 10-11-5-Wpm (near Oakville) as follows: Peter H WISHART, age 43; wife Harriet, age 41. Children: Florence (age 19); Henry (17); Edgar (15); Edna (10); Ruby (8); Edith (6) and Herbert (age 4). In the 1911 census all of the family were again recorded together in Oakville, except for Henry Allen who would have been about 22 years old that year and may have been living in Winnipeg.

Makinak - Ochre River
1912
By 1896 the railroad (CPR) had reached Dauphin. In 1901 the Rural Municipality of Ochre River was incorporated. In 1912 the CNR constructed the Dauphin Railway Station, and that same year a branch line was built from Ochre River to Ste Rose and Rorketon and a new era began. ** MORE ABOUT the RURAL MUNICIPALITY of OCHRE RIVER

It was probably sometime after 1912 that Peter and his family moved north to the Rural Municipality of Ochre River. The Western Land Grants records show Peter WISHART on the NW quarter of Section 1-25-16-Wpm (near Makinak). This record is undated, so we can't be sure when this grant was patented or registered. (cannot find the family in the 1916 Census records). We do know that they were in the Makinak area before 1818 (from their sons' military records).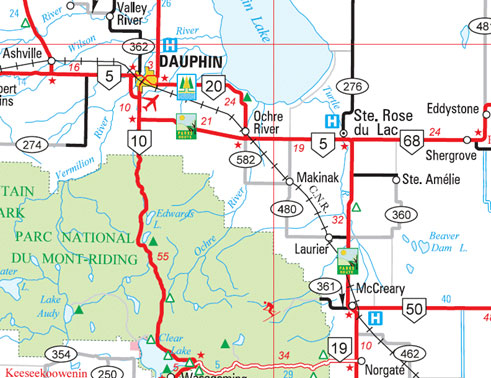 In 1913 daughter Florence married George Augustus LANGFORD in Ochre River, son of Elizabeth and George LANGFORD (born 1849 in Ottawa) who were neighbours of the WISHARTs in Oakville)
World War I
1914-1919
On Aug 4, 1914 Great Britain (Canada on Aug 5) declared war on Germany and Austria-Hungary to uphold treaties with France and Belgium which were under German attack. This marked the beginning of World War I.
Early in 1918 sons Henry and Edgar enlisted at Winnipeg. They stated the address of their next of kin (Peter and Harriet) as Makinak and Ochre River.
November 11, 1919, Armistice Day (Remembrance Day) marked the end of the First World War.
In 1920 son Henry Allen married Kathleen PAYNE in the RM of Lawrence (located on the NE shore of Dauphin Lake, north of Ste Rose du Lac). Kathleen was the teenage daughter of Anna Grace and David PAYNE (born1877 in England), a Municipal Clerk in Dauphin. The PAYNE family had only recently emigrated from England.
Census of 1921 in Ochre River: Peter WISHART, age 58; wife Harriet, age 56. Children: Edgar (age 29), Edna (25), Ruby (23), Edith (21) and Herbert (age 19).
In 1925 son Edgar married Mary Ethel NEILSON in St Boniface, daughter of Emma Georgina HOWARD and Thomas William John NEILSON (1860-1940) who were living in St James.
In 1926 daughter Edna became the second wife of Harold Goldwin CLEAVE in Dauphin, son of Selina CALLOWAY and Paul CLEAVE (1859-1916).
In 1927 Harriet WISHART died and was buried in the Turtle River Cemetery (between Ochre River and St Rose du Lac). 
In 1833 daughter Edith married Thomas HOY in Dauphin, son of Agnes ABERNATHY and James HOY (1875-1995) from Ireland.
Manitoba Voters List for 1935: Peter WISHART and his son Herbert WISHART, both registered as farmers in Makinak; son Edward, a farmer in Ochre River.
On Jan 22, 1936 Peter Henry WISHART died in the RM of Ochre River, age 74.
Comments and queries at this link: FORUM DISCUSSING the PETER WISHART FAMILY
========================== Family Details ==========================
Children:
1. Aug 9, 1887 FLORENCE MILDRED WISHART (m. Gus LANGFORD)
2. May 11, 1889 HENRY ALLEN (HARRY) WISHART (m. Kathleen Maggie PAYNE)
3. Feb 4, 1891 EDGAR WOLSELEY FRANKLIN (TED) WISHART (m. Mary Ethel NEILSON)
4. Mar 29, 1896 EDNA WISHART (m. Harold Goldwin (Bertie) CLEAVE)
5. Dec 4, 1897 RUBY EMMA ELIZABETH WISHART
6. Jan 6, 1900 EDITH JANE WISHART (m. Thomas HOY)
7. Aug 5, 1901 HERBERT CHARLES WISHART