JOHN McNAB (1806-1908)
JANE MARGARET "JENNY" SAUNDERS aka SANDERSON (c1810-c1900)
(Last Updated: December 20, 2013)
John McNAB was born on Aug 22, 1806, the son of Mary (Salteaux woman) and Thomas McNAB (1782-1866), a voyageur and trader for the Hudson's Bay Company (HBC). ** MORE ABOUT THOMAS McNAB
Union of the North West Company with the Hudson's Bay Company
1821
In 1821 the union of the North West Company (NWC) and the Hudson's Bay Company (HBC) occurred, ending years of bitter rivalry for dominance of the fur trade in Western Canada. After the merger, almost 1,300 employees lost their jobs since the single HBC organization that emerged had no need for most of the voyageurs and retired fur traders.
After the Union, John's father (Thomas McNAB) was retired and the family moved to Montreal foe a time, but by 1827 they had moved to Red River, where they were recorded in the census that year. John would have been about 21 years old then.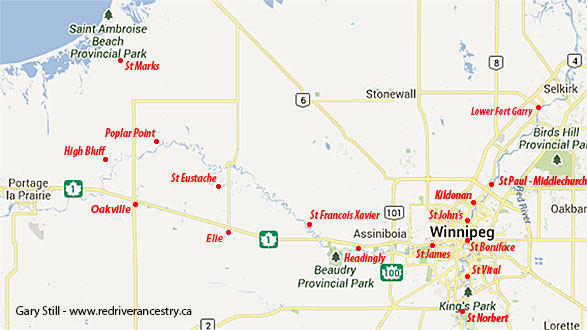 A Double Wedding
John marries Margaret SANDERSON
1827
On Dec 18, 1827 there was a double-wedding at St John's Anglican Church in Red River. John's father, Thomas McNAB was church-wed to his mother Margaret, and John himself was married to Jane Margaret SANDERSON, daughter of John "Jack" SAUNDERS aka SANDERSON (1780-1831). ** MORE ABOUT JOHN SANDERSON
On Jan 16, 1831 both Jane & John were baptized at St Johns.
In 1835 John was recorded as a landowner; Lot 102 in St Clements Parish. He had five cattle and was farming one acre of land. There were five persons in his household. This indicates three children which would have been daughters Sarah (age 7), Mary (5) and Margaret (age 1).
Around 1852 eldest daughter Sarah was married to Jean Baptiste AUGER in Red River, son of Marie Madeleine KLYNE and Antoine AUGER (1806-1870).
In 1856 daughter Mary married William James SANDERSON at St John's, son of Jane BADGER, the 2nd wife of William SANDERSON SR (1804-1834).

Also in 1856, son John married Mary WISHART at St Johns, daughter of Barbara SPENCE & Thomas WISHART (1797-1840). ** MORE ABOUT THOMAS WISHART
In 1859 son James married Catherine CARRIERE at St Johns, daughter of Suzanne DUCHARME & Alexis CARRIERE (1809-1843).
Poplar Point Parish
In 1870 the family was recorded on Lot 80 in Poplar Point, children still at home were daughters Margaret (age 38) and Ann (age 32). In 1873 he applied for patent for Lot 111 in the same Parish.
Daughter Ann married James William KNIGHT, son of Margaret CUMMINGS and William KNIGHT (1824-1854).
In 1875 son Jacob married in Winnipeg to Henrietta WHITE of unknown parentage who was born about 1851 in England and immigrated in 1874.
Western Land Grants, Feb 1, 1879: High Bluff + Poplar Point Parish: One John McNABB for parcels of land in Sections 24 and 34 of Twp 8-6-Wpm (west of Elm Creek near Hwy #2).
The 1881 Census in the Marquette District (includes Poplar Point): John McNABB SR, age 76; wife Jane, age 73. Children: Margaret (age 47), John (20) and Joseph (age 10; believed to be Margaret's child). Their neighbors are the family of Mary and son John McNAB JR (age 44). Also not far away is the family of son James (age 46).
Minnewakan
1891
In the 1891 Census James (age 86) and Catherine (age 80) were recorded with their son James in St Laurent district (probably Minnewakan).
Around 1900 John's wife Jane Jenny McNAB died.
In 1901 and 1902 both John and his son James received Land Grants in the Minnewakan area on the east side of Lake Manitoba west of Lundar. In the 1901 and 1906 censuses old John (age 98, 106) was recorded with his son John near Minnewakan.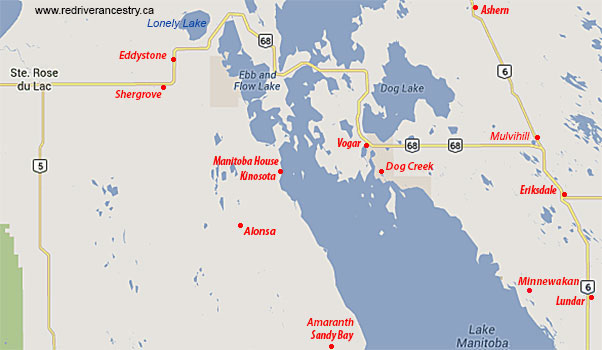 On Aug 22, 1908 John McNAB died.
Heather Hallett: Pg 47: In 1903 there was an interesting article about John McNAB in the Lundyville, Manitoba newspaper (Lundyville is near St Laurent) on the occasion of his 102nd birthday. His wife died about 1900. They had eight children. John lived to be about 110 years old. ** Probably an exaggeration; he was more likely about 102 years old.
Comments and queries at this link: FORUM DISCUSSING the FAMILY of JOHN McNAB SR
=========================== Family Details ===========================
Children:
1. c1828 SARAH "SALLY" McNAB (m. Jean-Baptiste AUGER)
2. Dec 25, 1830 MARY McNAB (m. William James SANDERSON)
3. Feb 15, 1834 MARGARET McNAB
4. c1835 JEAN\ JANE McNAB
5. May 8, 1836 JAMES McNAB (m. Katherine CARRIERE)
6. c1837 JOHN McNAB JR (m. Mary WISHART)
7. 1841 ANN McNAB (m. James William KNIGHT)
      8. Sep 28, 1843 JACOB McNAB (m. Henrietta WHITE)
9. c1848 HARRIET McNAB (Died in infancy, age 2)