JOHN "JACK" SANDERSON aka SAUNDERS (c1780-1831)
ISABEL MARGARET CREE (c1790-)
(Last Updated: December 20, 2013)
John (Jack) SANDERSON aka SAUNDERS, a half-breed, was born around 1780, probably at or near Fort Albany on James Bay. Sprague & Frye (often an unreliable source regarding birth dates) indicates that John was born around 1798. Other references indicate he was born around 1778 which is more compatible with the birth dates of his children. Somewhere around 1780 seems like a reasonable guess.
Name variations used by descendants include SANDERSON, SAUNDERSON, SANDISON, SANDERS and SAUNDERS.
John's origins are unclear but he was most likely a son of an Indian woman and David SANDERSON who was born about 1749 in Kirkwall, Orkney (Scotland) and served with the HBC as a Trader at Albany Post until about 1812.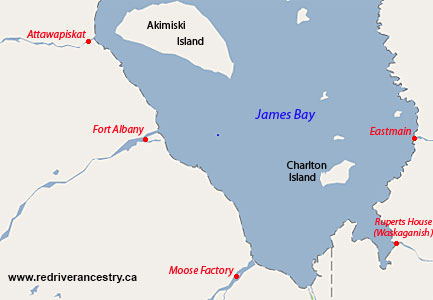 We know very little about John's activities as a young man, but many of the Scotch half-breeds of that era worked for the HBC, often as a voyageurs or labourers
John and a Cree woman named Isabel
In the early 1800's, Jake had a connubial relationship with a Swampy Cree woman named Isabel; around 1805 daughter Elizabeth was born. 
Garneau: 1793 or 1794 is considered the earliest that the HBC first ventured into the previously colonized Red River des Métis Valley, according to most early Red River Métis. When the HBC first arrived, there is nothing said of their alleged exclusive rights to this part of the country.
The North West Company – HBC Merger
1821
In 1821 the union of the North West Company (NWC) and the Hudson's Bay Company (HBC) occurred, ending years of bitter rivalry for dominance of the fur trade in Western Canada. After the merger, almost 1,300 employees lost their jobs since the single HBC organization that emerged had no need for most of the voyageurs and retired fur traders.
It seems that John lived in Red River for a number of years (accurate information is hard to find).
Around 1822 daughter Elizabeth married John LINKLATER, son of an Indian woman & John LINKLATER SR (1774-1799), a Scot.
In 1823 daughter Ann married Charles FIDLER, son of Mary MACKEGONNE and Peter FIDLER of Bolsover (1769-1822).
In 1825 son William married Margaret COOK
In 1827 daughter Jane married John McNAB at The Rapids (Lockport), son of Mary (Saulteaux) and Thomas McNAB (1782-1866).** MORE ABOUT THOMAS McNAB
John SANDERSON may have died in 1831 at York Factory (unsubstantiated).
Documented plausible information about this family is very hard to come by. Any help will be much appreciated. Please post comments & queries at this link: FORUM DISCUSSING JOHN (JACK) SANDERSON aka SAUNDERS
=========================== Family Details ===========================
Children:
1. c1805 ELIZABETH SANDERSON aka SAUNDERS (m. John LINKLATER)
2. Oct 11, 1806 WILLIAM SANDERSON aka SAUNDERS (m1. Margaret COOK, m2. Mary ALDER) 
** MORE ABOUT WILLIAM SANDERSON aka SAUNDERS
3. 1808 JAMES SANDERSON aka SAUNDERS (Died 1826)
4. 1809 THOMAS SANDERSON aka SAUNDERS
5. May 31, 1810 ANN SANDERSON aka SAUNDERS (m. Charles FIDLER)
** MORE ABOUT CHARLES FIDLER
6. c1810 JANE "JENNIE" MARGARET SANDERSON aka SAUNDERS (m. John McNAB)
7. c1820 JOHN SANDERSON aka SAUNDERS (? m. Margaret UNKNOWN)