WILLIAM SANDERSON aka SAUNDERS (1806-1843)
MARGARET COOK (1808-1827)
MARY ALDER (1810-?)
(Last Updated: October 23, 2017)
William SANDERSON aka SAUNDERS was born Oct 11, 1806 in St Andrews Parish, son of Isabel Margaret (Cree woman) and John "Jack" SANDERSON aka SAUNDERS (1780-1831).
** MORE ABOUT JOHN "JACK" SANDERSON aka SAUNDERS
William and Margaret COOK
1825-1827
Around 1825 William married Margaret COOK, daughter of William Hemmings COOK and one of his wives.
** MORE ABOUT WILLIAM HEMMINGS COOK

On Feb 6, 1826 son Roderick was born in St Andrews.
In 1827 it is said that Margaret (nee COOK) died by drowning.
Marriage to Mary ALDER
1830
In 1830 William married Mary ALDER in 1830 at St Johns, (Red River), daughter of Charles (Thomas) ALDER who was of Welsh parentage, his wife born in London, England, and they lived in St Andrews Parish, in the Lockport area. A Distribution Map of Landowners in St Andrews Parish in 1835 shows a William SAUNDERS as owner of Lot 45, just south of Steven Ave to the Lockport Bridge.
William SANDERSON Dies
1843
On Dec 6, 1843 William SANDERSON died.
Around 1852 eldest son Roderick married Mary SMITH, daughter of Mary (Indian) and John James SMITH (1791-1850). ** MORE ABOUT JOHN JAMES SMITH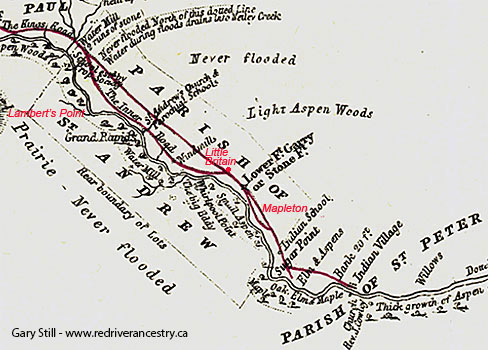 St Andrews Parish from Hind's map of 1857
In 1859 daughter Mary married Robert COX, son of Nancy TAYLOR and John COX (1796-1872).
** MORE ABOUT JOHN COX
Also around 1859 son Richard married Nancy COOPER, daughter of Catherine THOMAS and Thomas COOPER (1810-1846).
In 1860 son David married Jane HARCUS, daughter of Margaret RICHARDS and David HARCUS (1798-1845) from the Orkneys.
In 1861 daughter Isabelle married James CORRIGAL, son of Catherine FLETT and James CORRIGAL SR (1795-1874) from the Orkneys. ** MORE ABOUT JAMES CORRIGAL SR
Comments and queries at this link:
FORUM DUSCUSSING the FAMILY OF WILLIAM SANDERSON aka SAUNDERS
=========================== Family Details ===========================
Child by Margaret COOK:
1. Feb 6, 1826 RODERICK SANDERSON aka SAUNDERS (m. Mary "Minnie" SMITH)
** MORE ABOUT RODERICK SAUNDERS
Children by Mary ALDER:
1. 1830 FRANCES SANDERSON aka SAUNDERS
2. May 9, 1834 DAVID SANDERSON aka SAUNDERS (m. Jane HARCUS)
3. Aug 23, 1837 RICHARD SAUNDERS (m. Nancy COOPER)
4. May 9, 1839 MARY SANDERSON aka SAUNDERS (m. Robert COX)
5. Jun 17, 1843 ISABELLE SANDERSON aka SAUNDERS (m1. CAESAR MOORE, (m2. James CORRIGAL)