JAMES CORRIGAL (1839-1906)
ISSABELLA "ISHBELLE" SANDERSON aka SAUNDERS (1843-1898)
(Last Updated: September 11, 2013)
James CORRIGAL was born Mar 12, 1839 in St Andrew Parish, son of Catherine FLETT and James CORRIGAL SR (1796-1874), a retired HBC employee who was born in the Orkneys. ** MORE ABOUT JAMES CORRIGAL SR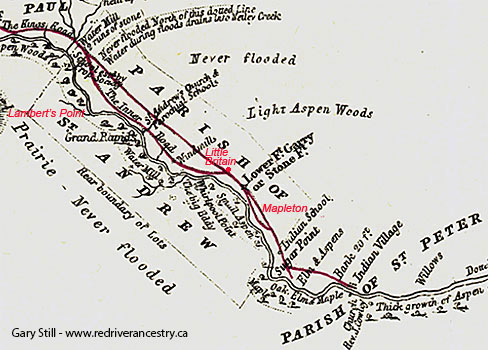 St Andrews Parish from Hind's Map of 1857
Marriage to Isabella SAUNDERS
1861
On Jan 24, 1861 James married Isabella "Ishbelle" SANDERSON aka SAUNDERS in St Andrews Parish, daughter of Mary ALDER and William SANDERSON aka SAUNDERS (1806-1843).Isabella had been in a previous relationship with Caesar MOAR aka MOORE (1828-1884) by whom she had a child in 1858 (Caesar MOORE JR).
** MORE ABOUT WILLIAM SANDERSON aka SAUNDERS
Canadian Confederation
Red River Rebellion
Manitoba becomes a Province
1867-1870
On July 1, 1867 the British colonies in North America were united under the British North American Act to become the Dominion of Canada.  Sir John A MACDONALD (1815-1891) was appointed as Canada's first Prime Minister.
In 1868 William McDOUGALL (1822-1905) became the first Minister of Public Works for the new Dominion of Canada, and he began negotiations to acquire Rupert's Land from the HBC. He sent surveyors out to prepare the way for an expected influx of settlers.
On Oct 11, 1869, Louis RIEL (1844-1885) placed his foot on the surveyors' chain to tell them their work was finished! This marked the beginning of another Red River Métis Rebellion.
** MORE ABOUT the RED RIVER REBELLION in WIKIPEDIA
On July 15,1870 Manitoba became the fifth province of Canada, the Canadian Government having acquired the territory previously governed by the HBC.The Rebellion was essentially over. On that date James was a resident of St Andrews Parish, and in 1875 he claimed his Half-breed Scrip as such.
Western Land Grants: Dated Dec 15, 1877: Isabella CORRIGAL; S ½ of SW 15-15-4-E1 (St Andrews), 240 acres. This is located on Wavey Creek, about a mile east of the Wakefield Church.
In 1879 eldest daughter Mary Ann married John Kenneth McIVOR (1853-1916) from Scotland.
The 1881 Census: James CORRIGAL (age 40), his wife Isabella (age 37); children: Flora Harriet (age 15), William (13), Roderick James (11), John (8) and Henry Richard (age 4).  Also in household is Isabelle's nephew, John Robert COX, age 20 (this is JR COX Jr, son of Mary SANDERSON (Isabelle's sister) & JR COX SR)

In 1881 daughter Catherine had married George HARCUS, son of Nancy Ann LILLIE and George HARCUS SR (1834-1880).
In 1882 James received Scrip allotment for the outer two miles of Lot 41 Parish of St Andrews (Lambert's Point on above map)
In 1895 son Roderick married Jesse Bell BILLINGTON, daughter of Mary Ann (nee YOUNG) TAYLOR and William BILLINGTON (1850-1918).
Around 1896 son John married Margaret McCORRISTER, daughter of Louisa YOUNG and William McCORRISTER (1836-1892).
Isabella Dies
1898
On Jul 2, 1898 Isabella CORRIGAL died in St Clements, age 56.
In August of 1901 son Henry married his cousin, Florence May MAXFIELD, daughter of Anna Bella CORRIGAL and Frank Pearce MAXFIELD of uncertain origins.
On June 4, 1906 James CORRIGAL died in St Andrews.
Comments and queries at this link: FORUM DISCUSSING the JAMES CORRIGAL FAMILY
========================== Family Details ==========================
Child by Isabelle and Caesar MOORE:
1. 1858 CAESAR MOORE JR
Children of James CORRIGAL and Isabelle SAUNDERS:
1. Oct 28, 1861 MARY ANN CORRIGAL (m. John Kenneth McIVOR)
** MORE ABOUT JOHN KENNETH McIVOR
2. Jan 8, 1863 CATHERINE CORRIGAL (m. George HARCUS)
3. Dec 24, 1866 FLORA HARRIET CORRIGAL (Died age 29)
4. Jun 29, 1867 WILLIAM CORRIGAL (Died age 23)
5. Aug 8, 1869 RODERICK (ROBERT) JAMES CORRIGAL (m. Jesse Bell BILLINGTON)
6. May, 1874 JOHN CORRIGAL (m. Margaret McCORRISTER)
7. May 1, 1877 HENRY RICHARD "HARRY" CORRIGAL (m. Florence May MAXFIELD)
8. Apr 8, 1885 CHRISTIE ALICE BIRDIE CORRIGAL (Died in infancy, 12 days)