JOHN KENNETH McIVOR (1853-1916)
MARY ANN CORRIGAL (1861-1952)
(Last Updated: August 27, 2013)
John Kenneth McIVOR was born in November of 1852 in Scotland (Isle of Lewis).
Around 1862 John immigrated to Canada. His first home was in Ashfield, Bruce County, Ontario, on the eastern shore of Lake Huron. Ashfield is near Goderich on the map below.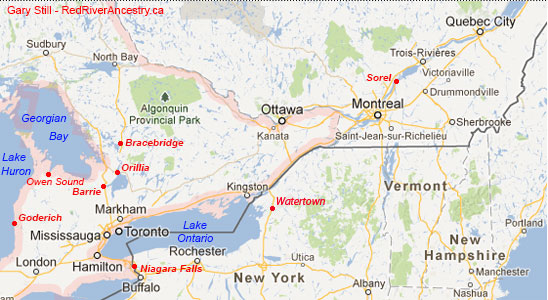 John Kenneth worked as an Engineer on the ships in the Great Lakes and sailed up the Red River to Winnipeg.  He farmed for a while with his cousin, Neil McLEOD (b-1840) at Greenwood, MB.
They moved to East Selkirk as it was mainly a Gaelic community.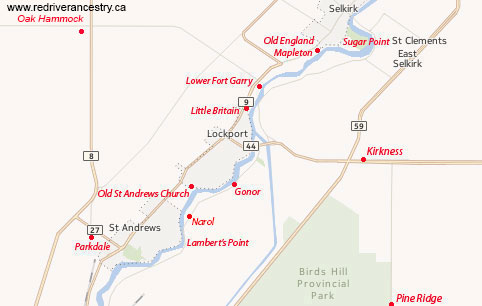 Marriage to Ann CORRIGAL
1879
On Oct 22, 1879 John married Mary Ann CORRIGAL in St Andrews Parish, daughter of Isabella SANDERSON & James CORRIGAL (1839-1906). ** MORE ABOUT JAMES CORRIGAL
In the 1881 census of St Clements Parish: John McIVOR (age 29); wife Mary Ann (age 20) and baby Mary Isabella. The family was recorded there again in 1891.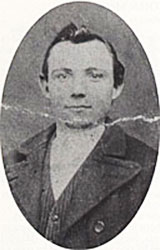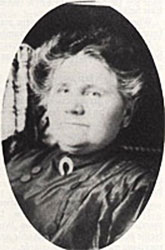 John Kenneth Mcivor and Mary Ann Corrigal
(From W. L. McIvor – Beyond the Gates of Lower Fort Garry)
John Kenneth was employed in The Quarry by his life-long friend, Harry NELSON. They lived there for four years, then settled on a homestead in the Kirkness district.
John was instrumental in organizing a school for the Kirkness area. The Province of Manitoba Dept. of Education allowed him to name the school. He called it "Ashfield" after his first Canadian home in Ashfield, Bruce County on the shore of Lake Huron. He was Secretary-Treasurer of the Ashfield School for 10 years and Trustee for 20 years.
The 1911 Census of East St Clements recorded the family as: John McIVOR (age 58), wife Mary (age 48) and children as Christina (age 24), Donald (21), Willena (18), John Angus (14), William (10) and Gladys (age 7).
Selkirk
1913-1916
In 1913 the family moved to 225 Stanley Avenue in Selkirk. They were recorded there in the Census of 1916 as John Kenneth (age 65), Mary Ann (age 53); children as: Flora (age 30), John (18), William (14) and Gladys (age 12). They had boarders that year: Rose WARD (age 1) and Duncan McAY (age 55).
On June 8, 1916 John Kenneth McIVOR died in Selkirk, age 63
In 1927 daughter Gladys married Charles Campbell MANLY in Selkirk, son of Annie Belle CAMPBELL and Josiah James MANLY (1865-1922) who was born in Ontario and died 1922 in Saskatoon.
In, 1935 son Donald married Jessie Elma McDONALD in Portage la Prairie, daughter of Ellen Jane HUNTR and Albert McDONALD (b-1869).
In 1952 Maryanne McIVOR died at the age of 90.
Comments and queries at this link: FORUM DISCUSSING the JOHN KENNETH McIVOR FAMILY
============================ Family Details ============================
Children:
1. Oct 23, 1880 MARY ISABELLE McIVOR
2. Nov 22, 1882 FLORA MAGDELINE/MAGDALENE ANN McIVOR
3. May 12, 1884 KENNETH JAMES McIVOR
4. Mar 24, 1886 CHRISTINA ALICE McIVOR
5. Feb 9, 1888 CATHERINE McIVOR
6. Mar 26, 1890 DONALD McIVOR (m. Jessie Elma McDONALD)
7. Jun 24, 1892 WILLENA McIVOR
8. Oct 11, 1894 NORA/ DORA MARTHA McIVOR (Died in infancy, age 2)
9. Jul 30, 1897 JOHN ANGUS McIVOR
10. Feb 1, 1901 WILLIAM LANCELOT GEORGE McIVOR
11. 1904 GLADYS ROSEMONT McIVOR (m. Charles Campbell MANLY)