JOHN COX (c1796-1872)
ANN NANCY (nee TAYLOR) HARPER (c1818-1897)
(Last Updated: October 27, 2016)
John COX was born around 1796 in Scotland; some sources say in Sanday, Orkney, others say in Edinburgh. If anyone has more definite, proven information, please let us know on the Forum.
Nancy (Ann) TAYLOR was born around 1818, probably at York Factory, daughter of Jane (Indian) and George TAYLOR (1759-1844). ** MORE ABOUT GEORGE TAYLOR
On Aug 17, 1831 Ann TAYLOR married William HARPER, son of Cree Woman and John HARPER (1767-1830) from the Orkneys of Scotland. They had one daughter (Mary HARPER), and in 1834 William HARPER died at Berens River.
It is known that John COX became a voyageur (Boatman and Labourer) with the Hudson's Bay Company (HBC); when and where is uncertain. He apparently retired from service around the time that he and Nancy married.
John marries Widow Ann Nancy (nee TAYLOR) HARPER
1835
On Nov 11, 1835 John married the above mentioned Widow Nancy HARPER in St Andrews, thereby becoming a step-father to Nancy's daughter Mary HARPER. Their first child together was son Robert, born Nov 16, 1836.
Manitoba Provincial Heritage Site No 84 re the former COX House, 7348 Henderson Hwy:  "The land on which this little log house sits was used between 1840 and 1862 as a wood lot by John COX. Mr COX had retired in 1836 after a career with HBC as a boatman and labourer. Along with his wife, Nancy (TAYLOR) and other retired HBC families, they formed a tight community far from the supposed wild influences of Upper Ft Garry, 20 Km to the south. "

Cox House at 7348 Henderson Highway
(East side of the Red River across from Little Britain as shown on the map below)
The second picture was taken in 2012 by Gordon Goldsborough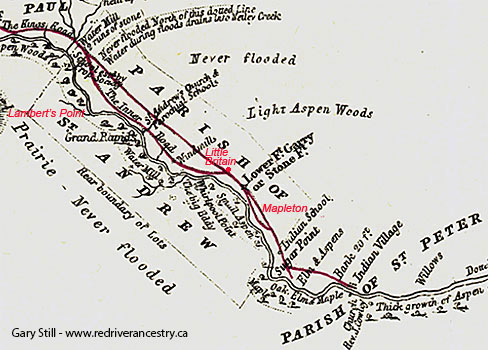 St Andrews Parish from Hind's Map of 1857
In 1850 step-daughter Mary HARPER became the second wife of William DONALD, son of Nancy BOLLEN and William DONALD (1794-1866).
In 1851 John's surviving children at home were Robert (age 14), John (13), Jane (11), George (6), Elizabeth (5), Catherine (age 4) and baby William.
In 1859 eldest son Robert married Mary SAUNDERS at St Andrews, daughter of Mary ALDER & William SANDERSON aka SAUNDERS (1806-1843). ** MORE ABOUT WILLIAM SANDERSON aka SAUNDERS
That same year son John married Nancy SINCLAIR of unknown origins.
In 1862 daughter Jane married Alexander McCORRISTER, son Catherine JONES and Alexander McCORRISTER (1748-1845). ** MORE ABOUT ALEXANDER McCORRISTER
Around the same time daughter Catherine married William MULVANEY of uncertain origins.
In 1862, John granted his property to his son Robert. He himself moved across the River to Little Britain (Lot 120 in St Andrews Parish) where he remained for the rest of his life.
In 1865 daughter Elizabeth married Cyrus FIDLER, son of Ann HALLETT and Andrew FIDLER (1806-1846).
Canadian Confederation
The Riel Rebellion
Manitoba becomes a Province
1867-1870
On July 1, 1867 the British colonies in North America were united under the British North American Act to become the Dominion of Canada. Between 1869 and 1870, The Red River Rebellion occurred; led by Louis RIEL (1844-1885).On July 15,1870 Manitoba became the fifth province of Canada, the Canadian Government having acquired the territory previously governed by the HBC.
In 1871 daughter Elizabeth (widowed when Cyrus FIDLER died in 1868) remarried to Richard GARDINER, an Attendant at the Selkirk Asylum (born 1841 in Calcutta, India).
John COX Dies
1872
On Apr 16, 1872 John COX died in Little Britain. He would have been around 76 years old. In 1875 Widow Nancy claimed her Half-breed Scrip.
In 1872 youngest son William married Mary Ann CORRIGAL, daughter of Eliza FIRTH & John Charles CORRIGAL (1816-1891). ** MORE ABOUT JOHN CHARLES CORRIGAL
In 1877 son George married Ann McKAY, daughter of Jessie HEDDLE and Donald McKAY (1820-1884) from Scotland.
In the 1881 census Widow Nancy COX (age 63) was recorded living with daughter Elizabeth & her husband, Richard GARDINER.
In 1897 Widow Nancy COX died in Little Britain.
Please post comments & queries at this link: FORUM DISCUSSING the JOHN COX FAMILY
=========================== Family Details ===========================
Child by Nancy TAYLOR & William HARPER:
1. c1832 MARY HARPER (m. William DONALD)
Children by Nancy &  John COX:
1. Nov 16, 1836 ROBERT COX (m. Mary SANDERSON)
2. July 9, 1837 JOHN COX (m. Nancy SINCLAIR)
3. Nov 1, 1840 JANE COX (m. Alexander McCORRISTER)
4. Aug, 1842 NANCY COX (Died 1844)
5. Mar 1, 1845 GEORGE COX (m. Ann McKAY)
6. May 6, 1846 ELIZABETH COX (m1. Cyrus FIDLER, m2. Richard GARDNER)
7. Jan 8, 1847 CATHERINE COX (m. William MULVANEY)
8. Oct, 1851 WILLIAM COX (m. Mary Ann CORRIGAL)