WILLIAM COX (1851-1902)
MARY ANN CORRIGAL (1855-1892)
(Last Updated: October 27, 2016)
William COX was born 1851 in St Andrews Parish (baptised Oct 10 at St John's), the son of halfbreed Nancy TAYLOR & John COX (1796-1872) from Scotland. ** MORE ABOUT JOHN COX
William grew up in the vicinity of Lower Fort Garry; in his pre-teen years on the east side of the Red River and after 1862 at Little Britain on the west side of the river.
Canadian Confederation
Red River Rebellion
Manitoba becomes a Province
1867-1870
On July 1, 1867 the British colonies in North America were united under the British North American Act to become the Dominion of Canada. Between 1869 and 1870, The Red River Rebellion occurred; led by Louis RIEL (1844-1885).On July 15,1870 Manitoba became the fifth province of Canada, the Canadian Government having acquired the territory previously governed by the HBC.
William marries Mary Ann CORRIGAL
1872
On Dec 12, 1872 William married Mary Ann CORRIGAL, daughter of half-breed Eliza FIRTH & John Charles CORRIGAL (1825-1891), a Stonemason from the Orkneys of Scotland. On March 29, 1873 their first child (John) was born at Lower Fort Garry. ** MORE ABOUT JOHN CHARLES CORRIGAL
In 1875 both William and Mary Ann claimed their Half-breed Scrip. They received Land Grants in the Oak Hammock area and settled along the Clandeboye Road, northwest of Ridgely (See map below).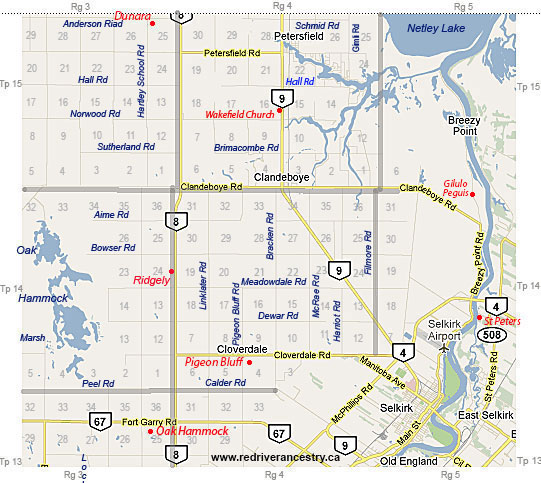 By 1891 there were seven surviving children in the family: John (age 18), William (14), George (12), Robert (10), Frederick (8), Alfred (age 3) and baby Allan.
Mary Ann COX dies
1892
On Dec 31, 1892 Mary Ann COX died; she was only 37 years old.
Baby Allen was later recorded (age 11 in 1901) with a Widow Mary McDONALD (age 65) in the Matlock area. I cannot determine who this lady was a widow of, but would love to know.
Son Alfred (age 4) was adopted by Letitia (nee MUCKLE) and Donald GUNN (b-1867) who lived in the Wavey Creek area north of Clandeboye.
In 1900 son William married Charlotte HARCUS, daughter of Nancy BUDD and John HARCUS (1835-1905).
In 1901 son Robert married Ann Jane HODGSON in Winnipeg, daughter of Esther FRANKS & Henry HODGSON (1838-1913) from England.
On Oct 25, 1902 William COX died at the age of 48.
In 1907 son George Richard married Mary Elizabeth CLARKE, daughter of Catherine SAUNDERS & John Thomas CLARKE (1848-1918). ** MORE ABOUT JOHN THOMAS CLARKE
In 1909 son Alfred married Elizabeth McMURCHY, daughter of Margaret CLARKE & Edward McMURCHY  (1853-1930) from Scotland, a CPR Section Foreman.
In 1910 son Allen married Margaret HARPER of unknown origins.
Please post comments & queries at this link: FORUM DISCUSSING the WILLIAM COX FAMILY
=========================== Family Details ===========================
Children:
1. Mar 29, 1873 JOHN COX
2. Dec 1, 1876 WILLIAM CHARLES COX (m. Charlotte HARCUS)
3. Dec, 1880 GEORGE RICHARD GARDNER COX (m. Mary Elizabeth CLARKE)
4. Jan 22, 1882 ROBERT JAMES HUNTER COX (m. Ann Jane HODGSON)
5. Apr 24, 1883 FREDERICK ALEXANDER COX
6. Aug 7, 1885 CAMPBELL COX (Died in infancy, age 2)
7. Nov, 1887 ALFRED ERNEST COX (m. Elizabeth McMURCHY)
8. Nov 7, 1890 ALLEN COX (m. Margaret HARPER)