JOHN THOMAS CLARKE (1848-1918)
CATHERINE SAUNDERS (1860-)
(Last Updated: February 27, 2013)
John Thomas CLARKE was born around 1848 in the York Factory District, parents unknown at this time. He was of Cree origins according to Census records which seem to be the only source of information about his early whereabouts.
Marriage to Catherine SAUNDERS
1880
Around 1880 John married Catherine SAUNDERS of uncertain origins, probably a daughter of Nancy COOPER and Richard SAUNDERS (b-1837) who lived in the Lockport area.
In the 1881 census we find John Thomas CLARKE (age 30) in East Lower Fort Garry, his wife Catherine (age 21) and baby William Roderick. William Roderick died in 1885 at the age of four.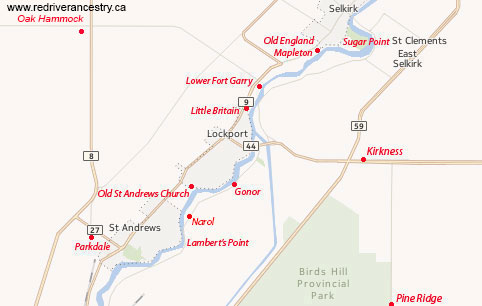 In the Census of 1901 John (age 53), Catherine (age 40) and their "Cree" family are recorded with children as John  (age 19), Henry (17), Mary (14), Christina (12), Florence (8), Colin (6), Alexander (4) and  Charles (age 2).
In the 1906 census the family was recorded on River Lot 132 which was located directly across the Red River from Lower Fort Garry.
In 1907 daughter Mary married George Richard Gardner COX, son of Mary Ann CORRIGAL & William COX (1851-1892). ** MORE ABOUT WILLIAM COX
In 1909 daughter Florence married John Robert SWAIN, son of Sarah OMAND & William Robert SWAIN (1852-1925).
World War I
1914-1919
On Aug 4, 1914 Great Britain (Canada on Aug 5) declared war on Germany and Austria-Hungary to uphold treaties with France and Belgium which were under German attack. This marked the beginning of World War I.
In 1916 son Alexander married Margaret Jane DAVIS, daughter of Margaret Ann FLETT and Arthur John DAVIS (born c1860 in Wales).
In 1917 son Colin enlisted for War Service at Winnipeg, stating his next of kin as his father (John) of Lockport.
On May 27, 1918 John Thomas CLARKE died in St Andrews Parish, age 70.
In 1918 son-in-law Richard COX died.
November 11, 1919, Armistice Day (Remembrance Day) marked the end of the First World War.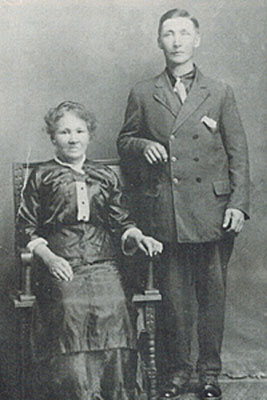 Mrs John T Clarke (Catherine) and son Harry of Lockport
(From East Side of the Red)
A Double Wedding
1920
On Dec 8, 1920 there was a double wedding in St Clements. Son Colin CLARKE married Esther PRETTE (b-1905), daughter of Mary Ann HODGSON & John (Jack) PRETTE (1873-1957). William (Bill) PRETTE (Esther's brother), married Florence COX, daughter of Widow Mary Elizabeth (nee CLARKE) and her deceased husband (Florence's father), Richard COX (1880-1918).
In 1923 son John James married Widow Cynthia (nee PRETTE) STOCKS), daughter of Mary Jane KEYS and Joseph PRETTE (1856-1929).
On Aug 23, 1930 widowed daughter Mary Elizabeth (nee CLARKE) COX re-married John (Jack) PRETTE at Pine Ridge, MB, son of Cynthia HOWIE and Benjamin PRETTE (1823-1911).
Please post comments & queries at this link: FORUM DISCUSSING the JOHN THOMAS CLARKE FAMILY
========================= Family Details =========================
Children:
1. Oct 5, 1880 WILLIAM RODERICK CLARKE (Died in infancy, age 4)
2. Aug 11, 1882 JOHN JAMES "JIM" CLARKE (m. Cynthia Ann PRETTE)
3. Oct 13, 1884 HENRY EDWARD "HARRY" CLARKE
4. Jun 9, 1887 MARY ELIZABETH CLARKE (m1. George Richard Gardner COX; m2. John (Jack) PRETTE)
** MORE ABOUT JOHN (JACK) PRETTE
5. Sep 17, 1889 CHRISTINA DINAH CLARKE
6. Jan 28, 1892 FLORENCE (FLORA) CLARKE (m. John SWAIN)
7. Jun 19, 1894 COLIN ALFRED CLARKE (m. Esther PRETTE)
8. Nov 2, 1896 ALEXANDER ARCHIBALD "ALEC" CLARKE (m. Margaret DAVIS)
9. Feb 18, 1901 CHARLES THOMAS CLARKE