JOHN CHARLES CORRIGAL (1816-1891)
ELIZA FIRTH (1831-1875)
MARGARET JONES (1851-1933)

(Last Updated: October 30, 2016)
John Charles CORRIGAL was born around 1816 in Orphir, Orkney Islands of Scotland.
Some sources indicate that he was a child of Isabella ARMSTRONG and Thomas CORRIGAL (1802-1875).  The 1870 census refers to his father as John J CORRIGAL. ** If anyone has more definitive information, please let us know on the Forum.
In 1832 John immigrated to Canada. He became a stonemason.
Marriage to Eliza FIRTH
1848
Around 1848 John was in a connubial relationship with Eliza FIRTH, daughter of Eliza BOUCHER and Thomas FIRTH (1794-1875) from Scotland). On July 17, 1849 daughter Eliza was born in St Andrews Parish, Red River.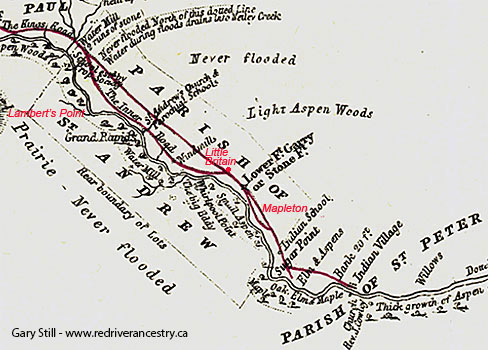 St Andrews Parish from Hind's Map of 1857
Canadian Confederation
A Red River Rebellion
Manitoba becomes a Province
1867-1870
On July 1, 1867 the British colonies in North America were united under the British North American Act to become the Dominion of Canada.  Sir John A MACDONALD (1815-1891) was appointed as Canada's first Prime Minister. William McDOUGALL (1822-1905) became the Minister of Public Works, and he began negotiations to acquire Rupert's Land from the HBC; surveyors were sent to Red River to prepare the way for an expected influx of settlers.
Around 1868 daughter Eliza married George BOYDEN (1825-1907). ** MORE ABOUT GEORGE BOYDEN
On Oct 11, 1869, Louis RIEL (1844-1885) placed his foot on the surveyors' chain to tell them their work was finished! This marked the beginning of the historic Red River Métis Rebellion.
On July 15, 1870 the Rebellion ended when RIEL's Provisional Government accepted the terms of the Manitoba Act and Manitoba became the fifth province of Canada.
Census of 1870 in St Andrews Parish: John CORRIGAL, age 45; wife Eliza, age 39. Children: Elizabeth (age 18), Mary A (15), Nancy (11), Robina J (9), Katherine (7), Frances (4) and Victoria (age 1).
In 1872 son William Charles married Maria Sarah McCORRISTER in St Andrews, daughter of Maria TAIT and Henry McCORRISTER (1820-1879). ** MORE ABOUT HENRY McCORRISTER
Also in 1872 daughter Mary Ann married William COX, son of half-breed Nancy TAYLOR and John COX (1796-1872) from Scotland. ** MORE ABOUT JOHN COX
In 1873 daughter Nancy married Richard STEVENS in St Johns, son of Mary Ann FOULDS and William Richard STEVENS (1829-1918).
Around 1874 daughter Elizabeth married James McCORRISTER in St Andrews, son of Marie TAIT and Henry McCORRISTER (1820-1879). ** MORE ABOUT HENRY McCORRISTER
On Jan 8, 1875 Eliza (nee FIRTH) CORRIGAL died, and John claimed Scrip for her children as follows: 1) Elisa(wife of George BOYDEN);  2) William Charles; 3) Elizabeth (wife of Jams McCORRISTER);  4) Mary Ann (wife of Wm COX);  5) Nancy (wife of Richard STEVENS);  6) Rubina J;  7)  Catherine;  8) John J;  9) Alice Frances;  and 10) Victoria.  Issued July 3, 1876.
John & Margaret JONES
1876
In 1876 it is said that John re-married to a lady named Margaret JONES (origins unknown). He was 60 and she was only 29.
In 1880 daughter Catherine married Thomas Lowe LOUTIT in St Andrews, son of Catherine MOORE and LOWE LOUTIT (1816-1865) from the Orkneys.
Census of 1881 in St Andrews Parish: John CORRIGAL age 64; wife Margaret (this would be Margaret nee JONES). Children:  Robina Jane (age 19), John James (15), Frances Ellen (13) and Victoria (age 11).
In 1882 daughter Robina married Thomas WILSON in St Andrews, son of Elizabeth SHELMERDINE and Thomas WILSON (b-1816).
In 1883 son William Charles (widowed) remarried to Ann Elizabeth FLETT in St Andrews, daughter of Eleanor ATKINSON and John FLETT (1825-1887).
In 1885 daughter Frances married Benjamin CLARKE in Winnipeg, the illegitimate child of Ann (nee STEAD) – Mrs. ATKINSON & Jesse CLARKE, an American.
Around 1888 son John James began a connubial relationship with Louisa Rose MAYO, daughter of Mary DANIEL and Benjamin Johnston MAYO (1832-1920). ** MORE ABOUT BENJAMIN JOHNSTON MAYO
Census of 1891 in the RM of St Clements: John C CORRIGAL, age 74; wife Margaret, age 48. Grandsons: Arthur JOHNSTON, age 3 yrs, 8 months (daughter Victoria's child); William CORRIGAL b-c1877 (age 14; William Jr's child).
On Dec 5, 1891 John Charles CORRIGAL died in St Clements, age 75.
On Aug 18, 1933 Margaret (nee JONES) CORRIGAL died in Winnipeg, age 82.
Comments and queries at this link: FORUM DISCUSSING THE FAMILY OF JOHN CHARLES CORRIGAL
=========================== Family Details ===========================
Children:
1. July 17, 1849 ELISE (ELIZA) CORRIGAL (m. George BOYDEN)
2. Dec 22, 1850 WILLIAM CHARLES CORRIGAL (m1.  Maria Sarah McCORRISTER, m2. Anne Elizabeth FLETT)
3. Sep 3, 1852 ELIZABETH CORRIGAL (m. James McCORRISTER)
** MORE ABOUT JAMES McCORRISTER
4. Nov 8, 1855 MARY ANN CORRIGAL (m. William COX)
5. Nov 3, 1857 NANCY CORRIGAL (m. Richard STEVENS)
6. Dec 27, 1861 ROBINA JANE (RUBINA) CORRIGAL (m. Thomas WILSON)
7. Mar 28, 1864 CATHERINE CORRIGAL (m. Thomas Lowe LOUTIT)
8. Apr 8, 1866 JOHN JAMES CORRIGAL (m. Louisa Rose MAYO)
9. May 7, 1868 FRANCES ALICE (ELLEN) CORRIGAL (m. Benjamin CLARK)
10. July 14, 1870 VICTORIA CORRIGAL