GEORGE A BOYDEN (1825-1907)
ELIZA CORRIGAL (1849-c1890)
(Last Updated: October 27, 2016)
George A BOYDEN was born on Feb 29, 1824 in the USA, according to the 1901 Census which indicates that he immigrated to Canada in 1871. The 1871 immigration date appears to be an error. Other information indicates that he was in Manitoba at least by 1868.
Marriage to Eliza CORRIGAL
1868
Around 1868 George married Eliza CORRIGAL, daughter of Eliza FIRTH and John Charles CORRIGAL (1825-1891) from the Orkneys. On Aug 7, 1869 daughter Margaret was born in St Andrews Parish, Red River. In 1870 his family was recorded on River Lot 85-86 (south of Lockport). John CORRIGAL (Eliza's father) was recorded on River Lot 85 and Thomas FIRTH (Eliza's grandfather) on Lot 86. ** MORE ABOUT JOHN CHARLES CORRIGAL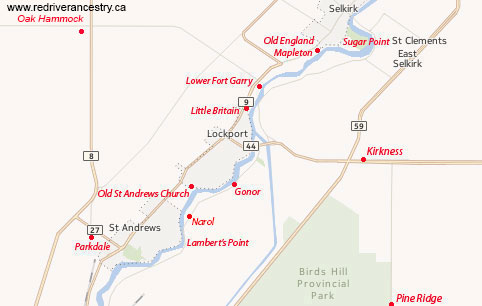 Canadian Confederation
Red River Metis Rebellion
John Marries Margaret FOLSTER
Manitoba becomes a Province
1867-1870
On July 1, 1867 the British colonies in North America were united under the British North American Act to become the Dominion of Canada. Sir John A MACDONALD (1815-1891) was appointed as Canada's first Prime Minister. William McDOUGALL (1822-1905) became the Minister of Public Works, and he began negotiations to acquire Rupert's Land from the HBC. Surveyors were sent out to prepare the way for an expected influx of settlers.
On Oct 11, 1869, Louis RIEL (1844-1885) placed his foot on the surveyors' chain to tell them their work was finished. This marked the beginning of a Red River Métis Rebellion.
** MORE ABOUT THE RED RIVER REBELLION in WIKIPEDIA

On July 15,1870 Manitoba became the fifth province of Canada, the Canadian Government having acquired the territory previously governed by the HBC. The Rebellion was essentially over.
On July 20, 1875 Eliza of St Andrews (wife of George BOYDEN) claimed Scrip for their daughter Margaret.
In the 1881 Census George A BOYDEN is recorded as a 50 year old Moulder; Eliza as age 31. Their children: Margaret (age 11), John George (8), Franklin J (4) and Edith Mary (age 1).
On June 15, 1882 the Town of Selkirk was incorporated.
In 1887 eldest daughter Margaret married Archibald James FLETT in St Andrews, son of Nancy WARD and Archibald FLETT SR (1826-1908).
Eliza CORRIGAL-BOYDEN apparently died around 1890. (Last child, Eliza Jane, was born in 1889 and died in infancy). In the 1891 census her children William Robert (age 8) and Annie Ella (age 3) were recorded with her sister and brother-in-law, Margaret and Archie FLETT.
In 1892 son John George married Widow Jane (nee FIDLER) TAYLOR in Winnipeg, daughter of Jane LAMBERT and Peter FIDLER (1825-1887). Jane was the widow of William TAYLOR who died earlier that year, son of Amelia BIRD & James TAYLOR (1825-1897).
In 1901 the elder George BOYDEN (age 77 and widowed) was recorded in Winnipeg with his eldest son John George.
Around 1903 son Franklin married Delia (Lila) FIDLER of uncertain origins.
In 1906 George was recorded as 81 years old, with his son Frank in Winnipeg.
On July 7, 1907 George BOYDEN died in Winnipeg,
In December of 1912 son William Robert married Margaret (nee WILLIAMSON) SMITH, daughter of Anne NORQUAY and John Johnston WILLIAMSON (1845-1914). Margaret was the widow of Thomas SMITH who had died in 1904, son of Madeleine LIZOTTE and Thomas SMITH SR (1843-1926).  ** MORE ABOUT THOMAS SMITH SR
Comments and queries at this link: FORUM DISCUSSING the GEORGE BOYDEN FAMILY
========================= Family Details =========================
Children:
1.  Aug 7, 1869 MARGARET BOYDEN (m. Archibald James FLETT)
2. Aug 22, 1871 JOHN GEORGE BOYDEN (m. Jane Sophia (nee FIDLER) TAYLOR)
3. Mar 11, 1874 MALVINA JOSEPHINE BOYDEN
4. 1877 FRANKLIN J BOYDEN (m. Delia (Lila) FIDLER)
5. Mar 13, 1880 EDITH MARY BOYDEN (Died age 14)
6. Aug 28, 1882 WILLIAM ROBERT BOYDON (m. Margaret (nee WILLIAMSON) SMITH)
7. 1888 ANNIE ELLA BOYDEN
8. Mar 31, 1889 ELIZA JANE BOYDEN (Died in infancy)